Jimmy's Favorite Sites

The Hammonds have returned to birding at their Annapolis home. Just a year ago, I shared with you the incredible list of the feathered friends that frequented our home. We began feeding morning, noon and evening and were rewarded immediately with three birds we had not seen before. We saw multiple rose-breasted grosbeaks, a pair of eastern towhees and a male scarlet tanager. The experience was even more exciting because of our new Lake Champlain 10 X 42 binoculars from WestMarine.com. They weigh only 22 ounces and are easy to hold steady. The binoculars have multi-coated lenses with BK-7 prisms, 6mm twist-up eye piece and 16mm eye relief, with 345'@1,000yd field of view and a light transmission efficiency of 78%. At $119 regular price, or $80 on some sales, it's worth having an extra pair available to catch a glimpse of our fleeting feathery friends.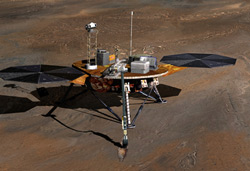 On August 4, 2007, NASA launched the Phoenix Lander, the first in NASA's "Scout Program." Scouts are designed to be highly innovative and relatively low-cost complements to major missions being planned as part of the agency's Mars Exploration Program. The ten-month, 422 million-mile journey towards Mars from the Kennedy Space Center in Florida is scheduled to land on the Martian Arctic plains on May 25, 2008, and spend three months scooping up soil and ice, and analyzing the samples in minuscule ovens and mixing bowls. The Phoenix Mars Lander won't be looking for evidence of life on Mars, but rather traces of organic compounds in the baked and moistened samples, which would be a possible indicator of conditions favorable for life, either now or once upon a time. We have had unprecedented success with Rovers Opportunity and Spirit, which have exceeded their initial 90-day warranty by over 1,200 days. As a reminder, only 3 of the 15 Mars attempts were successful.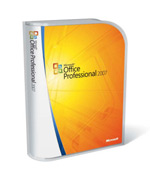 Microsoft Office 2003 and Microsoft FrontPage have been around for a long time. Then along comes Microsoft Office 2007 just after Microsoft's Vista operating system was released this past spring. The list of changes and improvements is too extensive to enumerate here, but at http://office.microsoft.com/en-us/default.aspx not only can you explore the enhancements, but you can also download the software for a 60-day trial. FrontPage has been upgraded and it now goes by the name Expression. If you are a student at Anne Arundel Community College and are signed up for any of the new applications courses, it is possible to have access to the new software during the semester for a small fee. It is also possible to purchase the software through a Maryland purchase program at http://elms06.e-academy.com/meec/ for less than $100. You can also compare prices at www.academicsuperstore.com. You might as well start the process—2007 is here to stay.