Raj Williams
From India to Assateague:
Preserving Marylandís Natural Heritage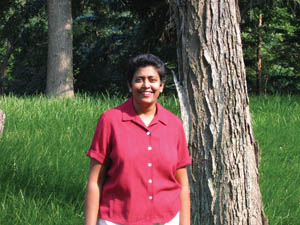 On a packed train car whose windows glistened with blinding golden dust in northern India, Rajeshwari Bai approached the Taj Mahal. Overhead in the sagging baggage rack, Rajeshwari – Raj, for short -- had tucked away the obligatory tools of an architecture student: survey equipment, soft-leaded drafting pencils, tracing paper, and a manual on the principles of architecture. Oranges bordering on overripe added pungency to the air in the train car, and the chatter of fifty architecture students rose and fell. On the outskirts of Old Delhi the journey was completed with a jostling bus ride to the neighboring ancient city of Agra and then to the famed modern wonder of the world. It was the fifteenth day since the 20-year-old University of Bangalore student had left her home city of Bangalore, and a thousand miles into a 33-day journey circling India to see its many architectural sites.
Raj entered the Taj Mahal's stone wall enclosure to face its three towering white marble domes, glass-like reflecting pool, and maze of gardens.
"It was dazzling," recalled Raj today, describing the 17th-century building built by Mughal emperor Shah Jahan and known to westerners as one of the most beautiful monuments in the world.
Ever since her train-riding days to study the architectural wonders of India's Hindu, Moslem, and English imperial builders, Raj has been fascinated by public space and form. Two decades later, she continues to reach for drafting pencils and fill notepads with building and landscape designs as a Chief Planner at Maryland's Department of Natural Resources in Annapolis. She has swapped the trains of India for an eco-friendly state-owned Toyota Prius. With a storm-proofed metal-encased DNR clipboard under her arm, she treks over sand dunes and silty streams and tracks five to six hundreds of miles by car a month to assess the condition of buildings and land on roughly a quarter of the 500,000 acres of public lands managed by the Department.
For Raj, the worlds of the Taj Mahal and Maryland's parks and wildlife preserves are not so far apart. Both form part of a consuming interest in both the aesthetics and function of public space. Both inform her abiding passion to help preserve the world's natural and man-made resources for the public good.
"Maryland has beautiful landscapes," said the 42-year-old in a clipped English humming with Hindi inflections. "The water lilies, the crepe myrtles, the canopies and structures of the trees, all these make incredible landscapes."
"People naturally want to sing the praises of the place they come from, but when you live in completely different places as I have, you realize how much we share in common," she added. "We are all called upon to protect our natural resources. My work as a planner is to help conserve our natural resources in a sustainable fashion that does not compromise those resources."
In 1988, her architecture studies finished, Raj crossed two continents to attend South Carolina's Clemson University in the field of urban and regional planning. The newly trained planner with raven black hair and characteristic Indian half-moons of white ringing her dark irises then married Clemson architecture student Bill Williams, today an architect in Annapolis. Half the globe away from her home state of Karnatarka, Raj settled into the holly-shrouded ancestral Eastport cottage that had been the Williams family homestead for sixty years. She gained U.S. citizenship in 1996.
Raj first honed her planning skills with jobs in Washington D.C and Baltimore. Then followed three years as a county planner in Westminster, Maryland. The move to the Department of Natural Resources on Bestgate Road came in 2000.
Here she brainstorms daily with DNR's naturalists, landscapers, biologists, and engineers to come up with blueprints to improve the environment and public access of hundreds of parks and preserves. Their collective work is then voted on at public meetings, followed by approval or rejection by the state. Recent projects have included a plan for Assateague State Park to expand its environmental education center and the creation of a wetlands area and gazebos for family gatherings on Jaines Island.
Today at her desk Raj peers over aerial-view blueprints of Pocomoke State Park located inland 45 miles north of Assateague and in her view, "the most beautiful park in Maryland."
"We have just finished our initial recommendations for Pocomoke," Raj said, speaking of the 60-page report she helped to draft. "Now we will now take it to the public to get their feedback and approval before finalizing it," she said.
"Maryland is on the cutting edge, one of the top states in the country for putting regulations in place to protect different environmental zones and plant and animal species," she said. "And since Maryland is called 'America in miniature' with its wide range of ecosystems, we have much to protect."
There are many more miles of Maryland's hills and shoreline to cross before Raj retires her planner's shoes. The spaces may not be as exotic as the sanctuaries back home. There are no elephants or bison, no tigers or leopards. There is no Taj Mahal over the horizon. But the spaces offer their own wonders.
"Growing up in India I saw peacocks and elephants wondering around temples, and tigers in our wildlife sanctuaries. Here I see bald-headed eagles, wild ponies, and horseshoe crabs with an ancestry going back 300 million years, laying their eggs in the shorelines sands just in time for the arrival of migratory birds to feast on them."
Recently Raj and husband Bill picked up a pair of canoe oars and headed out on the Pocomoke River with their two young sons. It was a moment to "mess around in boats," as one river-loving rower once described it. It was a moment to explore the natural wonders found in The Wind and the Willows rather than the Jungle Book.
"The peace, the serenity, the beauty of it all, it was wonderful," Raj recalled. "If I can provide that for people through my work, it is all worth it."