Schooner Woodwinds I and II,
Swoon over schooners?
Try sailing aboard one!
Well, it's that time of year when cold winds and gray skies leave me longing for white sails instead of white snow banks, tall masts instead of long icicles, sailing on the Bay instead of skating down my sidewalk.
It's also the time of year when sailors count the weeks and days 'til sailing season.
Captains Jennifer and Dan Brest and schooner owners, Ken and Ellen Kaye are no exception. They're preparing the 74' schooners, Woodwind and Woodwind II, for the 2007 sailing season. Perhaps you've seen those glistening hulls and towering masts docked at the Marriott on Ego Alley in Annapolis, or maybe you remember that elegant tall ship from the 2005 movie, Wedding Crashers – that was Woodwind. (There's a picture of one of the stars, Christopher Walken, at the helm of Woodwind II during the filming on the web site www.schoonerwoodwind.com)

Before many weeks have passed, folks will be lining up dockside at the Marriott to board the schooner Woodwind for two hours of sailing on the Chesapeake Bay. Some folks will be making reservations for one of the longer sailing cruises to some lovely spot on the Chesapeake, such as the lighthouses of St. Michaels on the Eastern Shore. Whatever the length of your sailing adventure, you're sure to have an unforgettable experience. Kara McGuirk, of National Public Radio in DC, sailed on Woodwind. "We had a fabulous time. This was my first time sailing...not only did I learn a great deal but [Captain] Jen was a marvelous host..."
The Woodwind twin schooners are owned by Ken and Ellen Kaye, retired teachers, who began their charter-schooner enterprise in 1993. Their daughter, Jennifer, joined them as a licensed captain when she graduated from college. They'd sailed as a family for many years. After teaching careers, they were ready to try their hands at another of their loves, sailing, and sharing with others their love of sailing. The Kayes follow the old precept, "Do what you love." They enjoy people as much as they love sailing, so they knew they had hit upon their next career when they figured out a way to combine those two loves. Ken Kayes recalls, "Sailing has been sheer magic for me since I learned to sail when I was eleven.... It's still magic today."
The couple wasted no time before implementing their plan: working with Naval Architect John Scarano, the Kayes settled on their yacht's design -- a graceful, 74', schooner-rigged yacht with a seven foot draft. The keel is designed for maximum safety and stability. The hull is strip-planking infused with epoxy resin and sheathed in fiberglass for durability, strength, and ease of maintenance. The decks and cockpit are spacious, so guests of any age can enjoy the experience of sailing either from the seating in the cockpit or while handling lines (ropes) and tending sails.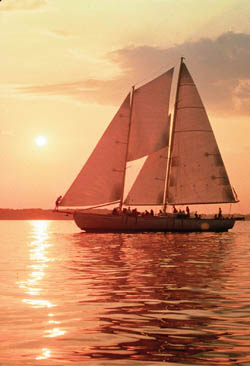 Aboard the Woodwind, you can do as little or as much actual sail work as you wish; you're welcome to lounge -- or lunge for sails. Snacks are served by the Woodwind's crew, and you can purchase great local microbrew and wine aboard. Because she's a well-designed schooner with a seasoned captain at the helm, you probably won't even spill your peanuts or splash your soda.
Perhaps your fantasy is a bit more elaborate -- sailing aboard a sleek schooner bound for exotic ports-of-call. There's a way to try that daydream on for size. Woodwind is laid out with cabins and shared "heads" (bathrooms with showers) for overnight guests. On Saturday nights only, the Boat & Breakfast adventure allows up to six people to enjoy a sunset cruise, an evening of dining and relaxing and a good night's sleep aboard ship, safely moored at the Marriott. In the morning, you will enjoy a gourmet continental breakfast before you leave.
And -- if the overnight sail merely whets your appetite, sign-up early for one of the three longer sailing adventures; five days from Portsmouth, Virginia, up the Chesapeake Bay admiring the fall colors of pin oaks and dogwood in late October, or participate in the last cruise of the season, to Chestertown for the Sultana Downrigging Festival. Check out the details of both cruises on the Schooner Woodwind web site www.schoonerwoodwind.com You'll need to reserve your cabin early if you don't want to be disappointed. You can call Schooner Woodwind Sailing Cruises at 410-263-7837 if you'd rather talk to someone personally.
Woodwind and Woodwind II are available for specialty cruises and business charters as well. One of the programs offered is a team-building day on the Bay. Your company or agency can charter one or both boats and Captain Jenn and her crew will guide the participants through a series of sailing lessons in preparation for "the sailing challenge." If both boats are used, the task will be a race between the two schooners and their newly-trained captains and crews. If only one boat is involved, the task is navigating and sailing the yacht from point A to point B. Not only is the day filled with laughter and fun, but the participants disembark with confidence in one another and a clearer sense of their strengths and abilities.
The captains and crew members of the Woodwinds love what they do. It shows. Their skill and attention to every detail of the day's cruises insure that everyone on board has a great sailing experience – safe and memorable, whether the cruise is two hours long or several days.
"Capt. Ron was extremely knowledgeable of the schooner and explained in detail all the answers to our questions about sailing. My father-in-law and I thoroughly enjoyed the day on the water and couldn't wait to tell the rest of our family about the trip. Once they saw all the pictures, now they all want to come," says Gene Juillet of Schwenksville, PA.
Talk to Ken Keyes or one of the captains of Schooner Woodwind Sailing Cruises at 410-263-7837 or look over their extensive web site www.schoonerwoodwind.com