The Sultan of String Still Calls Annapolis Home
For more than three decades, Paul Reed Smith has skipped the light fandango of the guitar industry, courting rock 'n roll royalty and globe trotting to peddle his instruments to the stars; but he always comes home to Annapolis. Naptown is Smith's Asbury Park, the stomping grounds where he first set up shop.
When the lanky teenager arrived in Annapolis, he envisioned a rustic luthier's shop where people could watch guitars being built along historic Main Street in a town that was filled with great music. The nice lady at the Historical Society told him she couldn't help him, but she did steer him to Charlie Marsteller who rented Smith a garret apartment in the building that has housed The Buttercup Tea Room, The Dove, The Happy Buzzard (where Smith and Dennis Voss designed the PRS logo on the bar in 1984) and now The Rams Head. The attic space was so small that Smith had to wipe wood chips off the bed before he went to sleep at night, but he was happy just to be in business.
There was only one fly in the ointment: the joint was haunted. When Smith first encountered the ghost, Marsteller assured him, "Don't worry, she hasn't hurt anybody in 20 years." During Smith's years in the building, the spirit would often greet him at the door. "We all ran into it," he says. "People at the Rams Head still run into it." Smith was allowed to knock off ten bucks from the rent in exchange for putting out British flags every morning. Because the building was supposedly originally an English "cathouse" and the ghost is believed to be the spirit of one of its former ladies of the evening who died there, the land title has never been officially transferred to the U.S.
These were humble beginnings for the man who today heads a company that employs more than 200 and has produced hundreds of thousands of the world's finest instruments. Smith's guitars have been exhibited at art galleries, including one with mother of pearl dragon inlay on display at the National Museum of American History and another currently in the "Rock Chic" exhibit at the National Museum of Ireland. In 2004, his instruments were featured in "Born to Be Wild: The Art of Paul Reed Smith," an exhibit held at the Academy Art Museum in Easton. Howard Leese, whose PRS guitar powers the hard rock group Heart, once described Smith as the "American Stradivari of the electric guitar." Smith's Cinderella journey has trekked a long and winding road, and it all began in 1975 at 33 West Street.
PRELUDE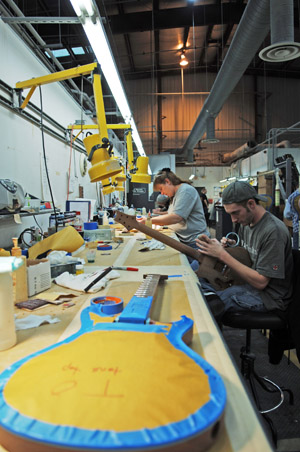 Paul Reed Smith was born Feb 18, 1956 in Bethesda, the son of Ernestine and Jack W. Smith. Smith's father had been a big band leader in his younger days. He bought his son a ukulele when Paul was four years old. When The Beatles hit the scene, Ernestine was one of the first fans of the Fab Four. "My mother had a Hi Lo classical guitar and I remember trying to play 'Day Tripper' on it when I was twelve or thirteen," Smith says. He played bass and guitar in numerous short lived bands during high school, sometimes sitting in with bands at The Bayou club in Georgetown, where acts like U2, Dire Straits, Stevie Ray Vaughan, and many others performed their first D.C. gigs.
Smith's interest in building instruments began in woodshop during his senior year at Bowie High School when he constructed a bass with what he dubbed a "dyslexic Strat" body. He went on to repair instruments for Washington Music Center and constructed his first guitar as an independent study project at St. Mary's College. He turned the upstairs of the family home into a woodshop, using fans installed in his bedroom windows for the "spray booth."
Smith soon developed a reputation among top local players as the repairman of last resort, the guy who could fix your axe when all else failed. In between repairs, he made and sold guitars, some of which took a month or more to construct. As his skills improved, he began to kick around ideas about making an electric guitar that could compete with the name brands. Many players often switched guitars during performances, typically alternating between two legendary instruments with distinct sounds: the Fender Stratocaster and the Gibson Les Paul. Smith wanted to make one guitar that could provide the tones of both. While studying vintage guitars, he noticed details in craftsmanship that had all but disappeared by the mid-1970s. He decided he wanted his instruments not only to be beautiful, but to have the look, feel, and playability of a vintage instrument. Inspired by his mother's bird watching field guides, Smith learned to hand cut inlays along the fretboard, a feature that became one of his signature touches.
In 1975, while repairing a guitar for Aerosmith's Joe Perry, Smith remembers, "By then it was pretty much written in stone for me: I wanted to be a guitar maker. That was my dream."
VERSE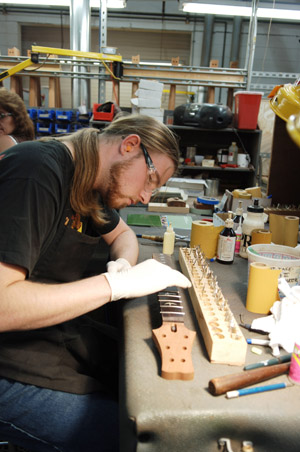 With characteristic fortitude, Smith took an offbeat approach to marketing his goods by personally wooing bands playing in the Baltimore- Washington area. This meant hanging around stage doors for hours until he convinced roadies to relinquish a backstage pass so he could peddle his wares to the stars. Even in these early days, Smith realized the importance of guaranteeing his products. His offer was simple: if you don't love the finished guitar, you get your money back ("even if I couldn't make my rent that day").
Smith doggedly sought out guitar players, mentors, and connoisseurs soaking up knowledge like a sponge. "My whole life has been about getting mentored by the older guys," he says. For years before he gained worldwide esteem for his own guitars, discriminating players would entrust Smith to repair their prized instruments. "I spent a lot of time just holding those guitars. Listening to what those players told me and, in a way, listening to what their guitars told me. Those were beloved instruments, holy grails." He also spent hundreds of hours listening to his instructors: woodshop teachers, guitar players, instrument builders. Chief among his mentors is Ted McCarty, the person to whom Gibson owes its modern golden age and the namesake of a series of popular PRS models. Smith picked his brain about building guitars. "McCarty basically downloaded the hard drive."
Each creation was a springboard to the next. "Every design change taught me something new. Over ten years we went through three headstocks, several renditions of body shapes, many tremolo designs, and many experiments with woods and construction methods to get the right mix."
Smith's first guitar was commissioned by Ted Nugent in 1976. Later that year, Smith finagled his way backstage to see Peter Frampton at the now defunct Capital Center in Landover, Maryland. He secured a commission after showing Frampton the guitar he had made for Nugent. The Frampton guitar proved to be the genesis of subsequent production instruments. Smith told Guitar Player magazine that while working at the West Street shop he had a system where he would build guitars, play them, and then compare them to his beloved Les Paul gold top and Junior. If the Les Pauls proved to be better, Smith would return to the drawing board. "Pretty early on I made one that played better, when I built that guitar for Peter Frampton. That's when I crossed the line."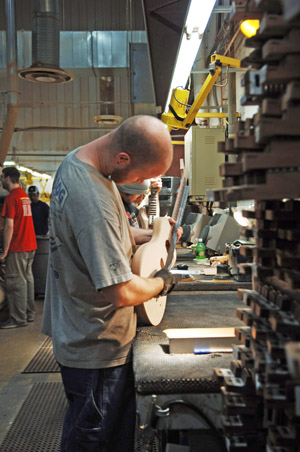 In May 1976 Smith went to a gig featuring Return to Forever and Santana, where he hoped to show the Frampton guitar to his hero, Carlos Santana. But before he could get to Santana, Return To Forever guitarist, Al DiMeola, placed an order. "I personally feel that Paul Reed Smith has the ability to custom-make the guitar of anyone's dreams," DiMeola would later say. Carlos Santana checked out Smith's guitar and said it had "a lot of love," but did not buy one until four years later, when the resolute 24-year old won over his idol with the tonal range of a newer model. This was the first of several guitars that Smith would create for Santana, including a double neck design featuring a six-string neck and a 12-string neck attached to one body.
By mid-1977, Smith's client list included other notables, such as Nugent's guitarist Derek St. Holmes, Frampton's bass player Stanley Sheldon, Bruce Springsteen's bassist Gary Tallent, and players from several local bands. Yet, although he was rubbing elbows with "money for nothing" dudes, Smith had made only a total of seventeen guitars. Repair work—frequently for well known visiting musicians, such as jazz guitarist Charlie Byrd—often kept the company going. "Money was really tight," recalls Bonnie Lloyd, Smith's assistant at the time. "We used to sit and wait for someone to come in needing a set up so we could get lunch."
Toward the end of the 1970s, as the workload increased, Smith began to work with numerous collaborators. "After getting a small following and orders for more than 50 guitars, we built two prototypes," Smith recalls. "I popped them in the back seat of my truck and cranked it up, calling on guitar dealers up and down the East Coast. After many days and many miles I came back with enough orders to start a company. With the support of my then wife, skilled assistants, engineers, lawyers, top salesmen, artists, machinists, investors and friends who emptied their bank accounts to help me get started (I am still touched), we developed a strong team and launched PRS Guitars, Limited Partnership."
BRIDGE
In 1985, with a decade of custom building and repair experience behind him, Smith and his team moved into a factory at 1812 Virginia Avenue in Annapolis that would be their home for the next ten years. By October, the 100th guitar had rolled off the line. On June 27, 1986, the team celebrated The Night of the 1,000th Guitar. Against the odds and despite the naysayers, PRS kept on truckin' and the company began what Smith describes as a "roller coaster ride" on the journey to success.
PRS-produced guitars looked, sounded, and felt great, and were lovely to behold. Glasslike finishes, ornate decoration, carefully cured woods and hand wired electronics put PRS guitars in a class alongside the best of the Fenders and Gibsons. "They were unlike anything I'd ever seen, yet somehow . . . familiar," music historian Tom Wheeler said. "These were no mixed feature platypuses suggested by some corporate committee but rather the handiwork of a deeply insightful craftsman who had absorbed to his very marrow the essence of the modern electric guitar and reinterpreted it for a new era."
REFRAIN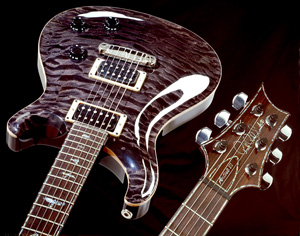 At the end of 1995, ten years after the move to Virginia Avenue, PRS Guitars moved to a new factory on Kent Island. (Today this factory is being expanded to five times its original size). By this time, PRS was virtually established in reputation, if not production levels, as number three behind Fender and Gibson. The company began to move in a more corporate direction as it transitioned from enthusiastic amateurs to the most respected new guitar brand in the industry. By 1997, PRS was grossing more than $10 million in sales.
Today, PRS guitars are the choice of many top musicians, including The Eagles, Dave Navarro, Jewel, Barenaked Ladies, Nils Lofgren, Stephen Stills, Linkin Park, Nickelback, Dave Matthews, Melissa Etheridge, the Kenny Rogers Band, and Jimmy Buffet, to name a few. "Excellence is always the goal," Smith says. "I have the best employees behind me (many of them guitar players themselves), and we never lose sight of that goal. Every inch of a PRS guitar is based on decades of testing, rethinking and reinventing. We want players to know that no matter how great that old PRS guitar is, we're pushing for the new one to be even better."
Smith digs Annapolis enough to call it home (although he confesses that for years he thought Chick & Ruth's Deli on Main Street was called Chicken Roost until he went there). He is as ingrained in the town's rich music scene as the exotic woods that grace PRS instruments. "Annapolis is a tight knit community of talented musicians and great original music, loaded with great music venues. I love its scene, I love its people. Every single time I go anywhere, I try it on like a coat. But I'm always at home in Annapolis. I'm proud to be a 'townie.'"
SOURCES
Burrluck, Dave. The PRS Guitar Book: A Complete History of Paul Reed Smith Guitars. Backbeat Books, 2002.
Triplett, William. "Guitar Heaven: Paul Reed Smith Makes Guitars." Washingtonian Magazine, November 2006.