Chesapeake Paddlers Association
In search of serenity, friendship and adventure
They come to the water with their kayaks, drawn by the lure of a more intimate communal experience with the peaceful quietude of the natural world. In search of serenity, friendship, and adventure, they put oar to river, creek, or bay, paddling together in small groups on mostly sheltered waterways in the general Chesapeake region.
A loose confederation of eight Piracies, scattered up and down the Potomac River and Chesapeake Bay estuaries, the Chesapeake Paddlers Association (CPA) offers many diversified activities and benefits providing a way for people to safely enjoy kayaking.
"The Piracies are active during the daylight saving months, from March through October," said immediate past Coordinator Barry Marsh, who paddles in Baltimore. "Some groups are very casual and some go out for dinner afterwards. A good number of us kayak during the cold months."
Marsh, a five-year club member, discovered CPA while seeking an adult outlet for his youthful kayaking experience, derived partly from scouting experiences. "I've always enjoyed kayaking," he said. "Remembering the fun I had as a youth, I went out and bought a boat about six or seven years ago."
With 500 or so members mainly from Maryland, but also from nearby Virginia, Washington DC, and Pennsylvania, an informal atmosphere permeates the organization. The $10 per year membership opens the club to just about anyone, Marsh explained. "You show up with the right gear, and you get to go paddling."
One popular club activity is the daylong kayak trip, which covers 10 or 20 miles. "We carry the kayaks to the beach for a 10:00 am launch," he said. "We paddle for about one hour to one and a half hours at about three knots so everyone can keep up. The trip is very informal," with scheduled beach stops and a 45-minute lunch break. "We form little groups and talk to friends" while on the water. "It's just a lot of fun. It's very relaxing."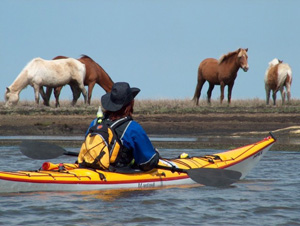 Marsh said the vast majority of members are casual paddlers, but a few are racers and whitewater kayakers. Publicity for the club is provided by word of mouth and online announcements, "a fairly active campaign to bring brochures" to sporting goods stores and other related retail outlets, and attract new paddlers.
He described a February 17th class, SK 101, a one-day seminar on the basics of sea kayaking, where beginners can learn about kayak equipment and navigation, the basics of safe paddling, dealing with cold water, and where to paddle. CPA also presents indoor pool sessions for learning new skills and practiceduring the winter season at Fairland Aquatics Center in Laurel .
Dave Biss, the newly-elected CPA Coordinator and Pirate Captain of the Georgetown Piracy, offered this insight, "The reason for the club is to introduce people to kayaking and have fun. It's an avenue for them to get out [on the water] and to learn how to do it safely and appropriately."
CPA started in the early 1990s, and the typical member "has a set career and is a full-time office worker," who wants "a part-time experience," he said. "They're weekend warriors, drawn to kayaking for exercise or for nature," to watch birds or fish. "Then you get addicted to it. There's an adrenaline rush of being in a foreign environment and the social factor of being out with friends."
Biss exemplifies this stereotype himself. He's a software engineer who converted his fascination for kayaking into a full-time career. "I learned to kayak at night until it took over my life," he said. He expects to return soon to the office milieu after a two year sabbatical on the water as the lead kayak instructor for L.L.Bean, among other such gigs.
Kayaks are long and narrow, up to 18 feet in length and two feet in width. Club members tend to use recreational kayaks, which are shorter and wider than their faster counterparts, Biss explained. They are more stable on the water and easier to maneuver, and are reasonably priced under $1000. For those interested in paddling but not ready to buy a boat, renting is available for $20 or $30 per session.
Kayaking equipment consists of a few essentials. In warm weather, the kayaker needs a kayak, paddle, PFD (personal flotation device, aka life-preserver), water, and food stored in dry bags or compartments. Additional cold weather gear includes a dry suit made of Gortex with rubber gaskets at the neck, wrists, and ankles, plus a hat and gloves.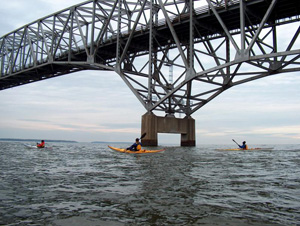 "Always wear a PFD," Biss emphasized. "Most fatalities in recreational kayaking happen because people neglect using a PFD. Sleeker boats are tippy, and waves can sneak up and knock you over. Experience, knowledge, and preparation" are keys to safe kayaking.
The club's safety instruction includes "what to take with you, and how to take care of yourself in the water if something happens," Biss said. "We're big on making members independent" by teaching safety through a variety of classes, where boaters learn to get in the boat from the water and out of the boat when it rolls under the water.
The Annapolis CPA chapter, the Pier 7 Piracy, meets on Wednesday evenings during the season at Pier 7 Marina on the South River. The typical agenda includes paddling on the creeks, skills practice, and socializing. Typically a potluck dinner on the beach concludes the evening.
"I got into it because it looked like something very interesting to do and not as labor intensive as biking or running," said Pier 7 Pirate Captain Brent Cogswell. "Kayaking gives a whole new perspective on water. It's a different kind of exercise. It's getting out. There are group aspects and solitary aspects. It's great for sightseeing."
Kayaking provides a mental break. "It's flotation therapy," he said. "On the water, you must pay attention to keeping the boat up. You can't think of anything else." Cogswell likes to be on the water at least once per week to maintain his psychological well being.
In cold weather, when the water temperature is below 50 degrees, "wear a dry suit," he advised. "You always plan on being in the water." At 50 degrees, "there's a 50 percent chance of making it 50 yards before hypothermia sets in. Go with groups in the cold. There's always a chance of getting dunked."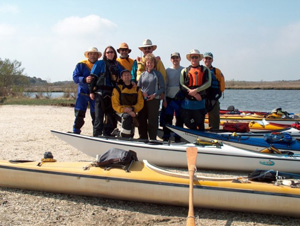 Local waterways are congested with boat traffic, especially on West River in Galesville, in the Severn River near downtown Annapolis, and in Spa Creek and Ego Alley, he noted. "You gotta watch out for boats all the time." He cited jet skis and "kids in boats" as particular hazards to kayakers.
Another Pier 7 Captain is Greg Welker, who spends his days as State Highway Association District Engineer for Annapolis. In 1990 he started "kayaking to get closer to birds," said the amateur wildlife photographer. "It puts you much closer to the water – aware of the water, the moods of the water. It's an opportunity to become part of the river that I'm paddling on."
Kayaking during the off-season has advantages, he said, including fewer sailboats and powerboats on the water and "huge open stretches of water and lots of birds."
Some kayakers are racers, but most use the day trips for camaraderie, relaxation, and an opportunity to unwind, he said. "What's unique about sea kayakers is that many of us never know anything about our fellow rowers' professions," he noted. "It's a sport that levels all that out."