Eddie McLean
By Joseph Patrick Bulko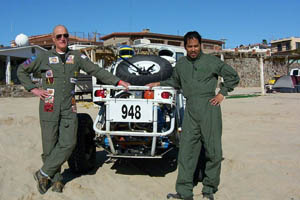 Ed McLean races cars. He races them off-road in the deserts of the American southwest and along Mexico's Baja California peninsula. He's not the only one who races hopped-up dune buggies, but he's probably the only 80-year-old to drive at speeds up to 100 mph on rough, rugged, hot desert terrain.
Known as "Fast Eddie," McLean is competitive in his vehicle class. In 1996, at the youthful age of 70, he and his driving partner finished in second place in the Baja 1000, and in 2002 his team finished fourth. In 2003, he was leading the San Felipe 250 for the first 196 miles before a ball joint broke on his car. Not bad for an "old guy" – a lean, long elderly man with a twinkle in his eye and a boyish grin when the conversation involves racing.
The son of a Naval Academy graduate who served as Lieutenant Commander, McLean enlisted in the Navy in 1943 at age 17, about 18 months after the Pearl Harbor attack. "I wasn't interested in the Academy," but as many of his Greatest Generation contemporaries, he "was interested in getting out and killing Japs," he said. "We knew the Japanese were enemies during that era. None of us were surprised by the Pearl Harbor attack."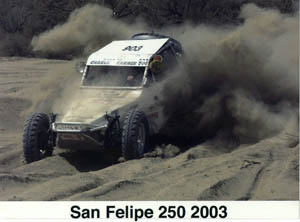 He chose submarine duty in part because of the adventure, noting with a chuckle, "I was young and stupid." Subs were used in the Pacific Ocean against the Japanese fleet. "The submarines were the major sinkers of ships."
Later, from October 1945 to April 1946, his Navy stint included being part of team operating a captured German U-boat. "When we got on them, the German crews were still on them," he explained. The subs were dry-docked at the Portsmouth Naval Shipyard, where the German officers participated in training the Americans in the operation of the vessel.
"They and our guys taught classes for the whole crew on how to operate that sub," he said. "That sub was the fastest deep-diving submarine anywhere in the world at that time. We operated with the U.S. Navy anti-submarine guys" to learn how to track the dreaded U-boat, "but they never could, because it was a quiet runner and a deep diver."
After three years of active duty, McLean was discharged from the Navy and went into the Naval Academy as a Midshipman. "It was a logical step, but along the way I decided I wasn't going to stay in the Navy," he said. After two years at the Academy, he resigned and joined the Naval Reserves.
A member of the Academy's Class of 1950, he continues as a life member of the Naval Academy Alumni Association. He was called back to active duty for the Korean War, and in 1952 he left the military. "I didn't want much to do with the peacetime navy," he said "It's just bureaucracy, and I'm kind of a rebel without a cause in a way and bureaucracies weren't my thing."
As a civilian, "I worked for Eastern Airlines for 14 years, and then went back to work for the bureaucracy," he said, referring to a long career with the federal Environmental Protection Agency (EPA). When the EPA added ships to monitor water quality along the coasts, the Gulf of Mexico, and the Great Lakes, McLean was chosen to take charge of them because of his naval background.
"I was project officer and dive master for a couple of our ships," he reminisced. "So I'd be on the ships quite often, which was good. I did a lot of diving. It kept me out of the office. I wasn't going to be sitting in that office shuffling papers. I probably had the best job in the EPA."
He continued, "We had some good things in our ocean survey, and our Great Lakes survey I thought was one of our better programs. We investigated illegal dumping. I thought most of the things we did were pretty good scientifically."
McLean was 58 years young when he started racing cars off-road in 1983. His introduction to the sport occurred when his brother, a motorcycle racer, invited him to join a 1982 Baja 1000 pit crew. "In my humble opinion, and I think it's borne out by fact, the most dangerous means of transportation is the motorcycle," he said, pronouncing the term "motor-sickie" to emphasize his point. "The majority of the deaths in off-road racing are motorcycle people. They're always getting wounded."
The Baja peninsula is as stark as it is barren. A long narrow finger of land on the Pacific Ocean, with a few isolated resort areas along the coast, the Baja's interior is empty. "There's absolutely nothing – except a few little ranchos and huts and things like that," McLean said.
The 1000-mile Baja race is especially grueling, criss-crossing forbidding mountainous terrain in a non-stop gasoline-fueled frenzy. more than four hundred vehicles enter the race each year, spread over 14 classes with about 15 cars in McLean's Class 9 open wheel buggy division. "Fast Eddie's" fastest time was about 27 hours, for an average speed of 37 mph, with McLean in the driver's seat for about half the race.
Twenty people, all volunteers, comprise McLean's pit crew and chase team. "They carry extra fuel, tools, usually some welding equipment, spare parts," he said. Anything and everything can happen to an off-road vehicle out in the desert. "If [the car] breaks bad enough, it's the end of the race."
Eventually, the costs of racing became prohibitive, and McLean could no longer draw from personal resources. His last race was the San Felipe 250 in February 2005 on the Baja peninsula. "My conscience was getting to me about spending all that money on racing," he said about his very expensive hobby. He sold his $50,000 racecar this year "because I needed the money" and now waits for a sponsor to finance his next race. "I'm always ready to race."
For a couple of years, 1989-1990, the Hardee's fast food company sponsored McLean's racing effort. A full year's sponsorship might involve as much as $100,000 to cover preparation and race day expenses, which would put McLean in the driver's seat at least once per month during the February to November season.
Despite his advanced age, there is no quit in McLean's spirit. "I'm not out there just saying I'm an 80-year-old driver," noted the feisty octogenarian. "I'm out to win. I go to win, but I have no obsession with winning."
Long before he sat in his first racecar, McLean was racing sailboats. Since the 1960s, he's been a competitive sailor. He has raced all over the East Coast, but now mainly stays on the Chesapeake Bay. "I won a bunch of races this year, one of the best years I've had since I've been racing sailboats," he said.
"I like automobile racing better than sailboat racing because sailboat racing is really dependent on the wind and the shifts of the wind," he said about up the allure of the automobile. "In a car, you're in control. Nobody catches you because they catch wind coming up behind before you get it."