Jan Ferguson Interior Plantscaping, INC.
Business is Blooming
Many business hubs closed away from the public in industrial park locations are actually command centers providing essential services to customers within a radius of over one hundred miles. One of these, a strictly commercial Annapolis business with a far-reaching customer base, is Jan Ferguson Interior Plantscaping, Inc. The term "interior plantscaping"generally refers to the maintenance of plants indoors and the companies that are hired to take care of them. For the most part, this is a design and maintain service involving interior plantings in a variety of corporate settings as well as the plants we see in shopping malls. While interior plantings are the primary focus of her business, when requested, Ferguson does design and maintain exterior plantings.
Ferguson initially launched her interior plantscaping business in 1975, and in 1997 took over the Annapolis location at 40 Hudson Street. With more room and better access to the main roads, the space on Hudson Street location is divided between a modest office and a larger area for warehousing the weekly tractor-trailer shipments of tropical plants from Florida.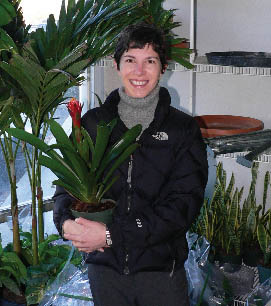 In the past fifteen years, largely through word of mouth and some telemarketing, Ferguson's customer base has almost doubled. For ten of those years, she has been fortunate to have her daughter-in-law Karen working with her and learning the business from the ground up. Born and raised in Baltimore, Karen has a degree in Accounting and an MBA from the University of MD. Karen and her family live on the Eastern shore, but she doesn't mind the daily drive over the bridge. In fact, Karen and her family enjoy the charming ambience of Chestertown, where her husband Andrew practices family medicine. After graduating from the University of MD Medical School, Andrew did his residency at Franklin Square. Karen and Andrew have two sons: 6-year old Cole and 2-year old Reed. Jan's other son, Greg, also practices medicine. He is a veterinarian cardiologist in Annapolis.
Today Jan is CEO of the business and Karen, as company president, tends operations in the command center on Hudson Street, where she deals with customer accounts, organizes installations, and sends out teams of workers in company vans and box trucks. Currently, they have fifteen full-time employees, some of whom have been with the company for almost fifteen years, and ten company vehicles. Working in teams, these employees service approximately 250 Maryland accounts every week. These accounts include a large number of office buildings in Columbia, and hospitals such as the Anne Arundel Medical Center and The University of MD Medical Center in Baltimore, one of their biggest customers. Other interior installations include the malls in Westminster and Salisbury. They also provide fresh floral arrangements for hotels such as Baltimore's Ritz-Carlton and Loews Annapolis Hotel, and the Sheraton in Annapolis. While they have clients in Annapolis, the DC area, the towns of Westminster, and Salisbury, most of their accounts are in the Baltimore area, and include the BWI airport.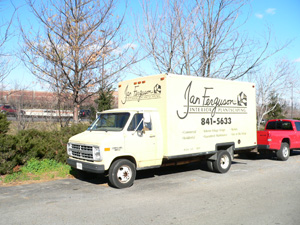 In addition to year-round accounts, they enjoy a surge of business during the December holiday season, with decorations for Christmas, Chanukkah, and Kwanzaa. Making these holidays visually festive involves creating and installing a variety of decorations that include ornaments, candles, bows and both real and artificial trees and wreaths. To conform to Fire Department regulations, all their indoor wreaths are artificial. They install Christmas trees ranging in height from seven to 30 feet. They also decorate winter scenes with Alpine trees and flowers. To prepare for the great surge of holiday decorating in December, Ferguson begins planning for Christmas in the spring. In May they begin acquiring and storing hand-made Christmas decorations, ready-to-go for December. Selected ornaments are purchased at Christmas Shows and Gift Shows, thousands of bows are hand-made by Ferguson, and all are stored in their warehouse. With the preparations and the volume of business in December, it is not unusual for their overflowing warehouse space to be stretched to capacity to allow for another shipment of 800 poinsettias three weeks before Christmas.
As a young entrepreneur in 1975, Ferguson was an example of Yankee ingenuity and a business model for women. Then in 1979 the US government took steps to encourage Ferguson and other women with the entrepreneurial spirit. Under President Carter, the government created a program to help women who wanted to go into their own businesses. Executive Order 12138 directed Agencies to take appropriate action to facilitate, preserve, and strengthen women-owned businesses and to ensure full participation by women in the free enterprise system. Women-owned businesses are those that are owned at least 51% by women who are US citizens and who also control and operate the business. In this instance, "control" means exercising the power to make policy decisions, and "operate" means being actively involved in the day-to-day management of the business. While there are no set-aside preferences, government Agencies are required to award 5% of their acquisition dollars to women-owned businesses. Today Ferguson is part of the MBE network and participates in the annual State of Maryland MBE Fairs for Minority Business Enterprises.
Currently Ferguson is preparing brochures: one on plants in general and another on Christmas and other holiday decorations. In the meantime, she is available to commercial clients with questions about installing and maintaining widely ranging plant varieties, from Nuni bushes to variegated rubber plants, from Black-Eyed Susans to desert terrariums, and beyond.
Ferguson's business health is apparent from the loyalty of her employees, the steady increase in her customer base, and the successful installations of challenging plantscaping designs. Among these, she is particularly proud of their installation at the UM Weinberg Building that involved hoisting 20' trees over the side of the building.
Growing steadily since it was planted in 1975, Ferguson's Interior Plaantscaping is truly a blooming business today.
Interested commercial costumers may contact Jan Ferguson Interior Plantscaping at 410-841-5633.