Annapolis Editions

Anne Arundel County: A Pictorial History is a comprehensive collection of historic photographs. It includes over 300 generously captioned photos of Annapolis, Glen Burnie, Severna Park, Fort Meade, Odenton, and "South County," along with historical narrative by author Jacques Kelly. Also included is a chapter illustrating the development of transportation in the county, including railroads, steamboats, bus lines, and highways. A retrospective of the faces of people who lived on the farms, rivers, hamlets, villages, and cities of Anne Arundel County, as well as notable residents and famous visitors just passing through.Anne Arundel County: A pictorial History by Jacques Kelly can be found online at Alibris.com and TomFolio.com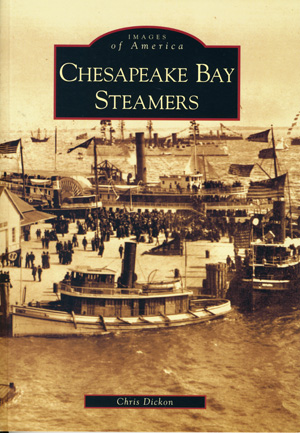 Chesapeake Bay Steamers, by author and Emmy award-winning media producer Chris Dickon, presents 200 images chronicling a nearly forgotten era in maritime history. Images compiled from the photographic archives of the Library of Congress, museums, historical societies and local libraries from Norfolk to Baltimore, illustrate the power of the steamer's technology as well as its impact on the community and transportation. Uniting society and commerce between hundreds of towns and cities, the steamer became an important vessel not only locally, but nationally.Chesapeake Bay Steamers $19.99, Arcadia Publishing. Available at area bookstores, independent retailers, on-line bookstores, or through Arcadia Publishing at www.arcadiapublishing.com.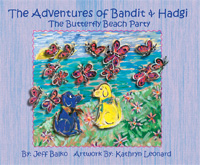 Follow Bandit and Hadgi (Haj-ee), two fun loving dogs as they embark on an adventure in search of friends and fun. In The Adventures of Bandit and Hadgi The Butterfly Beach Party, the two travelers journey to a magical butterfly beach party. Along the way they encounter a blueberry eating bear, LaLa the bird, a mischevious squirrel, Tally the turtle and hundreds of butterflies. The dogs discover that even though their new friends are different, they are all "special in their own way." Author, Jeff Balko and artist, Kathryn Leonard are both residents of Annapolis. This is their first children's book. Adventures of Bandit and Hadgi The Butterfly Beach Party can be found at Pusser's Company Store, Paws Pet Boutique, Café Guru, Wild Thing, and other area stores. For a complete list of available locations or to order the book online, visit www.BanditAndHadgi.com.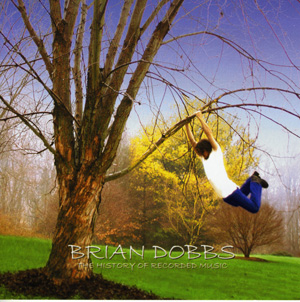 Brian Dobbs: The History of Recorded Music is a three-disc debut album from local musician Brian Dobbs. Experimenting with various musical styles and soundscapes, the three-disc set includes, a bass-heavy stereo mix of nine tracks on a vinyl CD, a DVD with studio footage, interviews and video adaptations of each song, along with a remixed version of the album in 5.1 DVD-Audio surround-sound. Intensely interested in the entire musical process, from writing, performing, and producing to financing and documenting, Mr Hobbs, maintains the website www.TheSoloAlbum.com where he discusses in detail the entire process of music making from concept to completion. Brian Dobbs: The History of Recorded Music is available at
www.BrianDobbs.com.