Annapolis Bed and Breakfast Association
Is 2007 a good time to be a bed and breakfast owner? Local innkeeper Robert Zuchelli, president of the Annapolis Bed and Breakfast Association, says yes. "The industry is very alive and very well," he told Inside Annapolis. Nationally, B & Bs are also doing well. Statistics collected by the Professional Association of Innkeepers International (PAII) show a modest but consistent increase in the size of the industry, as well as occupancy rates. Of the 20,000 country inns (which serve both dinner and breakfast) and beds and breakfast in the United States, only 6% to 8% are sold annually.
Running a bed and breakfast can be a lot of fun. "You meet really incredible people," Zuchelli said, who counts among his guests an astronaut and a writer from the New York Times. While many visitors may just stumble upon something when they first travel to a city and need a place to stay, "the guest who returns to you is the highest compliment," he observed. Charlotte Schmickle, who owns the Flag House Inn with her husband Bill, said the couple stays friends with many of their guests and even get invited to their children's weddings.
The Schmickles are selling Flag House Inn to retire and have no regrets. "It was an absolutely great thing to do for 10 years," she said. When prospective buyers ask "tell us the bad things" about running a B & B, "there's really not any bad thing about it." To Schmickle, it's a question of attitude. Her background as an intensive care nurse in North Carolina taught her what a real emergency is – "running out of toilet paper is not one of them."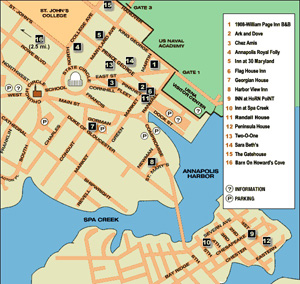 Zuchelli, who owns the 1908 William Page Inn, credits the Internet as the biggest change for the industry, as well as an enormous boon. He estimates the 90% of his transactions are either initiated or closed due to the Internet – either a visitor may find his bed and breakfast on a web page such as the Annapolis and Anne Arundel County Conference and Visitors' Bureau (www.visitannapolis.org) or makes the decision to stay after viewing Zuchelli's website. B & B owners have also upgraded their services and amenities to meet the demands of guests who tend to have high incomes. B & Bs in the past may have offered a room with a shared bathroom and not much else other than friendly service; now guests are more likely to expect private baths, upscale bath products and antiques.
Being an innkeeper is not without its challenges. Failing to actively market, overinvestment and underestimating the time commitment required are among the chief pitfalls, according to PAII. "It's a job you retire from," Zuchelli noted, "not retire to." External disasters such as terrorist attacks and hurricanes can also wreak havoc. After September 11, he recalled, "I lost all my international traffic." Even if the disaster itself was manageable, the public perception of the impact may lead to cancellations. Zuchelli said the media's coverage of Tropical Storm Isabel created an impression of a devastated town when, in fact, the water receded fairly quickly. And, an obstacle particular to an historic town like Annapolis is renovating a house that may be over 100 years old to meet modern zoning requirements.
A business in which people are paying to stay in your own home can also lead to burnout if you do not set limits and protect personal time and space, Schmickle observed. "People ask "how can you can do it 24/7?" She responds that it doesn't have to be that way. If a guest wants to check in early and neither one of them is available, then they explain that and typically encounter no problems. She and her husband may have to give up Friday night outings to welcome late guests but "we don't feel tied down."
Dealing with these challenges may be easier with an industry support group. The Annapolis Bed and Breakfast Association helps market its members, who must be owners of licensed businesses that meet the city's definition of a bed and breakfast (for example, it must be owner-occupied and cannot provide more than five guest rooms). A few places, such as Gibson's Lodging, are slightly larger and, therefore, are not eligible to belong to the association.
The association began rather casually, according to Zuchelli, when the previous owner of the Georgian House Bed and Breakfast decided to pull owners together "and introduce ourselves and talk about what we were doing." From there, the association grew to the 16 members it has today. While the group does not have a formal mission statement, its main goal is to promote the industry. The association also participates in the community through volunteer projects such as Habitat for Humanity. Schmickle, a former president of the association and incoming secretary, called the group "an absolutely wonderful resource."
The association traditionally restricted its membership to those in the city's C-1 conservation district, which does not extend far past the historic district. However, members decided to expand and significantly redrew those boundaries in all directions to include places near the Bay Bridge, as far south as the South River, and as far west as Davidsonville.
Guests of the association's members will be pleased to know that the association also prides itself on quality assurance through peer inspections among members. The owner of one inn will visit another and offer recommendations and observations such as cleanliness, management, and guest relations. Zuchelli says that he will receive five or six inspections between December 2006 and May 2007 (including city and county inspections). "Most don't tell us when they're going to come by," he said laughing.