Segway
Toy? Appliance?...Transportation!
Cruising along at a less than heart-racing 6 mph, a full head-and-shoulders above the teaming pedestrian population, on a hot August afternoon, hair tucked beneath one of those aerodynamic poly-something-or-other cool-but-nerdy bicycle helmets, a steady revivifying breeze neutralizing the sun's intensity, my introduction to the Segway Personal Transporter had begun.
Suspended on a gravity-defying platform, with a pogo-stick handle providing the illusion of security, the new i2 model seemed to propel me via mental telepathy or, more accurately, telekinesis. Looking ahead to my destination, the far end of a narrow neighborhood street just off Spa Road, I was launched gently by the near silent device, which hummed contentedly like Dr. Smith's robot from the old Lost in Space television show.
I glanced to the left for the purpose of charting a path to the opposite side of the road, and the machine glided, of its own volition, to the spot I had picked out. Spooked and exhilarated simultaneously, I let the craft use its version of Spock's Vulcan mind meld to take me where I wanted to go - left, right, uphill, down, over paved streets and grassy fields.
At one point, finding myself going a bit quickly down a slight incline, I leaned back reflexively and the Segway slowed down. Later, on level terrain, I stood up straight, and the Segway stopped dead, solidly upright and waiting for further unspoken commands.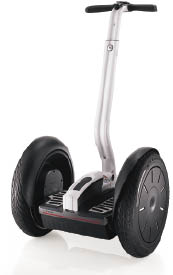 Suddenly, words that had formed during a long ago solitary early morning jog crept back into my mind: "I, too, am a child; for I run in the wind. And I am Nature, just a child at play."
"It's designed not to replace walking. It doesn't replace exercise." The deep measured baritone of Segway of Annapolis owner Dick Segar snapped me from my reverie. Somehow the Segway PT i2 had returned me safely from my inaugural voyage.
"The previous model was what they call intuitive: You lean forward, you go forward," he continued. "This one [the i2] is taking it to the next level - it's almost instinctive. Whatever you do with your body when you're walking, this interprets that same thing. A slight shifting of your weight on your toes, and you go forward. A slight shifting of your center of gravity to the left, and you turn left. You just enjoy the glide."
My traveling companions, Segar and his business associate Bill Hopper, the president of SEG America, the national enthusiasts club, are seated across from me indoors at the dealer's headquarters. We're discussing the merits and operation of the Segway.
"It was designed to replace cars, designed to get a person from point A to point B efficiently," explained Segar, a retired jumbo jet airline pilot. "It doesn't really take up any more space than a human being does walking."
The 100-pound electric-powered gizmo has a top speed of 12.5 mph and a range of 24 miles, or 480 city blocks, on a single charge. The Segway is considered a pedestrian by law. "It is specifically not a vehicle," Segar noted, referring to it technically as an electronic personal mobility assistance device. It is a green machine, too, emitting no pollution and having no oil or fluids to leak or drip onto the road.
"It's not a toy," added Hopper about the $5,000 technological wonder. "It's a transportation tool." For adults with children, he said, "Segway of Annapolis offers the SEGshaw [like the rickshaw], a carriage that goes behind the Segway."
The debut of the automobile in the very early 1900s, and the subsequent rush to settle the suburbs after WWII, created a landscape unfriendly to walkers. The car became a necessity as workplaces and retail centers were located at great distances from the homestead. Now, the Segway, with its space age Jetson engineering, offers a quiet, non-polluting, energy-efficient solution to navigating the 'burbs.
Segar envisions a scenario where towns such as Annapolis, with crowded downtown areas, will eventually be car-free and traffic-free and congestion-free with only bicycles and walkers and Segways buzzing about. He sees the Segway as a key part of the solution to increasing traffic woes.
Hopper and Segar have been talking to the Maryland Transportation Authority about incorporating the Segway into existing and future transit plans. For example, adding Segway storage space on buses and light rails so transit users can ride Segways to the transit stations and then again after reaching their destinations.
Urban planners are starting to incorporate the Segway into their planning, Segar said. "We're starting to get administrators looking at the Segway as a solution to some of the urban problems."
The Segway is the creation of Segway Inc, a Bedford, NH company founded by inventor and entrepreneur Dean Kamen who wanted to transform the way people work and live. Inspiration for the name Segway came from the word segue, which is defined as, "to transition smoothly from one state to another." A Segway PT transforms a person into an empowered pedestrian, allowing him or her to go farther, move more quickly and carry more.
Segar, one of the original Segway dealers, started giving Segway tours in downtown Annapolis in February 2004. The Segway Safari Experience is a one- or two-hour excursion where the participants learn to ride the device, have fun with it, and take a tour of Annapolis.
"Dick is the dealer of choice for the enthusiasts in the Mid-Atlantic region," Hopper said. "Everybody loves him because of his personality and because he's an enthusiast."
The typical response of newbies after an invigorating ride: "They're going to have that monstrous smirk on their face - this was just more fun than they would ever have imagined," Segar said.
As proof, Greg Denton and his son Kevin, from Los Angeles, returned from their first Segway experience, a two-hour tour of downtown Annapolis. "It's obvious it's a lot of fun," Greg said. "It was very comfortable. I was amazed at how stable it is. It's very stable."
"Most of my business is in the sales and service end of it," Segar said. Police departments all over the country are buying them. Security firms use them to patrol buildings and facilities, including college and corporate campuses. Additionally, there are numerous commercial applications for the Segway, especially in warehouse situations where large distances need to be traversed regularly by walking. "It basically makes any walking mobile job several times more efficient."
Segar is not yet profitable, though he has sold over 40 Segways this year and about 175 since he became a dealer nearly three years ago. "It looks like it's rapidly turning around this year." Of course, congested streets, worsening by day, should convince quite a few folks to consider this futuristic marvel.
"I consider myself to be an evangelist for the Segway and what it represents for the future," Segar mused. "I also think we're still five years ahead of its being accepted."
Dick Segar, owner
Segway of Annapolis
Web: http://www.segnation.com
Email: info@segnation.com
410-267-0895 or 410-991-4859 (cell)
Bill Hopper, president
Segway Enthusiasts Group of America
Greg Denton, Kevin Denton
Los Angeles , CA