New York Sophistication in Annapolis
Metropolitan
169 West St.
Annapolis, Maryland
410-268-7733
www.MetropolitanAnnapolis.com
Expensive
First Plates: $10 to $18; Salads: $8 to $9
Small Plates: $12 to $19; Mains: $25 to $36
Five-course Tasting Menu: $70
Hours: Mon. – Thurs. 5-10 p.m.
Fri. and Sat. 5-11 p.m.
Sun. 4-9 p.m.
Extensive wine list
All major credit cards accepted.
No doubt you have noted the explosion in the marketplace on West Street between Church Circle and Taylor Circle. New retail shops, the Callaghan Hotel, multiple new restaurants and varied business enterprises are open and thriving.
A first floor entrance to the glass-fronted Metropolitan restaurant at 169 West Street led to an attractive contemporary bar and gracious welcome from a friendly staffer who offered to escort us to the second floor dining room. We might have been in New York City or some other metropolis from the look of the off-white leather modern dŽcor and birch-colored walls. Tables were well spaced for privacy and were well draped in linen extending an elegant motif. Draperies between sections of the room aided in muffling intrusive sounds.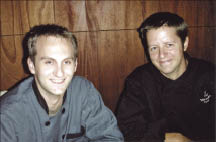 After seating three of us, including my ally in food and a guest-Jackie, with discriminating taste and discerning taste buds, we were soon served l'amuse. This small appetite teaser was the first of many surprises-served on a large-bowled spoon with a short handle; it was slaw in a spicy dressing, with a strong hint of sugar. Interesting.
From the beginning, the service was impeccable, including appropriate concerns about our needs and questions. This restaurant had been open for little more than a year and had no idea that we were on a "critical" mission. An innocent question about the chef resulted in a tableside visit from the sous chef who was in charge of the kitchen on that particular evening.
We enjoyed the Crab Claw and Avocado Salad beautifully presented with a pureed sweet potato nap and a just-caught/picked sensation. Actually, waves of taste emerged; first a smooth avocado awakening with a tinge of lime and then an onslaught of crab that lingered on. In addition to that small plate, we tested the Kumomoto oysters, super fresh and medium-sized, enhanced with Beluga caviar (just the right amount) and roasted parsley that produced a salt zing that was excellent.
We ambled on to the Jamison Farm (Pennsylvania) Leg of Lamb that turned out to be nothing short of gorgeous. It was succulent-the consistency was tender, and then delivered some unexpected flavors. In this case, it was French Banyuls wine vinegar reduction and a rutabaga mash. Highly recommended.
From the salad selections, I picked the wild mushroom latte. I was somewhat amazed when it arrived in a cocktail glass and then noticed another surprise-foam on top, a warm and enticing smoothie of cremini, oyster and Portobello mushrooms.
We tried two table plates (for sharing)-the roasted garlic potato mash that was truly velvety with a hint of garlic and the seasonal vegetables of chard and shallots. Nothing subtle about the vegetable flavors, they demanded attention.
From the "Mains" we selected the Black and Pink Roasted Beef Tenderloin with wild mushrooms and brandied sweet onion sauce and decorated with a spice cracker. The beef was top tier Angus, the onion sauce appropriately subtle and the pink pepper was a berry. The medium-rare beef was enveloped in flavors that kept on giving with each bite.
We constantly noted the various shapes of the dining china-geometric or mimicking a familiar shape, e.g., boats, again working on the surprise level. Some might call the dessert dishes "spectangular." Our favorite dessert was the caramel mousse.
On our second dinner visit, we noticed some distinct changes in the seasonal summer menu. The food was even more creative and daring. One selection from the First Plates was the Prosciutto Wrapped Sea Scallops with pistachio nuts and amazing mango foam.
Also, the Poached Lobster Claw and Sea Scallop got our attention-cold carrot-orange consommŽ with pineapple and tarragon tastes. The Bib Caesar Salad seemed soggy to us, that's a characteristic of bib lettuce when the dressing hits it, and it was a fine Caesar dressing.
The Australian Scampi Prawns arrived with large beige bodies and huge eyes that seemed to focus on my ally in food. Although the server testified they are flown in from Australia, we noted that one had gone off. They produced little meat. Jackie thought the under bed of chickpeas gave the dish an earthy and adventurous flavor.
The third floor rooftop bar and dining space, serving the full menu, offers a panoramic view and has become a popular meeting spot.
Owner Scott Herbst has assembled a talented group of young professionals including Executive Chef J.J. Minetola, Sous Chef Michael Lunsford and Service Manager Mark Spitalnik. They are passionate and committed to creating food that fits into the global flat world in this new dining design of rejuvenated Inner West Street.