Kokopelli Automotive
Tom Rodgers and the Lotus 11 Racecar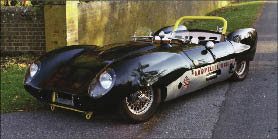 Forty years ago, Tom Rodgers sat behind the wheel of a Lotus 11 racecar and fell in love. With more curves and undulations than a 1940s-era motion picture starlet, it was the Betty Grable of automobiles. "I thought it was the most beautiful thing I'd ever seen," he said. "It's a gorgeous shape. It's voluptuous and aerodynamic and beautiful." Today the Galesville man, founder of Kokopelli Sports Prototype Automotive LLC, is starting to sell replica kits of the Lotus 11 so others can embark on the same romance. "A thing of beauty is a joy forever," he noted. "To me, this is a gorgeous car, and every time I look at it, it makes my heart beat."
The car dominated the 1100cc class of racing back in the late 1950s. Lotus Engineering in London built 256 copies of this model out of aluminum. According to LotusEleven.org, the car incorporated the latest in aerodynamic theory, engine, suspension and brake technology. It was an example of the ultimate lightweight, front-engine, road-going racecar.
Rodgers' kit is designed to incorporate the innards of the British MGB-1800 or the Mazda Miata. More than 300,000 MGBs were exported to this country from 1962 to 1980. There are lots of them in junkyards and backyards.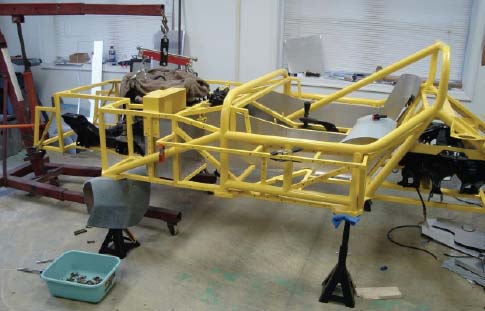 "The woods are full of them, and many have succumbed to the ravages of rust and rain, rusting out the floors, rotting the seats, and degrading everything except the very parts that you need to build your own Lotus 11 replica," Rodgers said.
The kits cost $12,500. He'll build the complete car for a customer for about $27,000. He's dubbed his creation the Kokopelli 11. "Kokopelli is the muse of dance, music, fertility, frivolity, and everything that's good about life," Rodgers explained. "He's my kinda guy. I like the sound of the word 'kokopelli.' It sounds very Italian and couldn't be more Native American."
According to The Kokopelli Zone website, "Kokopelli's whimsical nature, charitable deeds, and vital spirit give him a prominent position in Native American mysticism. Kokopelli is considered a symbol of fertility who brought well-being to the people, assuring success in hunting, planting and growing crops, and human conception."
"My company motto is 'Dance, Create, Drive,'" Rodgers said. "It translates to: celebrate, make something, and then enjoy it. Everything to me is hand, heart and mind-doing, feeling, and thinking."
Kokopelli Automotive is backed with Rodgers' 50 years love for automobiles, airplanes, motorcycles, boats, and all machines that can transport, entertain, mystify, and confound the imagination. "I've always liked anything mechanical, if it flies or floats or rides or drives-or if you can eat it."
A native of Asheville, NC, Rodgers is trim and tanned, with a good-old-boy drawl still intact. He's been in Maryland, more or less continually, since 1969, when he was a student at St. John's College. "I've been in six different colleges and that's the best one I've ever seen," he said. "At St. John's, I learned how to find out what I want to know. Anyone who learns that-and reads-is off and running. How to find out what you want to know, and how to talk about it."
Rodgers has been married twice, helped to raise three stepchildren and spent a year in London studying drama and creative writing back in the 1980s. He's worked in Florida as a crop duster and has been involved in composite materials fabrication-generally, making anything involving fiberglass or carbon fiber, such as boat hulls for the Navy. "If you have a good idea, I'm the kind of guy who puts it into reality," he noted.
"I'm a very active outgoing person," said the 62-year-old bachelor. "I'd like to meet a nice single lady. I tend to suffer from near-terminal euphoria most of the time. Nobody lives better than I do. I have a great life."
Rodgers added, "There is something that age gives you that youth absolutely cannot have. As a consequence of age, you get more and more conscious that there's less and less time to do whatever it is you want to do-to make your contribution or to grow yourself to where you want to be."
On his approach to acquiring knowledge: "I like serious people and serious discussions and wide points of view, and I always learn something from somebody. I like to try to hang out with people who are a lot smarter than I am because that's how you learn stuff. Those are the kind of people to hang out with. Hang out with people who are doing something, doing stuff and thinking stuff and making stuff."
Kokopelli Automotive has facilities in Harrisonburg, VA, where the tubular steel chassis, roll cage and aluminum panels are manufactured. The fiberglass bodies, consisting of six separate pieces, are produced locally by Marine Design & Composites, a Defense Department contractor in Owings. They can be painted any color to suit the buyer's taste.
Don Trumpy of Marine Design, an owner of collector cars, has driven Rodgers' Kokopelli creation. "It's a blast! It's the closest thing to a street-legal go-cart." He attributes the great handling to the auto's very low center of gravity.
"Driving the car, the visuals are terrific," Rodgers said. "To look out over these fenders through these little British windscreens, you're seeing the same view as Phil Hill and Sterling Moss, all these famous racing heroes."
After three full years of development, only recently has Rodgers begun selling the roadster. "Have I made any money from it? No. Do I have a huge tax write-off? Yes. No matter what happens, I own the experience of making this car. Only the artist owns the painting. Everybody else only possesses it." He wouldn't mind if more people wanted to "possess" his car, though.
"My market for this car is not 17-year-old kids who want to go fast," the artist-builder summed up. "My market is people who are 50 years old and either fondly remember this model or who just fall in love with its shape. The car is designed for someone who wants to look absolutely elegant going down the road in an extremely beautiful British racing car."