Homestead Gardens
From Backyard Venture to Big Business
We've all seen those advertisements for plant food: the scrawny specimen in the "before" picture beside the lush, thriving plant in the "after" picture. In the realm of garden centers, Homestead Gardens-fruitful and flourishing- is the Atlas of "after." For sure, this is Martha Stewart territory! Nestled amidst the beautiful rolling countryside of South Anne Arundel County, this popular landmark destination extends over 50 acres at the intersection of Maryland Routes 214 and 424 in Davidsonville. The largest enclosed garden center in the Baltimore-Washington-DC metropolitan region, Homestead Gardens boasts the area's most extensive selection of annuals, perennials, trees and shrubs. The onestopshopping site consists of 57,000 square feet of retail greenhouses and pavilions, a 15acre outdoor sales area, and a 4.5acre nursery with more than 500 varieties of trees, shrubs, vines and ground covers. Two working farms supply plants and other materials for retail and wholesale sales. Other offerings include landscape design services, a diagnostic center, a floral center, lighting and irrigation supplies, "decoratives," garden accessories, bird supplies and casual furniture. The list goes on with bulk grass seed, pond supplies, gardening attire, mulch, produce, homespun yarns (for knitting, not for telling) and a stone center. Regarded by the industry as one of the finest garden centers in the country, in 2004, Homestead Gardens was named "Garden Center of the Year" by Garden Centers of America.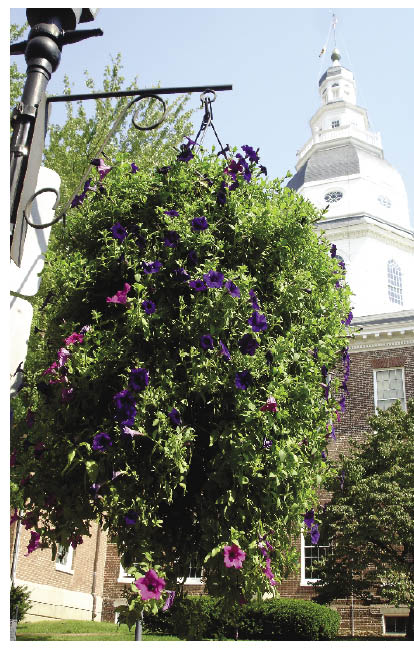 "A trip to Homestead Gardens is not just another shopping trip," says Marketing Director, Tim Hamilton, "it's an experience. Whether you're strolling through the landscaped grounds for ideas, exploring the garden center for the perfect item to compliment your home, relaxing with gourmet coffees, or even visiting our llama herd, there is never a dull moment!"
Behind this lively operation is a whirling dervish of a manwithaplan. For owner, Don Riddle, Jr. Homestead Gardens is a familyowned business that began in 1973. Riddle says his horticulture education, built on a longstanding family tradition of truck gardening, has been his inspiration for Homestead Gardens. With the support of his parents, the business was founded in the back yard of the Riddle home in Hyattsville. In 1970, while still in college, he constructed the first green house adjacent to the family home, producing azaleas for customers in the Washington, DC suburbs of Hyattsville, University Park, and Adelphi.
Three years later, at the age of 24, Riddle incorporated Homestead Gardens and opened a new facility on Central Avenue in Davidsonville's pastoral countryside. At the time, Davidsonville was sparsely populated and did not have the traffic flow conducive to drivein business. Riddle hit on the idea of transforming Homestead Gardens into a destination Garden Center. To coax customers into taking a drive into the country, he began offering a series of events and festivals throughout the year. "It worked," he recalls, "and we soon began building a name for ourselves." From that time on, he adds, "you could say that Homestead Gardens has been in a constant state of expansion." Today, the facility offers nine major festivals and events each year and a variety of programs in between. It also stresses education, offering dozens of seminars and workshops throughout the year, all geared toward consumer education. Homestead Gardens is one of only a few garden centers in the country to employ both an Events Coordinator and Education Coordinator.
In addition to programs, the facilities of the business have expanded over the years. In 1975, the company acquired an adjacent fifteenacre parcel, more than doubling its acreage. The late 1970s brought retail greenhouses and over the years new pavilions boosted Homestead's covered selling space to 40,000 square feet. Concurrent with the development of the retail businesses, the operation also constructed wholesale greenhouses, which supply businesses, churches, and organizations throughout the Metropolitan D.C. area including the U.S. Navy and Congressional Country Club. In 1985, the company purchased an additional 104 acres of land and introduced the Wholesale Production Division to sell to independent landscape contractors and to supply Homestead Gardens' retail store with the majority of its annual, perennial, and nursery stock. The operation expanded rapidly over the years to become one of the largest independent, singlelocation garden centers in the United States. Today, the company consists of four divisions: retail; landscaping and maintenance; greenhouse production; and wholesale production.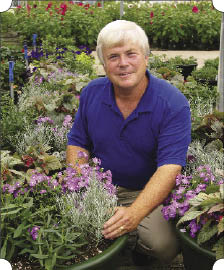 Riddle acknowledges that he sets high expectations for himself, his business, and his employees. Above all else, he puts his faith in his employees, placing the highest priority on recruiting. Consistently improving the organization and never being satisfied with the statusquo have also contributed to the success of Homestead Gardens. "I am a firm believer that in order to prosper, a business cannot rest on its laurels," he stresses. "We've never been afraid to take risks or to run a business that is fast on its feet when it comes to implementing change. We are quick to identify new products and concepts in the marketplace and seize every opportunity as it presents itself so we can stay on the cutting edge of the garden industry. In this industry, the market changes quickly, especially with the proliferation of "big box" retailers and the influence of the Internet, through which trends emerge quickly. I decided long ago to set trends rather that follow them. It is not where we are today that counts; it is where we are going to be tomorrow."
Visual Merchandising is a key strategy employed by Homestead Gardens to set it apart from other retailers. "In fact," Hamilton says, "this is what has elevated us to be an industry benchmark." Using props salvaged from antique stores, estate sales, defunct farms, and other sources, the Homewood Gardens Visual Merchandising Team constructs elaborate displays throughout the year. "Our goal is to create a buzz throughout the region. For example, we herald the start of the Christmas season in Maryland much as Macy's Department Store did in Manhattan during the 1940s."
The company takes an active role in the community, making donations to nonprofit organizations, schools, and churches throughout the year, as well as hosting numerous charitable events at the garden center and working on public projects. Homestead Gardens is the Official Gardener of Oriole Park at Camden Yards, the home the Baltimore Orioles major league baseball team. As part of the Annapolis Beautification Project, Homestead Gardens provides hanging basket and container flower displays to the Annapolis Business Association for Historic Downtown Annapolis, including holiday decorations. Throughout the year, Riddle allows charitable organizations, including Foodlink, Habitat for Humanity, the S.P.C.A, the Ruritans, and others, to use the Homestead Gardens facilities for largescale events designed to raise money for their various causes.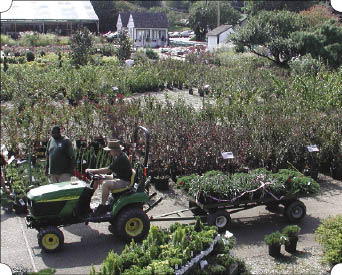 Homestead Gardens also gives back to the community by hosting numerous events and festivals including its annual Flower Show and "Fashion in Bloom" industry tour. An extensive list of yearround workshops and seminars attracts people of all ages. Want to spruce up your gardening or lawn techniques? Learn to make an herb wreath or knitting project? Take up a new hobby (orchid growing, bonsai, or water gardening, for instance)? Attend a wedding "floral primer" or kids' Valentine's Day workshop? "Our helpful, friendly staff and instructors are here to ensure your gardening success," says Hamilton.
But, whether younger or older, the handsdown nonhorticultural attraction here is the Homestead Llamas Department. Laura Riddle, wife of Don and llama shepherdess, tends a herd of about 45 llamas, some of which are outstanding show animals. Not only are they fun, but their byproducts, in the form of fertilizer (manure) and yarn for knitting or weaving, are recycled into the operation. "Experienced and novice knitters like the texture and the 'exotic' novelty of the yarn," Laura explains. "Whether for the love of the animal, the interest in learning an age-old craft or the experience of handling hard-to-get wool, Homestead Gardens' Llama barn offers several delightful opportunities for creatively using llama wool. The llamas provide a special place for our customers, schoolchildren, and other visitors to learn about and enjoy these beautiful, intelligent, and gentle 'friends of man.'"
After more than three decades of hard work and innovation, Homestead Gardens has become the destination that Don Riddle set out to make it. Indeed, it is a household name to many; some even say it has a cult following. By combining old fashioned friendliness and dedication with high quality customer service and the best of modern technology, the operation has become renowned in the Annapolis area and far beyond. A brand new website will feature a revamped interactive updates, media center downloads, "email blast" promotions, an electronic diagnostic center and podcasts. "Homestead Gardens has become a part of our customers' world," Riddle says, "as a place to catch up with friends and family, a cutting edge resource for product and materials, and an inspiration for what can be."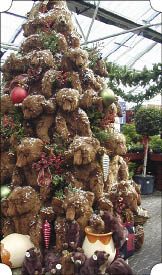 Homestead Gardens is located at 743 Central Avenue in Davidsonville. For more information, contact Homestead Gardens at 410.798.5000 or 800.300.5631 or logon to www.homesteadgardens.com.
The largest enclosed garden center in the Baltimore-Washington-DC metropolitan region, Homestead Gardens boasts the area's most extensive selection of annuals, perennials, trees and shrubs. The one-stop-shopping site consists of 57,000 square feet of retail greenhouses and pavilions, a 15-acre outdoor sales area, and a 4.5-acre nursery with more than 500 varieties of trees, shrubs, vines and ground covers.
COMING THIS FALL
Annual Fall Festival
Weekends in October
A favorite among local families, the Homestead Gardens Annual Fall Festival is bigger and better than ever! Games, rides, food, live music, and lots and lots of pumpkins mark our favorite time of year. And while you're here, remember that fall is for planting! Get a head start on spring and plant now!
Foodlink's Blue Jean Bash
Saturday, November 11, 2006
Foodlink Maryland hosts its 4th annual Blue Jean Bash at Homestead Gardens, 7pm-10pm. Silent & live auction featuring uniquely decorated denim jackets by local celebrities and artists. Food, drinks and raffles. All proceeds benefit Foodlink. Tickets $50 per person in advance and $60 at the door. For tickets and information please contact Foodlink at 410-222-7853.
Holiday Open House
Saturday, November 11, 2006
Homestead Gardens celebrates the Old World traditions of Christmas! Open House Weekend is your first chance to see our presentations of the Christmas traditions that were born hundreds of years ago. And our Holiday train display is the largest in the region!