Making Health Care Special
By Margot Mohsberg
As a child in California, Dr. Robert "Bob" Graw wanted to grow up to be just like his pediatrician.
"He was a pillar of the community and my family held him in great regard," Graw says. "When we moved away, we would even go back and visit him."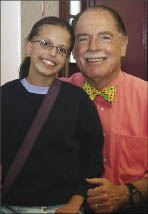 Today, as co-founder of Nighttime Pediatrics and the founder of the Pediatric Group, Graw is not only a pillar of the community, but he's created a practice that allows other pediatricians to become equally cherished as well. His practice is run by a team of more than 350 employees whose main focus is to allow the physicians to forget about the administration headaches of running a business and focus on what's most important-providing the best possible care to their patients.
"I always tell the physicians to smile because I have protected them from all of the things they have to worry about and can focus on why they became a pediatrician in the first place-to provide care for people," Graw says. "A pediatrician needs to listen to people, provide medical care and advice that is complimentary to their lifestyle, and never be judgmental. If you can be that kind of pediatrician, then you will have the most wonderful career. It's all about the relationship, not the science."
In addition to seeing patients, much of Graw's day is spent mentoring the two to three new physicians he hires a year. There are nearly 20 in all.
"It's the senior physicians' job to teach the young physicians," he says. "If you do the right job for people, you will be the physician they want to see."
Many of the physicians that work for the Pediatric Group and Nighttime Pediatrics grew up and continue to live in the area.
"When a physician asks if he or she can commute from outside the area, I tell them absolutely not," Graw says. "You've got to live in the community so you see your patients in the grocery store and at school events. That is the way you become a pillar of the community."
Graw is a graduate of Pomona College in Claremont, Calif. He earned his medical degree at the University of California, which he paid for by working in a lab at Los Angeles Children's Hospital. He then stayed at the hospital to complete his pediatric internship.
"The day I got the job at the children's hospital was one of the happiest in my life," he says.
He then earned a rare internship at the National Institutes of Health in Bethesda. His two-year stint turned into nine years, during which he studied childhood cancers.
In 1975, he moved to Davidsonville and opened a private practice in pediatrics and adolescent medicine, which he ran out of his own home.
"In medical school, they said, 'If you are any good, find a place where you want to live, put a sign outside your door, and people will come to you.' And they did," says Graw with a smile.
More than three decades later, Graw is still operating out of his home, which is considerably larger these days and featuring a farm in the back with animals for his young patients to look at from their exam rooms.
"We designed them that way," he says of the rooms, which also feature a model train that runs from room to room and DVD players to help calm the children.
Since 1975, he has opened four more pediatric offices in Crofton, Annapolis, Severna Park and Bowie. During this time, he also served as Chief of Pediatrics for Anne Arundel Medical Center and helped build the hospital's beloved Neonatal Intensive Care Unit.
In 1989, he noticed a growing need for care when his practices were closed.
"People didn't want to take their children to the emergency room for an ear ache and they would end up calling me at 10 and 11 o'clock at night," he says. "It was and is about offering the right care at the right time."
In response, Graw opened Nighttime Pediatrics. Soon, however, parents began asking for the same timely help that their children were getting so Graw and his partners began treating adults as well, forming what ultimately became Nighttime Pediatrics and Adult Care, Too. Today, there are five offices and many more in the works.
"We are not there to treat chronic illnesses," Graw says. "We are there to compliment the patient's private doctor."
Patients who need to go to Nighttime Pediatrics call to make an appointment for that day, rather than sit in a waiting room.
"That's very rare in our field," he says. "We went to a conference with 270 urgent care facilities and we were the only practice that allowed people to make appointments."
In order to make this work, Graw and his team monitor the patient flow at all of the offices and make appointments accordingly. If one office is overflowing with patients, the one who schedules appointments will direct patients to another office so patients will be seen that day. If a patient needs additional care from the hospital, the office will even call AAMC's Emergency Department to coordinate the patient's arrival.
Martin L. "Chip" Doordan, President of Anne Arundel Medical Center, said Nighttime Pediatrics is a "very safe, efficient alternative" for people who need care but cannot see their primary care physician and are not sick enough to warrant a visit to the Emergency Room.
"These offices have become part of the institution of this county," Chip says. "Bob is a very strategic thinker and has been a leader in helping people find alternative healthcare in this area."
With such a huge operation, one could wonder how Graw's patients ever get to actually see him. But they do. In fact, if a parent or patient needs to speak to Graw, they are transferred to his personal voicemail which he listens to daily.
"I listen to my own messages and I call my own patients back," he says. "A patient's voice will tell you everything you need to know. If a parent's voice sounds worried, you know this patient needs your immediate attention."