Sea Tow: Your Road Service at Sea
Captain Dave DuVall spent his youth on the water, his young adulthood under water, and now cruises the Chesapeake Bay in search of distressed boaters.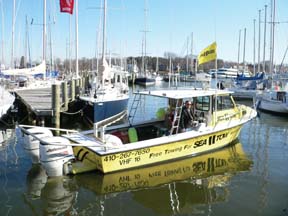 "I grew up on the Eastern Shore in Rock Hall," said the owner of a Sea Tow franchise. "I started fishing with my dad when I was six years old. He taught me how to run a boat when I was six. I started working for commercial watermen at age 12 -- crabbing, fishing, oystering. I worked on the water all through high school."
After a brief stint at the Coast Guard Academy, which he left because officers were not allowed to dive, DuVall became a commercial diver, a career he pursued for 16 years, working up and down the East Coast. "I was involved primarily in shallow water construction, sometimes staying under water for 10 and 12 hours at a time," he said.
Eventually, he got the itch to work for himself. In 1983, DuVall got his captain's license and decided to start his own company. Soon, he found Sea Tow and "decided to get hooked up with them. Sea Tow has always been a membership driven organization, just like AAA (for autos). The concept is exactly the same. You pay a membership fee in advance, then your towing's free. The membership program has evolved over the years and improved quite a bit."
"Sea Tow, itself, started back in 1983 when the Coast Guard, by order of Congress, started getting out of non-emergency towing," the captain explained. "The government deemed that better than 75% of the cases they were doing were non-emergency. They were within four miles of shore, and there was no way they could keep up with the caseload that was anticipated over the next 20 or 30 years. It was determined that these non-emergency cases could be handled more appropriately and more efficiently by private enterprise."
During the boating season, Captain Dave has two boats in Annapolis, one in Kent Narrows, and one in Cambridge. He and a group of mostly part-time captains pilot the fleet of bright yellow vessels. He pointed out that he is always on the lookout for licensed captains with a towing endorsement, especially during the busy boating season.
His territory, about a 20-mile radius around Annapolis, includes the area from Bodkin Point (near the Patapsco River in Pasadena) directly across the Bay to Swan Point and south to just above Breezy Point Marina in Chesapeake Beach and across to the Choptank River. DuVall's fiancée, Jeanne Dahlby, helps the business by acting as a dispatcher, doing some office administration and marketing.
"I am not the oldest franchisee," he said of his tenure with the organization, "but I am the longest continuous ownership of a franchised area in the network. This will be my 21st season with Sea Tow. When I first got in, the network was rather small, with 10 or 12 licensees at the time. Most of those were up in New Jersey, New York, Long Island. Now we have over 100 franchisees around the country. Most of the oceanfront from Maine to around the Gulf coast is covered. We're working on the West coast now. We also have five or so franchises in Australia."
"We try to respond to any place in our area within an hour," DuVall said about the service he provides. "Sometimes it's quite a bit less. We're going to respond as fast as humanly possible." Sea Tow members always get priority over non-members.
Distress calls come in via VHF radio, the preferred method, as referrals from the Coast Guard or the Department of Natural Resources, and by cell phone. "We monitor VHF Channel 16," he said, and having "GPS is very helpful," referring to global positioning technology.
Two-thirds of the calls occur during the day, and one-third at night. "Typically, calls come in at dinnertime," he noted. He explained that most of the work is in the afternoons and evenings. The morning calls are usually fisherman or sailboaters starting a long cruise. Sunday morning problems usually involve dead batteries, from a night of partying on the boat. The business is "like running a firehouse, without the manpower or the budget," he noted. "I'm always 'on.'"
Membership fees for Sea Tow are $149/year, less than the cost of one hour's worth of towing. Some boaters do not join the organization, perhaps believing that they will never have a problem on the water or that their hull insurance will cover the cost. They risk paying towing fees in the range of $200/hr, with a typical tow requiring two or three hours, if a problem does occur.
Captain Dave went on to explain the myriad problems awaiting all boaters, novices and experienced alike. "Boats that don't get used that often seem to have a tendency to break down more than those that get used on a regular basis. Things sit and they don't like to sit. They're not getting lubricated. We see mechanical breakdowns of all kinds: outdrive problems and overheating problems in powerboats. Same with sailboats: diesel engines and inboard engines overheating."
Overheating can occur if the engine is stressed due to excess growth on the hull, which increases drag through the water. Debris, which can grow or accumulate inside the hoses and sea strainers during periods of inactivity, can clog the cooling system, denying the engine the proper flow of water. Impellers from the cooling system can break down from dry rot in the rubber parts.
Fuel filters are another problem area, DuVall said. "Fuel sits in fuel tanks, and the tanks get scummy. When the boat is in choppy water, everything gets stirred up in the tank, and all of sudden it goes up into the fuel filter and it's clogged. If you don't have a spare filter, you're stuck."
"The other common problem we see with sailboats is groundings. The Bay is actually very shallow. The average water depth is only 27 feet." Away from the deep parts of the Bay, there are many shallow areas, perfect for snaring sailboats. He said that every grounding is different, with some requiring two rescue boats to free the craft from the sandy bottom.
"If we have a nasty winter," said the boatman of his off-season routine, "we normally get some salvage work out of the boats that sink. We do anything to get a boat to safety. If it's in the water, if it's sunk, we'll get it up and take it in, take it to a haul-out facility or trailer."
Sea Tow Services
MD Central Chesapeake, Inc.
Captain Dave DuVall
P.O. Box 3113
Annapolis, MD 21403
seatowmcc@comcast.net
http://www.seatow.com/
410-267-7650 or 800-870-7650
Working Channel: 16