Cyber Forensics at Anne Arundel Community College
By Susan S. C. Gross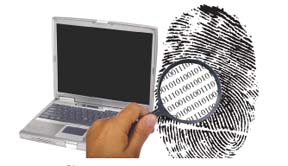 As Catherine B. Bosse went through the intricate steps of finding the date and time stamps on a hidden computer file, a student asked her why she didn't just go through the computer operating system which automatically dates and times documents.

Bosse smiled. It's a question she gets from at least one student each time she teaches the "Cyber Forensics" course at Anne Arundel Community College. So, she's ready with the answer. Cybersleuths, she said, need to be able to document each step of their process in putting together evidence against a computer crime, and tracking the files by the longer process best preserves that evidence. Going in through the computer operating system sometimes overrides the original date and time, she continued, destroying the evidence needed to prove a crime has been committed.
With the need to learn the whole procedure firmly communicated, the class returned to Bosse's conversion formulas for binary and hex with more attention and enthusiasm.

It's all part of digital forensics, a skill with application to both law enforcement and information assurance/intrusion detection. In this post 9/11 age, protecting information infrastructure is a growing field in the corporate sector as well as in government agencies, said Frederick A. Klappenberger, Ph.D., AACC professor and department chair of computer information systems.

Klappenberger and nine other faculty members from different departments at AACC collaborated to design an Information Systems Security Associate of Applied Science degree that was first offered last fall. In that first term, 34 students signed up for the major, almost three times the dozen they had predicted for the entire first year.

"Some of the students in the program had basics in computer skills and were looking for a hot new technology," he said, and students can see the potential in this field.

The program was designed so that it fully maps to National Security Telecommunications and Systems Security Instruction (NSTISSI) 4011. It is one of the few such programs in the country that meets those standards. The degree also provides the foundation for graduates to sit for industry-recognized certifications in Network+, Security+, Cisco Certified Network Associate, Security Certified Network Professional and Certified Computer Examiner. Covered are threats and vulnerabilities, prevention at the technical and human levels, detection, response and management of security.

One of the key parts of any cyberinvestigation is "Cyber Forensics," the year-old course that is attracting professionals already in the field who need to update their skills as well as students hoping to make cyberforensics their career, Bosse said. To meet the needs of people who already have a degree or who are in a computer field and want to learn the cybercrime skills, the college has added an Information Systems Security Certificate, which will be available for students next fall.

The college also is a member of CyberWATCH, a consortium of Washington-area organizations that will receive a $3 million grant over four years from the National Science Foundation to establish and operate a regional center in cybersecurity.

As one of four directors of CyberWATCH, Klappenberger's charge is to share AACC's program development and standards mapping experiences with other colleges and mentor them as they create their own programs and to organize training for faculty who need it. At least six other community colleges are working on similar programs, he said. And, Bosse already has a class of AACC professors she is training.

Bosse, team leader for network systems in AACC's School of Business, Computing and Technical Studies, said she can move at a faster pace in teaching the faculty, but she also has to prepare them for some of the typical student responses to the material.

The course helps students follow digital trails on computers, laptops, floppy disks, tapes, CD-ROMs, DVDs, cell phones, digital cameras and personal digital assistants.

Students who complete this basic course will have most of the skills they need to master the international Society of Forensic Computer Examiners certificate examination. Certified students could gain entry-level jobs while they continue their education. The college has a special lab dedicated to the forensics course, with evidence safes to protect evidence students gather on their cases and custom-made computers with special ports, writable DVD burners, media readers to read material found on digital cameras or personal digital assistants and extra large hard drives for archiving case information.

The information security programs are two of the recent programs that AACC created to meet workforce needs. The college sets up advisory committees of industry representatives that meet with department and program chairs to exchange ideas on industry trends and projected skills employees will need. The college then designs programs to meet those needs, which, in turn, creates ready markets for AACC graduates and makes AACC one of the best places for students to start or continue their education.

For information on these or other programs, visit the Web site at www.aacc.edu or call 410-777-AACC.