Yarn Garden:
Explore the Possibilities in Needlecraft
Walking into Yarn Garden of Annapolis is like walking into a rainbow—a busy, texture-laden, chock-full delight of colors poked into cubicles, laid out on tables, hanging on hangers and swinging from hooks. It's located at Festival at Riva shopping center across the drive from Blockbuster, up one floor on the elevator or stairs, and down the hall—and well worth the ascent. Even before you walk through the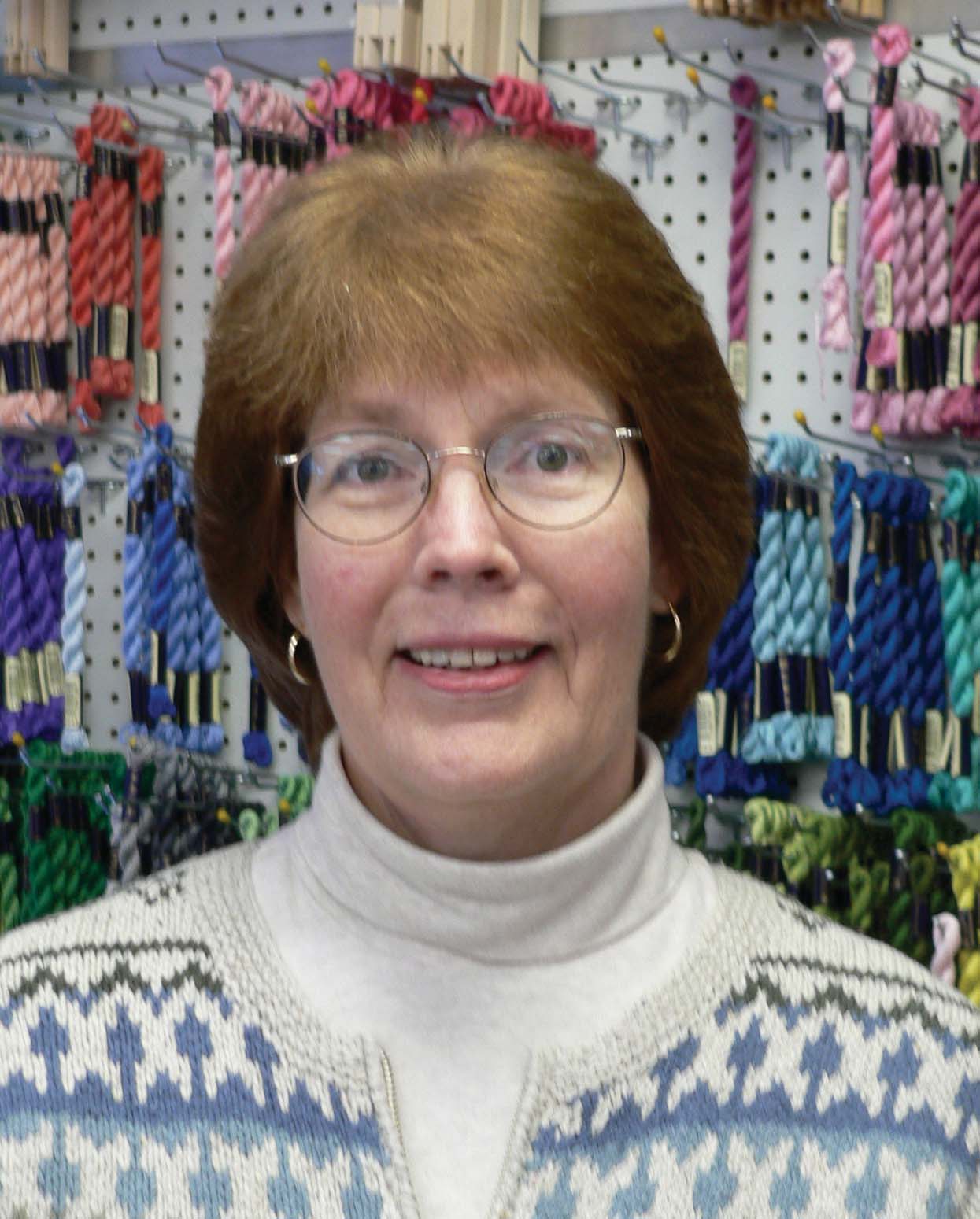 door, you'll find yourself contemplating projects as you read the advertisements posted on the door and front windows. Books and patterns are grouped right inside the door, allowing customers to explore possibilities right away; then, with ideas swirling around in your head, you look up from the pages to find all the practical necessities to make those dreams take shape. Needlepoint canvases, some commercially prepared and others hand-painted, along with silk, woolen and cotton yarns are all in this part of the shop. Cross-stitch fabrics and floss are within hand's reach, and fancy and metallic yarns as well as small packages of beads are easily spotted.
The other side of Yarn Garden of Annapolis is devoted to knitting. Yarns of all thicknesses, colors, and textures form a kaleidoscope of glorious colors—some all one gorgeous color, some multi-colored—and of textures that range from fat wooly strings to flat shiny ribbons-with-fringe. All the necessities are there: yarn, patterns, needles, advice, comfort, expert problem-solving, fellow-enthusiasts and finishing details. It is, as owner Alex Woods envisaged from the beginning, an all-purpose needlework shop.
Alexandra Woods has owned Yarn Garden of Annapolis since the beginning of April, 1996, purchased because Alex felt she needed a change of pace from the Severna Park swimming pool company she and her husband had owned for twenty-two years. Even then, she divided her time between the two enterprises for five years before the Woods sold the swimming pool business. Now, Alex is totally focused on the Yarn Garden of Annapolis, and has become a member of several professional organizations, among them The National Knitters Guild and The National Needle Arts association, both of which are open only to the trade and help her, she says, keep current with products, techniques, information, and news.
Alex has enjoyed needlework ever since her grandmother taught her to knit as a little girl, but spent more time on needlepoint and crochet until she purchased Yarn Garden. Since then, she's become an avid knitter, and enjoys passing on her skills and the things she learns from classes taken through the professional organizations. Many of their customers are beginners, and as it turns out, Yarn Garden of Annapolis has plenty of people happy to help needleworking newcomers or seasoned "pros" with knotty problems and simple stitches and any tangled questions in between. Linda Whiteford and Barbara McArdle both came to Yarn Garden after retirement from teaching, and say that working at the needlecraft shop is their "dream job." All the women who work there agree that it's the best of all worlds: they get to help inspire customers and each other as well with both passion for and confidence in their skills and needlework, and in sorting out problems from misunderstood instructions to choices of buttons, colors or kinds of yarn, floss or wool. Alex stresses that anyone is welcome to come in with problems or questions, even if he or she didn't buy from Yarn Garden. And, Alex says, a significant number of their customers are men and boys—since knitting and weaving were originally men's work, modern-day males are simply carrying on long-standing tradition.
The men and women shopping at Yarn Garden of Annapolis have their choice of yarns from all over the world, with Noro yarns from Japan, Lopi, a heavy, non-washable wool that's great for felting, and other yarns from Turkey, Norway, Italy, and Australia, among others. One wall holds yarns that are mainly for scarves, and are soft and feather-light. Another wall holds lovely, soft yarns for baby sweaters and blankets, in traditional soft pastels and some bright, jazzy colors as well. There's a wall in the front section with wool and cotton in colors that will gladden the heart of anyone who does needlepoint or cross-stitch, and behind the desk, a wall with all kinds of implements, such as needles and scissors.
Encouragement being part of their stock-in-trade, the Yarn Garden of Annapolis offers classes in knitting, and now that Lee Ann Woodcock is working with them part-time, she'll be teaching more classes after the first of the year. Lee Ann says they'll offer a range of classes, possibly including beginning knitting, felting, finishing, and even socks—and there will be brochures to hand out early in the year. Yarn Garden of Annapolis is also the place you can take your finished project to have blocked and then sent to a finisher to be made into a pillow, fashioned into a Christmas stocking, or whatever the project requires. They'll also be happy to recommend framers for your needlework picture. And before you even begin, Alex, Linda, Barbara or any of the others will be on hand to help you choose patterns, offer suggestions of yarn, thread or floss and methods of caring for the finished product. The large number of patterns and books on hand show that the variety of projects is almost limitless, and are not just for people: many of their customers stitch or knit for their pets. The real bonus, they all tell me, is that in addition to providing a real piece of art when your project is finished, needlework is a proven stress-reducer—and the relaxed, happy and enthusiastic women at Yarn Garden of Annapolis are proof positive.