Our Man in the Vatican
Robert Moynihan is a publisher, scholar, father, and husband who speaks four languages and rubs shoulders with movie stars and religious leaders. He is a deeply spiritual man who has dedicated his professional life to writing about the Catholic faith and the activities of the Vatican.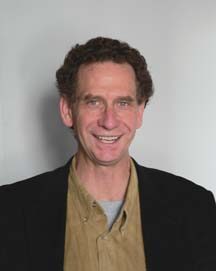 So it may surprise some people who see his résumé that he is also quite a romantic. His love for wife Priscilla is obvious when he recalls courting her in college. "She was the most beautiful woman at Radcliffe," he said. Moynihan, a student at nearby Harvard, recalls that he was discouraged by the number of notes that her many suitors left on her message board in her dorm. "I thought, I'll never have a chance with her," he said. So, he bypassed the crowded message board and took a far more dramatic approach—climbing up a vine to her window. A great plan until the vine began to pull away from the building. Fortunately, Priscilla saved him and did not call the police.
The same determination that landed him the woman of his dreams also drove him to give up working as a reporter or editor for other publications and start his own magazine covering the Vatican. Inside the Vatican is billed as a comprehensive and independent report on Vatican affairs. The key word is independent—Moynihan worked for years for other magazines and journals that hued closer to the Vatican party line. "My goal was to be a free man," he said.
Moynihan did not ascend to being the editor of his own magazine the easy way. He recounts his stint at an Italian publication covering the Vatican as "the Parris Island of journalism."
"It was all done on typewriters—no spell checking." He stayed up for 72 hours, making many mistakes. "I would forget captions, page numbers, subheads..." But this grueling experience made Moynihan realized that he could do a whole magazine on his own.
Readers of the magazine will first notice the magazine's glossy artistic photographs but a look inside makes it clear this is not a fluff publication. American writer John Mallon pens a column that criticizes Catholic bishops who tolerate dissent and argues that it is hurting recruitment for clergy. "What these young people seek to conserve is human life, sanity and Western Civilization, all of which are under attack from modern liberalism."
Similarly, Moynihan recalls getting attacked because he wrote an article quoting clergy who thought the Church was proceeding too quickly with the beatification of the founder of Opus Dei. Recently, Opus Dei has grown in prominence and notoriety. In his novel, The Da Vinci Code, author Dan Brown depicted Opus Dei as a powerful secret society whose followers had extremist beliefs. Opus Dei is actually an organization answerable to the Catholic Church—its self-described goal is to "help lay people seek holiness through their everyday activities, especially through work." It was founded in 1928 by a Catholic priest who was canonized by Pope John Paul II in 2002.
"I'm not really an insider," he says modestly. "I'm just a chronicler of what the Vatican says and does and what others say about [the Vatican]." Moynihan adds, "Truth is elusive—information changes, it comes in dribs and drabs." Under Pope John Paul II, who died in April 2005, the Vatican drew a lot of media attention. "Now it's completely quiet," Moynihan remarked. "There are no rumors coming out." Moynihan, who had met Cardinal Joseph Ratzinger many times, recently edited a book about the Vatican veteran who became Pope Benedict XVI in April. Ratzinger assumes the papacy following a tremendous child abuse scandal that the Church is still grappling with. "Whether he has the strength to clean it up, I don't know."
The magazine has a staff of seven, some of whom work in the magazine's Rome office.
So why is an editor of a magazine about the Vatican living in Annapolis? "My wife," he responds, with a smile. The couple lived in Rome for several years during the 1980s while Moynihan launched his career as a Vatican journalist. If left on his own, Moynihan might still be there, but Priscilla wanted to get the family back in the U.S. The editor recalls being told that she had bought tickets for her and the children to go home and he could come with them if he wanted.
The couple first looked at moving to Washington, DC, but crime problems drove the Moynihans further out to the suburbs. They looked at Leesburg (Virginia), Bowie, and other places on their 11-day trek, then discovered Main Street and never looked back. They lived downtown, then moved to their current home in West Annapolis. They are parents to two sons, Christopher, a junior at Annapolis High School and Luke, a 7th grader at Bates Middle School.
It may be too soon to tell whether either son will follow the family tradition, as Moynihan did. Moynihan credits his father, a former reporter, and an uncle with directing his career path into religious journalism. He fondly recalls an uncle who was a Marine and then became a Franciscan monk when he returned from duty. Moynihan said he was fascinated by the man who showed up in a friar's robe. Other uncles couldn't compete with that. "They would throw a handful of coins in the air."
Another influence was his experience as an altar boy. "It was very formative for me," he said. "I remember the incense—it was like a video in Tibet. It led me to a sense there was a richness to it." Moynihan is not shy to show his mystical side. He frequently quotes poets and philosophers and he clearly sees beyond the surface. "Human beings have a level which is mysterious," he said, "like a distant horn in the mountains."
The editor talks about joy and sorrow and the need to experience both to truly experience life. "We would prefer Disneyland and Twinkies," he observed, "but you never get to depth of wisdom [that way]." He recites a poem by Greek tragic poet Aeschylus: "And even in our sleep pain that cannot forget falls drop by drop upon the heart, and in our own despair, against our will, comes wisdom to us by the awful grace of God."