Kristin Norris: Following Her Dream
There is nothing Kristin Norris, owner of the glass-making studio, art gallery and glass supply shop Glazed & Fuzed, loves more then when someone tells her she can't do something.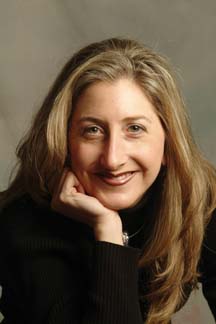 When she wanted to drop her corporate career, become an artist and open a studio, her parents told her it was too risky. When she wanted to turn that studio into a business, her fellow artists said, "But you can't. You're an artist."
The rest is a success story she likes to share with other artists who are considering taking the same leap of faith. In the early mornings and late evenings, Kristin began building her career as a glass artist while working fulltime in management for an IV therapy company. When she was offered a very lucrative promotion, Kristin took a 180 degree turn in the other direction, quitting her corporate career altogether and opening a home studio on Smithville Street. Four years later, the business is thriving at 1908 Forest Drive.
"Glazed & Fuzed is a fun, unique way to experience creativity, make gifts and, if you want, learn how to show and sell your stuff," she says.
Nowadays, not only is Kristin selling her own artwork as well as others, she's also helping to create new artists through classes in her studio and at Anne Arundel Community College. She's even taking her students one step further by teaching them how to market their work so they can have a successful careers of their own.
"Keep saying I can't do something and I will," she says with obvious determination.
Some might say she is building her own competition, though Kristin would not be one of them.
"To me, it's about us all working together and opening doors," she says. "I want to make working with glass more accessible. I recently had a 3-year old in here working with glass. It is glass and you have to be careful, but I am right there with them."
McShane Glover, president of the Annapolis Arts Alliance, says Kristin is very unique because she has a "totally different background than most artists and she is able to bring all of that into what she does."
"She has a business mind, yet she hasn't lost the passion of the arts," McShane says. "She seems able to work on both sides of her brain very comfortably."
McShane asked Kristin to serve as chairman of the arts alliance's membership committee because "she was doing it already."
"Kristin is very generous to other artists and this is due in part to her enthusiasm," McShane says. "Her enthusiasm is contagious. People get excited about what she is doing because she is excited about what she is doing."
Kristin grew up in Annapolis' Murray Hill, a well-known neighborhood in the city's Historic District, founded by her great grandfather. When she and a friend were not playing along Spa Creek, they were busy creating anything that popped into their imagination.
"We made everything from kitchens to cook in to building furniture for our dolls," she says.
In sixth grade, Kristin began making her Christmas presents, each year getting better and better. By high school, Kristin knew she did not want to be the "doctor, nurse, lawyer or teacher" her parents wanted her to be, so she took a dive on her S.A.T. test.
"I Christmas-treed my SATs so I could go to culinary school," she says. "I literally filled in the dots in the shape of a Christmas tree."
Unfortunately, her parents, as parents are, were one step ahead of her. Instead of culinary school, they sent her to Anne Arundel Community College, where her uncle was the president.
"Since my uncle was the president, I felt compelled to do well," she says.
Kristin ended up graduating from the University of Maryland with a bachelor of science in nursing. She then worked as a critical care nurse and a transplant coordinator before working her way up to management for the IV therapy company.
"Turns out I loved being a nurse," says Kristin, who still works as an independent consultant to families who need assistance with IV therapy. "I love going to people's homes, especially on the holidays. One year, I enabled a family with a newborn baby to be able to go home for Christmas. The baby needed IV therapy and would not have been able to go home had I not been able to go to the family's home and help them. For me, it was just a hop, skip and a jump."
While she was working in the medical field, Kristin continued to follow her passion for the creative arts by taking a pottery class at Maryland Hall. Glass then followed, commissions for her work soon after that, and then finally she opened the home studio on Smithville Street.
"I would go to the studio at 4 a.m., then the gym, then work, then to class, then do bookkeeping until 1 a.m.," she says.
In December 2003, she held her first show and joined the chamber of commerce.
"I always dreamed of having a gallery in the front of my business and working artists throughout," Kristin says. "I want an outlet for artists, but I also want people to meet the artists and see and do what they do."
Today, Glazed & Fuzed is nearly that. Visitors can not only fall in love with a piece, they can learn how to make it themselves, in private lessons or in group classes. Starting at $35 a person, visitors can bring a date to a class for "date night," a group of girlfriends for "Ladies Night Out," or even hold a birthday party at the studio, and everyone will walk out with a creation they can call their own.
"It's fun and child-friendly," Kristin says. "But the best part about this for me is watching people leave here motivated They leave here excited, saying, 'I'm going to do this and I'm going to do that.' It's great."