Sarles Marina Starts the Next 100 Years
with a Lady at the Helm
When Debra Smith purchased the Sarles Boat and Engine Shop in Eastport in November, she suddenly became very popular with investors. Though their financial fortitude was tempting to Debra, their ideas to turn the city's oldest family-owned boat yard into condos were not.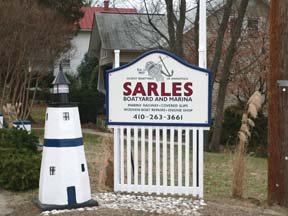 "It was hard because I was trying to pull together investors, but developing the property into condos just isn't where my heart was," she says. "Depending on what they wanted to do with the property determined how long or short the meeting was. I have a few silent investors now, so I can truly run it the way I want."
Since the day her fiancé suggested quitting their high-pressured corporate jobs and buying the charming boat yard next to Debra's home, she never considered doing anything with the property other than "rejuvenating" what is already there.
"It's got so much going for it," Debra says. "I just want to keep the best of the maritime flavor but make it more active and utilize all of this great space. Some of the great things the former owner was doing I will keep, and some of the things I will do my own way. Basically, I just want to figure out the best way to bring the best out of this place."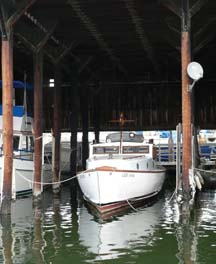 Debra bought Sarles, located 808 Boucher Ave., from Benjamin Sarles, whose family owned and operated the business since 1907. For nearly a century, Sarles has served the area's powerboat community by providing complete boat repairs, engine work and wooden boat repairs and restoration.
Ben says he is confident that he is leaving his family's business in good hands.
"Deb is a neighbor so I've known her for several years and think the world of her," he says. "She has a great head on her shoulders. It's going to be a tough first year—there is no getting around it—but I think Deb is going to make it."
He said he is especially pleased she decided to keep the existing staff.
"I'm so proud that she kept the men who worked there," he says. "They know everything about the place."
Debra was raised in Camden and Cherry Hill, NJ, and attended Bucknell University in Lewisburg, PA, where she majored in business and minored in drama.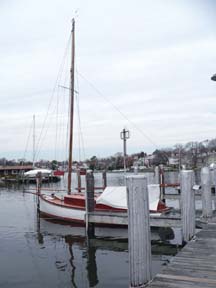 "I really think the drama degree helped my business career because it gave me confidence," she said.
After college, Debra moved to Baltimore and began a 30-year career in business that included owning a training and consulting firm and serving as marketing director of Pepsico. She also served in sales management for Proctor & Gamble and was Senior Vice President at A.C. Nielsen, a marketing and research firm owned by Dun & Bradstreet. In her last corporate position before buying Sarles, she was President and Chief Executive Officer of EmpowerIT Inc. in Bethesda, MD.
In 1995, Debra moved to Eastport's Severn Avenue and in 2002 purchased the home next to the Sarles boat yard. One day, her boyfriend, Don Ogilvie, who worked in the same stressful field, pondered reinventing themselves by purchasing the boat yard together. At the time, however, Ben Sarles was not ready to sell.
In July 2003, Don passed away suddenly, just a week after the two became engaged. In honor of her fiancé, Debra was even more adamant about making their dream come true.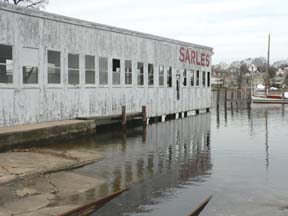 "I would never have thought of doing it unless Don brought it up," she says. "But once I did decide, I never doubted that I would do it and I never doubted that I could do it."
The second time she approached Ben, he was ready for retirement. Debra purchased the boat yard on Nov. 1 and, according to her, has been having "so much fun" ever since.
"I love it," she says. "It's a business and I just love making businesses work."
With help from the former owner, Debra plans to continue running the business as it has always been run, but with a fresh focus drawing from her years of business experience. Like any good business mind, Debra has surrounded herself with people who know what she does not—especially when it comes to the maritime industry. Although she grew up enjoying the Chesapeake Bay and has worked on her family's wooden boats, she is fully aware of her limitations.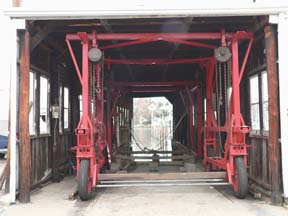 "Ben has been a great help during this transition," she says. "He has been very gracious."
She also hired James Kavle, the former General Manager of Atlantic Spars and Rigging, to manage the boat yard's daily operations. A three-time America's Cup sailor, Jim crewed aboard Dennis Connor's Stars & Stripes and defeated the Australians on Kookaburra to win back the coveted American's Cup Trophy in 1987. He was also a member of the 1984 and 1988 U.S. Olympic Team's Star Class and has won several international and national sailing regattas, including world championships in the Maxi Boat and International 50' Class.
"I think a lot of people have been waiting to see what I was going to do with the boat yard once I bought it—whether I was going to develop it or keep it as a boat yard like I said," Debra says. "I think many people realize now that I would not have hired someone of Jim's caliber if I did not intend to keep it as a boat yard."
Jim said he is equally honored to be able to work at such a prestigious boat yard.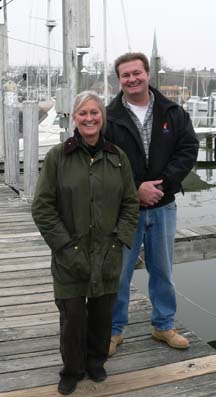 "To help keep one of the city's oldest boat yards running is a unique opportunity," he says. "I've been involved in boats all of my life, racing them as well as working on my family's fishing boats, so I think it's a great fit. I think we have the chance to make something truly special out of this place."
Debra's plans for enhancing Sarles' historic character surround the idea of turning the boat yard, which features the city's only railway ramp, into a "maritime village" featuring rigging by Bay Rigging Company, electronics by Yacht Electronic Services, outboard service by Mike's Marine Services, inboard and diesel services by Stephen F. Maloy Marine Services and, by Spring, woodworking by Vance Heeg and possibly a boat brokerage and kayaking tours. Affiliated with the boat yard will also be shrink-wrapping by Custom Shrink Wrapping.
"I'm offering up Sarles to be a hub for these guys," Debra says. "I want to make it more active, even to the point where residents and visitors will want to walk over to the boat yard to have a sandwich or rent a kayak."
Building upon Sarles' greatness is not going to be hard, Debra says.
"There's a lot of good karma here," she says. "This place is historic with tons of great pictures of old Eastport."
More importantly, business at Sarles is still doing well and, better yet, building.
"Because of my purchase, Sarles has been getting a lot of new attention and, therefore, a lot of new business," Debra says. "I think people are starting to believe that I'm not going to build condos and that makes me very happy."