Barbara Goyette:
Vice President for Advancement
at St. John's College
Barbara Goyette combines two great passions in her job as Vice President for Advancement at St. John's College in Annapolis. An American history buff, she has the opportunity to work in a centuries-old building on the campus of the third-oldest college in the United States. And as a graduate of the "great books" college who remains devoted to its unique mission, she is charged with marshalling the resources the college needs to secure its future and to sustain the academic program that is at its heart.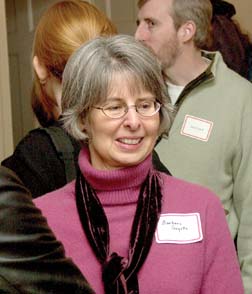 Founded as King William's School in 1696, St. John's College gained its charter from the state of Maryland in 1784, the same year the Treaty of Paris was ratified by the Continental Congress. It was an exciting time for Annapolis and the new nation. "It was a time when there was a brand new opportunity to create a country—to be an active citizen in every way," says Goyette. "In some ways they had a better quality of life—less clutter, more time, and even the mail was more efficient—two mail deliveries a day, via horse."
Given Goyette's love of American history, it is fitting that she works at St. John's, where history is alive in the great books and colonial and revolutionary America are part of the college's heritage. Four of the college's founders—William Paca, Charles Carroll of Carollton, Thomas Stone, and Samuel Chase—signed The Declaration of Independence, and their names grace dormitories at the college. In 1937, when educators Stringfellow Barr and Scott Buchanan brought a bold new curriculum based on the great books to St. John's, they borrowed a bit from the colonial founders of this country. "Barr and Buchanan cared deeply about democratic ideals," says Goyette. "This was during the late 1930s and the rise of Fascism in the world made democracy precious—there was a need to preserve and celebrate it."
Goyette, whose office is housed in the historic Carroll Barrister building (circa 1724, moved from Main Street to the campus in the 1950s), traces her love of history, keen interest in local politics, and strong sense of civic duty to her upbringing in Chagrin Falls, Ohio, where her family enjoyed talking about books and ideas. "During a dinner table conversation, my father would ask us to name the presidents or explain the roots of the Civil War," says Goyette. "My father was politically active in the town council. Both my parents had a sense of civic duty. This is one of the privileges of being an American—no one is going to put a damper on the industry of civic involvement."
Her parents favored better-known colleges for their daughter, but Goyette made up her mind to attend St. John's as soon as she learned about the academic program. "There was an expectation growing up that I would attend a school like Wellesley, Mount Holyoke, or Smith. But my high school guidance counselor gave me a reprint of a Saturday Review article on St. John's College and the light bulb went off. I knew 'This is the place for me!' I was not rebellious in other ways, but I was intellectually rebellious—I did not want anybody to tell me what to think."
Goyette thrived at St. John's, which fed her intellect and imagination, and prepared her for various jobs in communication. " St. John's formed me. I learned to think, question, and write."
After graduating from St. John's in 1973, Goyette studied philosophy at Catholic University. She and her husband, Matt, a high school English teacher, raised three boys: Nathan, Dan, and Tim, while she worked as an editor and writer for regional publications including The Waterway Guide, and later, Chesapeake Bay Magazine, where she was senior editor. As a journalist, Goyette savored the opportunity to interview people who live their passions. "I witnessed the birth of one of marine artist John Barber's paintings by riding out on a skipjack with him to the middle of the Chesapeake," she says. "I wrote about oyster farming, Maryland history, marine electronics. Whatever it was, I always asked, 'What's the basis here?' I approached each topic like a St. John's text—with a question."
Her editorial experience prepared her well to take over the job of public information director at St. John's in 1994. "It was an exciting time—we were creating so many new things," she recalls. "I was pleased to be a part of the St. John's community again." Among her many accomplishments during her eight years in communications, Goyette breathed new life into media relations and publications, guided the establishment of an effective new graphic identity for student recruitment publications, and created a distinctive new alumni magazine, The College, which serves both the Annapolis and Santa Fe campuses.
In 2002, the college's Vice President for Advancement, Jeff Bishop, moved into a new college-wide role, overseeing fund-raising for both campuses. Goyette emerged as the natural choice to succeed him. Knowing that for many students, St. John's was more than just a college, but a "life-changing epiphany," she developed ways to approach alumni for their support. "I understood how the advancement message had to be geared for a Johnnie audience. I understand why someone would attend St. John's College and want to support it later," says Goyette.
As vice president, Goyette works closely with alumni, parents, and a host of community volunteers, involving them in support of the college. She supervises a a staff of 18 and guides alumni relations, communications, community programs and fundraising. Her position involves everything from travel to alumni gatherings across the country to long-range strategic planning. One of her most important tasks is overseeing the Annual Fund—gifts to the college from alumni and others that support day-to-day operations of the college. Much of her first three years were spent on the quiet phase of a Capital Campaign, set to launch publicly this spring with a goal of raising endowment funds to support faculty salaries and student financial aid, as well as funding for building projects on both campuses.
Soliciting support, whether it be for a financial gift to the college or a volunteer's time, poses particular challenges. To this effort Goyette brings her skills as a communicator and her passionate belief in the college's mission. "I admire that St. John's still exists, that we are not swayed by trends, that we stay true to our course, our mission of liberal education," says Goyette. "Many higher education institutions aspire to growth. We don't want to be a larger school—we want to preserve our small classes and tutor-student ratio. We want to get the message out that it is not just what students are learning here, but how they are learning it that sets us apart."
Jeff Bishop, Vice President for Collegewide Advancement at St. John's, has worked closely with Goyette since she joined the college. He describes her as "intelligent and incisive, tireless and thorough, and willing to let others get the credit for the good work that she does."
"Barbara brings a depth of understanding about liberal education, St. John's College, and its place in this community and the nation that is unique among development professionals," says Bishop. "She has helped the college raise significant grants from foundations and individuals."
Goyette says that her education influences her advancement work today, providing perspective on issues and the ability to see things in a new light. "I am especially influenced by Plato, because he challenges our ideas of what is real; this is what philosophy is all about," says Goyette. A voracious reader, Goyette still makes time to delve into ancient philosophy and pursue her passion for American history. Following in the footsteps of her civic-minded parents, she volunteers for the Hammond Harwood House, the Annapolis Arts Alliance, and other community groups.
And though she would have enjoyed living in colonial America, Goyette would greatly miss the CDs she listens to when making her commute from her South County home: "In the morning when I drive to work I listen to Bach—it's so focusing—and on the ride home, it's Bob Dylan's 'No Direction Home.' It sounds like he recorded the songs sitting in a closet with a Radio Shack tape recorder."