Stevens Hardware
The store has evolved around the changes in the downtown," said Marge Stevens, discussing the longevity of Stevens Hardware, the family-owned business. "It's always been to supply the needs of the people in the town—basic hardware items. Through the years, as the boating industry increased, they became customers. We have found a niche, too, for tourists."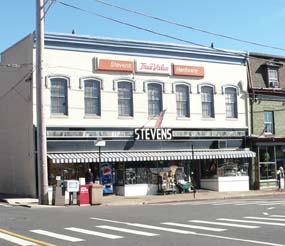 "We're a True Value hardware store," said store manager Mike Stevens, Marge's grandson, "but we're not your typical True Value hardware store. People always come in and say, 'This reminds me of hardware stores I went to when I was a little kid.' There's this sense of nostalgia. People spend hours in here just walking around looking at things."
Mike said that a lot of their business is derived from new people moving to downtown Annapolis, buying older homes and renovating them. "They have big contractors, who are doing the work for them, coming in here to buy things. As this town gets re-built, we're a part of that."
"Some of these families have been here as long as we have," added Mrs. Stevens, the family matriarch, "which is 45 years. We've watched these families grow up."
"There are some people who live on boats and travel on boats," said Mike. "Those people usually come in and buy the everyday things that they need while living on a boat. It's not always a chain or an anchor—just normal household things."
Tourist-type items sold by Stevens include Aladdin lamps, which burn kerosene or oil and glow to the equivalent of a 60-watt light bulb, and fire marks, replica plaques which were used in olden times to let the fire company know that fire protection dues had been paid. "We try to find new things that you don't see at every gift shop downtown," he said.
Improved technology over the years has simplified some aspects of business. "We used to stock the warehouse completely," explained Marge. "Now we can buy weekly. We don't shop ahead for seasonal goods anymore. We don't need to." In the past, the store had to buy winter supplies, such as shovels, six months ahead of time.
The ability to update inventory rapidly allows the tiny store to have a big store impact. "If somebody wants something and we don't have it," said Mike, "we can just look it up in the catalog and order it. Anything that any True Value carries, we can order and have it here in a couple of days."
Opened as a general store in the late 1800s, the business was focused on hardware by the 1920s, under the building's second owner. When Marge's husband Bud Stevens, who died of cancer eight years ago, purchased the building in 1960, he first established an appliance store there, before converting back to hardware.
"We were a GE dealer for five years," said Marge. When GE started selling appliances through department stores, "the margin of profit got so much smaller we expanded the hardware." Marge's son Mark Stevens, who is also Mike's uncle, owns the business now.
In the ongoing David & Goliath retail battle, Stevens Hardware is holding its own against Home Depot and other "big box" stores. "The secret is to offer good prices, with kindness and service," said Marge. "We'll beat Home Depot on service every day," added Mike.
"We're almost more of a convenience store," he continued. "It's the convenience that people like. For people who live downtown, parking is a premium. If they find a spot, they do not want to move their car and come back, especially on a weekend, and find that they've got no place to park."
In 1989, the company opened a more accessible facility, Stevens Tools, on Hudson Street, to sell power tools and accessories, mainly to contractors and woodworkers. The downtown location "wasn't convenient for contractors," said Mike, "and it wasn't convenient to receive tractor-trailer loads and forklifts of things."
The Hudson location provides in-house tool tune-up and repair services. "They can evaluate whether the tool is worth repairing," said Marge. "If you have a problem or a particular job, they can tell you which tool would be the best one for you. The big boxes don't offer knowledge of the use of the tool. We're not only selling tools, we're selling knowledge."
Back in 2003, Hurricane Isabel submerged the entire city dock area under several feet of water. Stevens minimized losses by moving much of the merchandise off the shelves and placing it in an upstairs storage room. "We were lucky because we don't have a lot of drywall or equipment like the restaurants," said Mike.
"The water c ame through all four of the brick walls," he went on. "The building was completely surrounded by water on all four sides and it just seeped through. We lost the carpet. That salt water was like an acid, and anything that was metal was rusted. The shelving all rusted. It took a while to clean all that up and repaint. It wasn't that bad. We were open the next day."
"We operated a couple of days without a cash register," added Marge, "but it didn't matter. The people all around needed things, cleaning supplies."
Members of the community aided the store's recovery. "Strangers came and helped us—people we didn't even know," said Marge. "It was that kind of feeling among the whole town. Everybody was just helping everybody else."
The plan for the company is to keep on keeping on. The family has no plans to sell the business or the building. According to Marge, the business is profitable, and the family is united in their love of their work. They like getting up in the morning and going to the store. "There are not a lot of people who can say that," she noted.
Mrs. Stevens works at the store by choice, not necessity. "I'm still here because I want to be," she said. "I pay the bills. I'm the treasurer of the company. At my age, I feel like it's a big blessing" to be able to come in and work every day. "It's been my life. This is a fun business. It really is."
Stevens Hardware is located at 142 Dock Street, Annapolis, MD 21401 (410-269-0629), and Stevens Tools at 40 Hudson St # 108, Annapolis, MD 21401 (410-266-0629).
Back