A Frozen Legacy:
Polar Bear Plunge Turns 10!
A total of 13,304 frozen bodies, $2.9 million dollars raised, and (at least) 4,391 abandoned shoes have all led up to this—the 10th anniversary celebration of the Maryland State Police Polar Bear Plunge presented by Aerotek on Saturday, January 28th at Sandy Point State Park in Annapolis, MD. In honor of this major milestone, the Plunge organizing committee has set an aggressive fundraising goal of $1 million for Special Olympics Maryland (SOMD).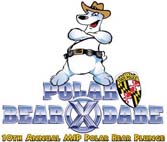 While the basic event concept will remain the same—participants must raise a minimum of $50 for the right to take a wintry dip in the Chesapeake Bay in January, and for that contribution will receive a commemorative event sweat-shirt, lunch compliments of Big Bats Café, and a group color photo—10th anniversary Plungers can expect a few exciting additions as well. There will be new celebrity participants and media personalities joining the fun, greater incentives for top fundraisers such as airline tickets and trips, and an innovative "friend-to-friend" online fundraising/registration tool to aid in your efforts.
Colonel Thomas E. Hutchins, Secretary of the Department of State Police, recognizes the collective impact that you, the thousands of individuals willing to make difference have made in the past ten years. "Thanks to the willingness of thousands of committed, caring individuals with warm hearts, this event has become the most unique and most successful fund-raising event in Special Olympics Maryland history," Colonel Hutchins said. "I look forward to joining Governor Robert L. Ehrlich Jr., Lt. Governor Michael S. Steele, and thousands of enthusiastic winter water lovers again this year as we celebrate ten years of plunges by making this one the biggest and best ever."
In addition to the main event at 2 p.m., the festivities include great food and merchandise for sale, law enforcement static displays, a special area just for kids, an "anything goes" costume contest, live remote by Official Plunge Radio Partner 98 Rock, and special celebrity guests, including Governor Robert Ehrlich, Lt. Governor Steele, retired Raven Michael McCrary, Ravens defensive coordinator Rex Ryan, WJZ-TV's Marty Bass, WBAL-TV's Rob Roblin, WBAL Radio personality Chip Franklin, all of the jocks featured on 98 Rock, and Plunge veteran Steve Rouse, among others. The event is open to the public and all spectators are welcome free of charge. Parking plans are still being finalized and will be posted on www.somd.org as soon as they are available, but all attendees can be assured of ample parking and more than enough shuttle buses to transport people to and from satellite parking areas.
In 2005, the MSP Plunge boasted 2,700 Plunge participants and raised $625,000 for SOMD athletes—a substantial increase over the first event in 1997 that hosted just 350 Plungers and raised $40,000 for the organization. "We are in awe of this event," said Tom Schniedwind, Sr. V.P. of Sports Marketing for SOMD. "When we look back over the last 9 years, there is really only one reason that the Plunge has been so successful—the individual participants that embrace it. You are our greatest re cruiters, fundraisers and promoters, and there is no doubt that we owe the last 9 years of success to your absolute dedication and enthusiasm. We have great confidence that with your continued support, we will reach our $1 million fundraising goal."