A Prime Number on Main St.
By Patricia Barry
Main Street restaurants in the Historic District of Annapolis offer a challenge to the diner arriving by car. On a recent Thursday evening, we found no promised valet parking attendant in front of 111 Main Street. It was explained that although we had a reservation, the valet parking service vendor had unfortunately not shown up. The savvy Renee suggested that if my ally in food would please park in the nearby Hillman Garage, OB's Prime would happily take care of the fee. After that, it was smooth sailing. Since then, a new parking vendor has solved the problem.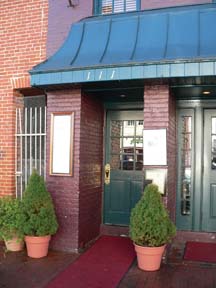 OB's Prime is above O'Brien's Oyster Bar and Grill and that is where the similarity ends. Although they share the same 19th-century building, OB's Prime is definitely a different dining experience. Downstairs exudes the Annapolis atmosphere, exuberant on Monday night football evenings and well known as a meeting venue. The vaulted upstairs two floors offers a fine dining environment, is sophisticated and invites guests to enjoy a romantic setting.
After walking up to the second floor, we were warmly greeted by a hostess and the general manager, Joe Terribile. A wine bar with comfortable seating make waiting a pleasant experience. However, we had a 6:30 reservation and there was no wait. Entering the dining room is an amazing prospect—the cathedral ceiling soars to the top of the third floor. The focal point is a stone fireplace, an architectural statement that makes its way up to the ceiling. On this occasion, a beautiful fire burned beyond the hearth. Despite the room's height, draperies hung from the ceiling to floor and also served as dividers among some tables. Surprisingly, acoustics worked well, enhancing the smooth jazz background music.
On our first and second visits we were fortunate to have David Johnson as our server. Knowledgeable and attentive, David was available to answer our questions about menu items, their ingredients and origins. He's been with OB's Prime since it opened a year and a half ago and a professional waiter since 1990.
Owner of the building since 1991, Gerry Hardesty has set high standards for all aspects of "fine dining." He noted that the building dates back to about 1860, but fires in both the 1970s and 1980s resulted in historic rehabilitation to the structure and afforded the opportunity to gut the ceiling between the second and third floors.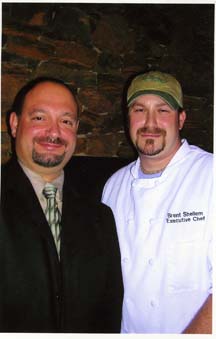 We were first served a "l'amuse," (in France a diversion or distraction) and in this case a house-made light pastry enhanced with parmesan cheese that was a compliment to either cocktails or wine. The martini list includes multiple popular and exotic choices, e.g., an espresso martini. The wine list is both extensive and distinguished.
Overall, the food is "classic American traditional with world fusion," as stated on the menu. Our appetizer choices included seared scallops that were jumbo sized, topped with mango coulis and accompanied by spiced passion fruit. Literally sliding on a mango runway, the scallops were light and tender with the mango bath exploding on one's tongue. Not to be missed. We also had the stuffed top neck clams made with chopped clams, bacon, lemon, Tabasco, butter, cheese and bread crumbs. All the ingredients were finely chopped, integrating the flavors in a most special way. Placed in a clam shell, they were baked to a golden crust and demanded that the remaining liquor be sopped up by delicious French bread. Baked crab balls, smoked peppercorn bluefish and baked stuffed calamari were also sampled and highly recommended.
OB's Prime specializes in "prime" beef, the highest quality designation awarded by the USDA, and includes a 16 oz. New York strip, a 10 oz. filet mignon, a 14 oz. rib eye, a 16 oz. prime rib and a 24 oz. porter house. We ordered the New York strip (medium rare) and the filet mignon (rare) that were cooked perfectly to order and both had outstanding flavor, especially when enhanced with my favorite Marchand de vin sauce, of the lightest variety. Other sauces available were Bearnaise or au Poivre.
Other temptations included soups, salads (we sampled both the tomato and onion as well as the tomato mozzarella—fresh with crisp dressings), seafood (including 2–4 lb. lobsters that are promised to be tender), specialties, e.g., rack of lamb (ordered and stood up with the best) and sides (we tried asparagus Maltaise—very good and sautéed spinach that was al dente and flavored perfectly.)
We always say we don't eat desserts (that, of course, is a stretch of the truth) and decided to share both the chocolate and vanilla crème brulee. The classic vanilla was excellent, and the surprise chocolate was heavenly. Executive Chef Brent Shellem gets high marks.
After dinner, we wandered into the Board Room or Cigar Lounge where gentlemen select fine cigars and ladies are known to smoke flavored cigarillos. This elegant space can accommodate 12-15 persons and may be visited after dinner or booked for private parties.
OB's Prime is a smooth operation. For a relatively new restaurant, this "fine dining" establishment has found its stride.