Annapolis Pottery
Well before the Millennium, Bill and Genevieve McWilliams looked down from the State House grounds as they contemplated their future over lunch. Below them, the streets stretched out like spokes from a wheel, the evidence of centuries past merging with signs of change. As owners of Annapolis Pottery located first on Cornhill Street and later at 40 State Circle, they would be part of that change and part of the enduring past.
The pottery has become a touchstone for residents and tourists who share a bit of themselves as they tarry over purchases of pots and bowls, platters, pitchers and teapots, vases, wall pieces and other wondrous creations: menorah, candlesticks and even candelabra; clocks and the lovely little mezuzahs, made to convey blessings upon visitors.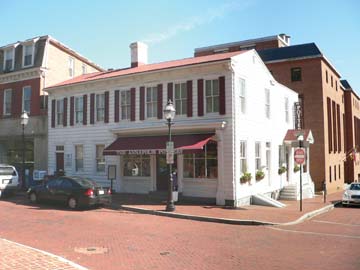 The shop first opened on Cornhill Street 35 years ago. Owner Bill McWilliams was from the Judge McWilliams clan residing on Dean Street across from the old hospital. Like two of his brothers, he became an attorney, graduating from the University of Maryland Law School in 1962. He practiced law for about 12 years, then followed a good friend into the pottery business. He purchased the shop, developed the tools of that trade and used his legal knowledge to run his new business.
Early on, Bill's daughter Penney made and sold pottery and was a good all round helper. She earned a master's degree in micro-biology and now lives in Knoxville, Tennessee. Son Garrett, an electrical engineer, used to do things like running the computer networks and working on the kiln from time to time. He had yet to meet his most enduring helpmate.
Genevieve McWilliams was an "army brat" born in Germany. She traveled with her family to Europe and the Far East and later as a Peace Corps volunteer. With a master's degree in education from the University of Maine, she then taught children with special needs.
She met Bill McWilliams while visiting her parents in Annapolis on her way to a new job overseas. Drafted as a temporary helper, she was immediately overcome with the joy of the pottery profession, with its focus on beauty and form.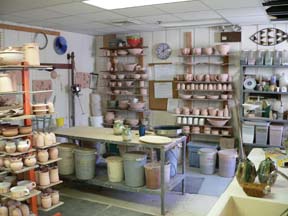 After her first day, Bill McWilliams said, "I should thank you by taking you out to dinner." "It was the beginning of a beautiful life," recounts Genevieve. An enthusiastic learner, she worked at the tiny shop for three or four weeks before notifying her would-be employer that she was no longer available. She would stay in Annapolis.
In 1994, the couple were given the opportunity of their dreams. They purchased the 4,000 square foot property at 40 Statehouse Circle to house their creative and unusually productive pottery enterprise, taking on some business tenants in the bargain. In the new highly visible location, business doubled.
The building has held many things besides potters wheels and kilns since it was built in the mid-nineteenth century. Older townies remember it as a bustling YWCA. Its multi-level rooms, closets and corridors have also held a cafeteria, a railway express office, a saloon and a brothel.
Glowingly proud of all the young potters who have ever worked for her and Bill, Genevieve attributes the company's success to them. "The pottery has attracted hardworking, creative, dynamic people," she says. They train employees in their signature style and make 40% to 50% of the inventory that's sold. (They also sell work from two to four dozen other potters from various parts of the country.) When Annapolis Pottery employees leave, some go on to open their own studios and businesses.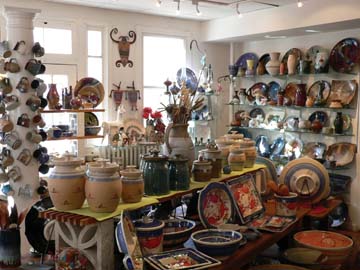 Genevieve is enthusiastic about the talents of potter Nevan Pearson Cody. "She's the first production manager that we've ever had" she says. "It's been highly successful to have a person as experienced and talented as Nevan keeping production moving in the right direction." Cody holds a BFA from Southern Illinois University. She moved to this area to teach at Baltimore Clayworks.
According to Nevan, finding a full time job in her profession is a rare gift. She turned down a graduate assistantship in Memphis to accept the position at Annapolis Pottery. "I wanted to get more experience," she says. "How did a production studio run…I wanted to see the ins and outs of managing a staff and producing on a large scale."
"I was feeling kind of hopeless in terms of selling pots," she says, "but now I see the turnover (of goods) here and I think, well, maybe I really can make a living selling pots." She explains that Annapolis Pottery is unique. "I've never seen a production studio that is also a gallery," she says.
The business has four potter's wheels with two on display in the public pottery studio. When it's not too windy, a sign out front beckons to passersby, "Potters at Play." "If it's not up, the mailman comes in and says, "What, no potters at play today?" says Genevieve. "It's part of what encourages people to come in and go down those steps to the studio."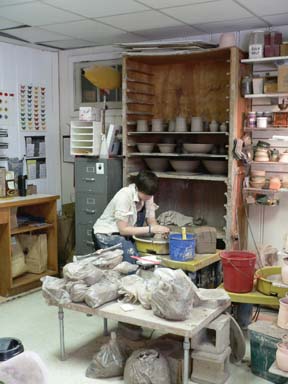 It's intriguing to come inside to watch the potters at work. The core staff includes the two owners, office manager (and USNA graduate) Sharon Disher, the production manager and two production assistants. There is often a high school apprentice being trained as well. Says Cody, "creating a pot is making something beautiful out of a lump of mud. It's the oldest craft form and it's great to be a part of that."
Owner Bill McWilliams no longer throws pots, but confines himself to administrative tasks. "I guess the technical side of the business was always my main interest anyhow," he says. "That includes the chemical, electrical and mechanical process of being a potter."
McWilliams develops the glazes used by Annapolis Pottery. The formulas are from his private recipes. Cody tells us that people spend their whole lives perfecting glazes. Understanding the process is the intersection of art and science Annapolis Pottery has a long-time supplier for clay and other material supplies. Standard Ceramics in Pittsburgh supplies as much as 20–30 tons of clay each year along with other basic elements: cobalt (from South Africa) for blue color, copper for greens, iron for browns and manganese for brown and black.
Two electric kilns need to be kept in good order. Costing thousands of dollars, a kiln is put to hard use at exceedingly high temperatures and may last as little as three or four years before it's no longer serviceable.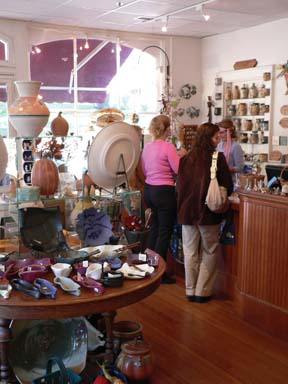 At Annapolis Pottery, one kiln is used for baking the clay after it is formed. Called the bisque, it heats up the pot, gradually rising from zero to 1800 F. It then cools for 24 hours. Although the firing gets rid of all water molecules, the pot is still really porous.
After glazing and other preparation, pots are put in the other kiln, brought to a temperature of 2232F over eight or nine hours, then cooled for 24. Other potters may use kilns fired with gas or wood, their wares priced according to fuel. Annapolis Pottery tries to keep their prices as low as possible. Visiting the studio gives one an appreciation for the modest asking price.
"We have a very busy year from the beginning of April all the way through to the end of the holiday season," declares Genevieve McWilliams. "But we are potters here and so we are very, very busy in January, February and March getting ready with production, building our stock base and experimenting with new ideas that our customers may have come up with during the year." In the winter, when other shopkeepers are slowing down, the potters keep busy. "It's an exciting period where we can experiment," says Geneviveve. "It's the creative time."
Annapolis Pottery has served two generations and won numerous craft awards. Bill McWilliams reflects on its true value. "The thing that has always endured me to this business is the clientele—our customers," he says. "It's like a family."
Customers come back time and again over the years, often sharing ideas from their travels abroad for such things as olive dishes and butter keepers. "If someone doesn't come in for a while, we start to worry," says Bill. "It's a mutual feeling. They seem to like us and we think the world of them."