Lou Hyatt:
A Developer With Years of Perspective
By Margot Mohsberg
Lou Hyatt is reputed to be the oldest real estate developer in Annapolis, but he's not so certain.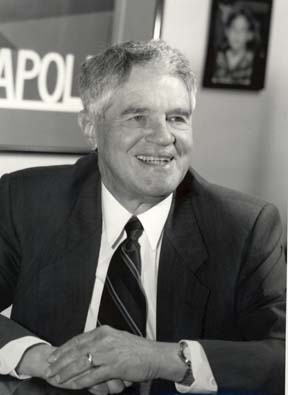 "I don't know if that's true or not," says the 77-year-old, emanating the energy of someone half his age. "I will say that I don't know of anyone who started when I started and is still around."
Give him a few years and the rumor could most certainly become true. Retirement is merely a passing thought to him."I think about it but not yet," he says. "I'm still enjoying myself."
As a developer, Lou is one of those unusual lifelong Annapolis residents who remembers the city the way it was and thinks, overall, that it's better now. "There have been a lot of changes—not all of them good, but not all of them bad either," he says.
Lou was born in 1928 at Annapolis Emergency Hospital, which later became Anne Arundel Medical Center. His father immigrated to the area from Lithuania in 1911 and had a shoe repair shop on Main Street where Mangia restaurant is now. The family lived on Cornhill Street, considered today to be a prestigious address in the Historic District. Back then, however, it was referred to as Hell Point and thought of as the wrong side of the tracks.
"Some people say Annapolis has changed for the worse, but those people would not have wanted to live downtown 50 years ago," he says. "It was all work boats. Sailboats were an oddity. There was no public sewer until 1938. It was simply a very commercial and maritime area where some people wouldn't want to live."
After graduating from Annapolis High School in 1946, Lou attended night school at the University of Baltimore before heading off to Korea for a one-year tour in the Army. Upon returning, he opened a neighborhood bar with his brother, Dave, where Griffin's restaurant is now.
"Back then, you could still get 25-cent shots of whiskey," he says. "Annapolis was still a very southern town where minstrel shows performed on a barge at city dock."
During this time, an attorney friend suggested Lou get into real estate, so he went to work for Capital Real Estate and became a partner. Lou helped operate the company from 1953 to 1960. However, in 1961, Lou decided to branch out on his own and opened Louis Hyatt Inc which later became Hyatt Real Estate and Hyatt Commercial. The business was located at 1919 West Street, where it still resides today.
"We built new homes in Parole for as low as $6,000," Lou says. "Many of those homes are still standing today."
He also helped develop the longstanding communities of City Gate, Hilltop Village and Tyler Village. All in all, he helped develop several hundred homes in Annapolis and surrounding Anne Arundel County.
Eventually, Lou moved from buying land and building communities to simply buying the land and securing the necessary building approvals to make it ready for someone else to develop. He turned Hyatt Commercial into a full service firm providing commercial sales and leasing, property management and investor services.
Some of his bigger projects include securing the land for the Annapolis Mall and the former Parole Shopping Center. "It's like planting a seed," he says. "We always have a development in the pipeline. Trying to get the approvals to build is getting more and more bureaucratic. You used to be able to get a building permit in two days. Now it takes two years."
During all of this, Lou remained active in the community, serving on the Annapolis City Council, the Annapolis Planning and Zoning Commission, the city's Democratic Central Committee and the Anne Arundel County Board of REALTORS®, which elected him board president and named him Realtor of the Year.
A retired Director of the former Farmers Bank of Maryland, Lou also served on the National Advisory Council of the Small Business Administration, the Maryland Real Estate Commission, and the Anne Arundel Economic Development Finance Committee.
Lou says it is important to care for the community both personally and professionally; therefore, he is very careful not to do a project that he feels will impact the city negatively.
"In a town the size of Annapolis, reputation is important," he says. "People know you and if you do it right, your name becomes your most valuable asset."
John Suit, who was president and CEO of the former Farmers Bank when Lou was a board member, says Lou has become known as the "commercial real estate expert" in Annapolis.
"Having worked in Annapolis for so long, Lou just has a wealth of knowledge about the city," John says. "Plus, he is honest and I think he does care about Annapolis. He's made his life here and his money here."
In 2001, Severn Bancorp, a holding company for Severn Savings Bank in Annapolis, purchased Hyatt Commercial. Lou's son, Alan Hyatt, an attorney and banker, runs the bank, which specializes in mortgage lending.
While Lou helped his son acquire the bank many years ago, making it work was left up to Alan."I figured it would be better for both of us if I stayed out of it," Lou says. "I give Alan all the credit for making the bank a success. He has taken it from a bank he operated one night a week in Baltimore to a bank in Annapolis that has $800 million in assets. He has done better than I ever imagined—not that I didn't think he could."
Lou is proud to say that he and his wife, Fran, have been happily married for 55 years. In addition to Alan, they have a daughter, Jo Ann Modlin. Jo Ann and her husband, Lyle, an Annapolis podiatrist, have three children. Alan and his wife, Sharon, also have three children.
Despite all of the recent development going on in Annapolis, including his son's new Severn Bank Building on Westgate Circle where Lou is about to move his business for the first time, Lou does not believe the city of Annapolis is in danger of becoming overdeveloped.
"They don't make much waterfront and they don't let you build on the water too easily," he says. "With all of the environmental and zoning laws, I think the city is pretty safe. I think there are ample laws to protect the area from over development, and maybe even too many."
At the same time, he does see the area continuing to grow in population."I can understand why people would want to lock the door to Annapolis and throw away the key, but people are going to continue coming here," he says. "It's on the water in a strategic spot when it comes to commuting to D.C. and Baltimore, which is why many people moved here in the first place. It's simply a good place to live."