14th Annual Scottish Festival and Highland Games
The Anne Arundel Scottish Highland Games will be held at the Anne Arundel County Fairgrounds on Saturday, October 8. Numerous vendors of Scottish goods will be open all day for shoppers to browse. Scottish meat pies, bridies and sausage rolls will be available from Camerons Market of Kearny, NJ, as well as Fish & Chips and pit beef. Also available is Killian's Red and Coors Beers, which sponsors the Games.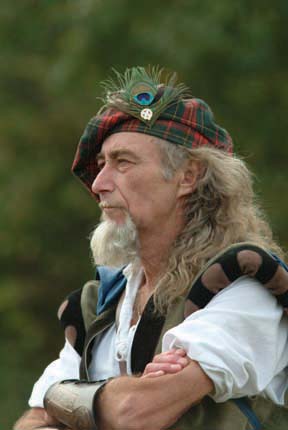 Next to the food vendors is the "Bothy", a covered pavilion with picnic tables and plenty of seating, featuring musical entertainment all day. This year's entertainers include: The Highland-Aires (Roy & Ralph), a singing duo well-known to Scottish gatherings up and down the East Coast; Bonnie Rideout—World-Renowned Scottish Fiddler; Carl Peterson, a balladeer from Greenock, Scotland also well known in the Scottish community; and The Homespun Ceilidh Band, playing traditional Celtic music in this area since 1993.
Exhibitions at the Games include several breeds of Scottish dogs, highland cattle, Clydesdale horses and a sheepdog exhibition. This is always a favorite of the crowd, especially the children.
Other events throughout the day include the Tug-O-War between the Anne Arundel County Police and Anne Arundel County Fire Departments; children's games and the "Wellie-Toss".
M ore than 40 Clans and Scottish Associations make up the "Avenue of Clans". A Parade of Clans will be held at 11:30 a.m., just before the Opening Ceremonies. Opening Ceremonies at 12:00 feature the parade of Massed Bands.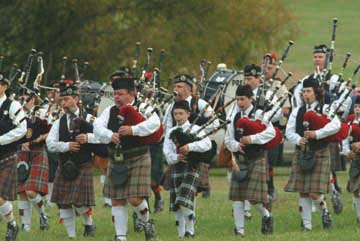 Competitions are held all day. The Heavy Athletics Competition includes the following events: Sheaf Toss, Caber Toss, 16# Hammer Throw, 28# Distance Throw, 22# Stone Put, 56# Weight for Distance and 56# Weight-for-Height. The John Rundle Memorial Quaich is awarded to the Athlete of the Day. The sterling silver quaich has been donated by The Scots Magazine, published by DC Thomson Publishers.
The Piping and Drumming Competition, sanctioned by EUSPA, begins at 9:00 a.m. with individual piping. Competitions will be held in individual piping, drumming and Pipe Bands, Grades III, IV and V. Special Trophies donated by Caithness Glass are awarded to the Best Pipe Band and Open Piper of the Day.
Tickets are $10.00 for adults, $8.00 for Seniors over 62, $3.00 for children 12-18, under 12 - free.
Come enjoy the magnificent display of color, pageantry, music and competitions. It's as close to Scotland as you can get without being there!