4th Annual Pumpkin Patch Fundraiser for the Light House Shelter
Pick your pumpkin and help fight homelessness in Annapolis! Friends of the Light House Shelter will host its Fourth Annual Pumpkin Patch to raise money for the area's homeless and disadvantaged. The Pumpkin Patch will feature holiday crafts and activities for children, along with the sale of baked goods, pumpkin specialties (including homemade soups), and of course, thousands of pumpkins and gourds.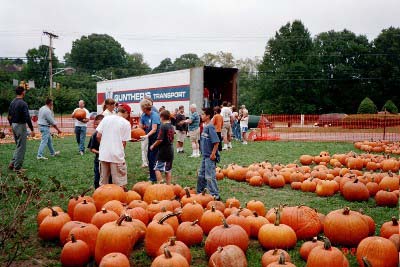 The Pumpkin Patch will open Saturday, October 15th and will run through October 31st. St. Martin's Evangelical Lutheran Church (at intersection of Spa Road and Hilltop Drive) in Annapolis will again host the event daily from 10:00a.m to 6:00p.m. Area churches will take turns staffing The Pumpkin Patch each day.
All proceeds from The Pumpkin Patch will be used to support The Light House Shelter in Annapolis, the only homeless facility in the city of Annapolis, which last year provided beds, lunches, groceries, and emergency utility funds for hundreds of area families. The Shelter provides both emergency and long term transitional housing for families.
"The Pumpkin Patch has become a symbol for the work of the Friends of the Light House Shelter. Hundreds of volunteers from throughout our community give a small amount of time to make the event possible, and†thousands of pumpkins are purchased in order to make a donation to The Shelter. Together, with so many doing a small part, we have been able to raise over $40,000 for the ongoing work of making sure that the less fortunate in our community have a roof over their heads, a bed to sleep in and a hope for bettering their lives. Thank you for caring!"– Elizabeth Kinney, President of Friends of the Light House Shelter Board
Those interested in volunteer or sponsorship opportunities may contact Craven Engels (Event Chair) at cravene@comcast.net.
Back