An Authentic Bierstube in Edgewater
Old Stein Inn
1143 Central Avenue
Edgewater, Maryland
410-798-6807
Moderately Expensive
Appetizers, soups and salads: $5 to $10
Entrees: $14 to $22
European-style desserts
Ample wine and beer lists
All major credit cards accepted.
Hours (serving dinner only):
Closed Monday and Tuesday
Wed., Thur., and Sun.: 4 to 9 p.m.
Fri. and Sat.: 4 to 10 p.m.

Gem¸tlichkeit" is a German word you can't forget if you've been to an authentic German restaurant or bierstube (tavern or pub). This is a real one where you'll find plenty of gem¸tlichkeit or camaraderie in a cozy family setting.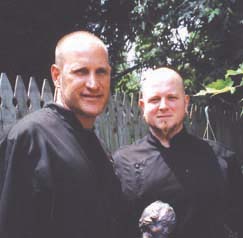 South of Annapolis and toward Mayo on Rt. 214, the Old Stein Inn was previously a South Anne Arundel County restaurant, (and in the '30s the first south Anne Arundel County gas station and general store). The Old Stein Inn became the new name in 1983 when Karl and Ursula Selinger from Neustadt an der Weinstrasse, Germany, opened the doors to the German-American restaurant, bierstube and biergarten. Their son Michael worked in the business while growing up. He earned a business degree at the University of Maryland and for the past eight years, he and his wife Beth have taken over managing the restaurant.
Open all year, the Old Stein Inn takes on its special brand of magic in October when Octoberfest takes place not only in Germany, but also within the restaurant's walls and garden. Excellent Central European food, German beers on tap, a wine cellar filled with German estate bottlings and spirited German music create a mood perfect for the seasonal festivities.
Our party of four began by sampling one of the draft beers, the "wheat-bier," called Franzikanner Hefe-Weiss that exuded a yeasty and fruity citrus taste—definitely a satisfying thirst quencher (much needed on the August scorcher when my ally in food, friends and I visited the Old Stein Inn.) One of our guests selected a bottled bier, the recommended "alt" or high bier, the Verige Sticke that he described as "tasty with a hint of ginger."
Ten German beers on draft, known as the top ten, (plus 30 bottled varieties) make up the bierstube specialties of the house, with a special feature on the tenth tap, a changing German seasonal or German-styled American micro-brew. The choice on the evening of our visit was the "Ettaler Kloster Dunkle Lager," described as "hinting of caramel taste and dark in color -- very smooth," by one guest. The bar has a cult following. No wonder, the brews are intriguing – Munich's amber Spaten Octoberfest-bier, Spaten Optimator Doppelbock, Kostritzer Schwarzbier, Bitburger Pilsner and more.
The Riesling white wines are outstanding, offering several dozen dry, semi-dry and fruity varieties. The friendly servers are knowledgeable about beer, wine and food choices.
For appetizers, we recommend the Muenster cheese and crab suppe, a masterful creation of the aforementioned ingredients that arrived bearing an outstanding aroma. It first strikes your palate as soft and then sneaks in the distinct local crab and musty cheese flavors. We agreed that the unique soup dish deserved the multiple plaudits won from seafood festivals and Bay magazine food judges.
Another appetizer that earned high marks was the assorted wurst platter, with or without cheese, including four kinds of the best of the wurst and with cheese including Gouda and Muenster: tasty, with considerable bang for the buck.
Moving on to the entrees, the top two favorites were not surprising – the sauerbraten and the jagerschnitzel (pork is the most popular meat in Germany.) One of our guests orders only the sauerbraten entrÈe at the Old Stein Inn. She noted that when she finds a good thing, she sticks with it. And no doubt, the beef was lean, had been marinated in vinegar and swimming in a rich brown sauce. Served with potato dumplings (slightly nutmegy) and red cabbage (a hint of sweetness and admirable integration of the many spices included.) The jagerschnitzel, a fine piece of pork tenderloin, is breaded (for those who seek the traditional style) and topped with a full-bodied "jager" (hunter) sauce of fresh mushrooms and onions, adding slightly woodsy and garden tastes.
Executive Chef Ian Douglass trained at the Culinary Institute of America. He brings urban experience and a light touch to his specials. I sampled his gently-battered and sautÈed soft crab over crab and potato salads redolent with bacon, dill, celery and German mustard. The accompanying red cabbage once again was smooth and mellow. These are memorable tastes.
Another strong memory is the home-like quality of the inn, feeling like a large comfortable house with a small library of books relating to Germany, soft linens and earthy tones. Children are welcome and can select from their own "kinder" menu at modest prices.
During October, specials and entertainment expand. The Biergarten schedule is enhanced, featuring strolling Sylvia on the accordion and the Heimat Echo Bavarian Band. Check the website for precise times.
On our first of several recent visits to the Old Stein Inn, a couple from Boston (formerly from Annapolis) noted the dearth of German-style restaurants in Anne Arundel County and surrounding area. "This is it now," they emphasized, and signed off with a "Prosit."