Johnson's Fine Clothiers:
80 Years "On the Avenue"
On a sunny day in the mid-1980s, Richard M. Johnson was out for his regular top-down jaunt in his Jeep CJ5. In those days, Annapolis was a smaller town where everyone knew each other, and Johnson was a familiar sight in his fine tailored suit, handsome hat and driving gloves. When he stopped at an Annapolis filling station, a newcomer to town noticed the debonair driver and upon his departure inquired as to his identity. When the attendant replied that the driver was the owner of Johnson's, a fine clothier, the customer casually remarked, "If I ever need to buy a suit, I will buy it from that gentleman." Earlier this year, that customer still remembered the day he encountered Mr. Johnson. True to his word, he came to Johnson's "On the Avenue" to purchase his first new suit since that chance meeting two decades ago.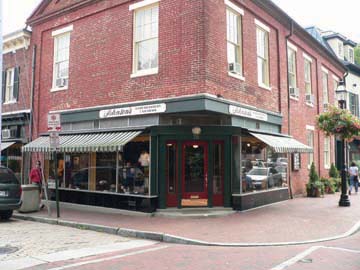 Richard Johnson was indeed a "walking advertisement" for his store. From the time he began working there in 1926, its reputation has been its best asset. Johnson started out as store manager of the Annapolis branch of a Norfolk-based navy uniform shop. Then, as now, the store was located at the corner of Maryland Avenue and State Circle. Interestingly, in 1935, he bought the building for $16,825 at public auction, thus becoming his employer's landlord. In 1952, he bought the business and expanded it to a traditional menswear store while still maintaining the uniform business. Operating from the same location for almost 80 years, the store is a local landmark.
Today Johnson's continues as a family business, owned and operated by Richard Johnson's daughter, Jean Johnson Held (who has owned the store since 1986) and granddaughter, Jennifer Held. The store has upheld its standing as a high quality, specialty clothing store. In addition, it continues as a strong supplier of uniforms for naval officers, as well as yacht clubs and U.S. Power Squadrons. Although Richard Johnson passed away in 1989, he is still fondly remembered by his loyal customers. "My father worked six days a week and loved what he did," Jean recalls. "Many of our customers wax nostalgic about buying their first blazer here."
"Grandfather was a remarkable man," Jennifer adds. "When customers learn that I am his granddaughter, they smile and mention a fond memory."
Jean says that quality employees are the keystone to the store's continued success. Johnson's prides itself on the experience and longevity of its salaried staff, a rarity in the retail world. The store has very little turn over—each employee has 35 to 45 years of experience in retail clothing sales and has worked at Johnson's for 15 to 20 years. "Our reputation was built by our employees' effort and expertise," Jean emphasizes. "They are our greatest asset. The depth of experience in our staff is unquestionably unique in today's retail environment. They have the background to custom-fit customers and guide them in their selections. They remember each customer and can make recommendations based on past purchases. In many cases, our sales staff knows more about what's in your closet than you do! In addition, our on-premises alteration shop assures the quality of our fittings."
With a distinct emphasis on quality versus quantity, Johnson's carries specialty lines and gift items not found in department stores. Monthly changes to the store's beautiful window dressings display men's and women's classic clothing. Menswear lines include Hart, Schaffner & Marx, Jack Victor and Samuelsohn, among others. Johnson's also exclusively features fashion-styled cashmere and loden coats for women by Schneiders from Salzburg, Austria and selections from the GEIGER Collections that are suitable for any occasion, casual or formal, always smart and elegant.
In Johnson's uniform department, naval officer uniforms and accessories are available for graduating midshipmen from the United States Naval Academy, as well as naval officers around the world. Particularly unique to Johnson's product line is its custom naval officer's cap. Designed by Richard Johnson himself in 1952, it is manufactured exclusively to his original specifications, including cane construction, leather sweatband, and lightweight cover. "From ensigns to admirals," Jean says proudly, "these caps are being worn with comfort throughout the fleet."
Among the gift items offered by the store is Johnson's exclusive handmade German naval office sword. Laser-etched and custom-sized, this item makes a wonderful gift for the graduating midshipman. Many have become heirlooms, passed down from generation to generation. Swords must be special-ordered and now is the time to order for the 2006 graduating class.
Other giftware includes Piel leather goods, letter openers, scarves, and accessories such as cuff links. Holiday gift items include 3" painted iron-cast toy soldiers, pewter pieces from Mexico, and painted boxes and ornaments with Christmas and Annapolis motifs.
Besides the addition of giftware, there have been significant changes in consumer trends and product lines over the years. Jean says, "We are always fine tuning. Business attire has moved away from the traditional suit to a 'corporate casual' look. On the other hand, many women are going back to the days of looking at clothing as an investment and buying fewer, basic outfits of more lasting quality."
The ability to be flexible amidst changing market conditions is critical to the success of any business, and Johnson's has seen many changes in the local economy over the decades. These have included the building and expansion of Annapolis Mall and the opening of Harbor Place in Baltimore. "The ongoing national trend is to locate major retail centers on the fringes of 'old downtown' shopping areas," Jean explains. "This trend started about 40 years ago, so we have been adjusting to it for most of our business life."
Jean has also seen a change in the demographics of Johnson's customers. She estimates that 20 years ago 80 percent of her customers came from the Greater Annapolis area. Today, Annapolis has become a travel destination, and about 50 percent of her customers are tourists. Oftentimes, customers from far and wide visit the store to be custom-fitted and have their purchases altered and shipped back home.
Changing times have brought other modern marketing tools. One of Jennifer's duties is outreach marketing, including the overseeing of the store's advertising and recently launched website. While modern methods have their place in today's business scheme, Jennifer says her favorite part of the job is meeting customers face-to-face. Good old fashioned word-of-mouth remains the store's most effective form of advertising.
"The art of personalized retailing has been at the heart of our business success for the past 50 years and is still very much alive here," says the daughter of the man who loved to dress up this town. "Every effort is made to treat customers as you would a guest in your home. Because our staff is salaried, they focus solely on satisfying the customer's needs…not the size of the commission check. Some may argue that this approach is not in the owner's best financial interest; but I assure you that it is in the customer's best interest! Maybe that's why we are still here."
Back