Robert Dunn:
Keeper of the Inn at 30 Maryland
Robert Dunn's business card reads "keeper" and that is exactly how the 35-year-old owner of Annapolis' newest bed and breakfast sees his role. "I don't want the next owner to be cursing me," he says, laughing. The Inn at 30 Maryland, a brick Victorian home in a quiet city neighborhood, has seen its share of owners over its 100-plus years and is probably breathing a sigh of relief.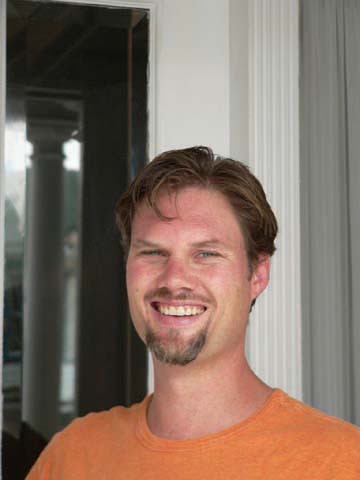 Guests walking into the historic mansion may envy someone who can live here year-round. The high ceilings, polished wood floors, and rich embroidered curtains all convey a tasteful and understated elegance. "We got lucky," Dunn said of the purchase. It was the only property that met their criteria. But the couple who invested their savings into the 100-plus year old house certainly paid their dues. When Michelle and Robert Dunn moved in, "it was like camping," he recalled. "Sleeping on a floor in February is cold." The to-do list was certainly daunting—there were holes in the floor, bathrooms needed an overhaul, and the top-level apartment had to be split into separate rooms to create living space for Dunn and his family.
The reality of getting the proper permits and the amount of work to be done delayed the opening. "We had the delusion of opening in May," Dunn said with a chuckle. Family members came as guests for the "soft opening" as Dunn called it, as a warm up for the "hard opening" during the Boat Show last year. The week in between the two openings was spent "off and running around, realizing what you don't have." He plans to give the paintbrushes a rest for a while after nonstop home renovations.
However, the projects are not over—Dunn is building and repairing private porches for the two suites on the second floor. He credits the original craftsmanship of the house, which made the to-do list a little shorter. "It's worn extraordinarily well," he said. "The brickwork is in fantastic shape." The exact date of the inn's construction is unknown but is estimated to be 1886, and according to Dunn, it once served as a boarding house for dates of Naval Academy cadets.
After completing his undergraduate degree in history at Johns Hopkins University (where he met wife Michelle), Dunn opted for a career that had nothing to do with history. He began as a "glorified [shelf] stocker." He smiles as he remembers that first job. "There I was with a degree from Hopkins barely making over the minimum wage." He then worked his way literally up the food chain as a sous chef at the Polo Grill, then his own kitchen at the Belmont Conference Center in Elkridge. It was at Belmont, an historic mansion rented out for weddings and holiday parties, where Dunn began hatching the idea of running his own place.
The new venture has allowed Dunn to switch roles with his wife, who had run the household and taken care of the family finances. Now it's Robert's turn to run the errands and manage the checkbook, while Michelle is back in school earning a master's degree and working at the University of Maryland Shock Trauma Center in Baltimore.
Dunn readily admits that balancing the checkbook is not something he relishes, though "Quicken makes it easier," he says. The worst part of the innkeeper's job, however, is not the accounting ,but the cleaning. "Baseboards are a pain," he observed. Scrubbing five bathrooms once or more a week, depending on the turnover, and hauling a vacuum cleaner up two flights of stairs has given him a new respect for housekeepers. Unlike many innkeepers, however, Dunn has a live-in mother-in-law (Brenda Gnap) who helps with a large part of the day-to-day operations, including the cleaning.
Dunn is happier in the kitchen. And his guests are likely to be happy as well, since they can feast on a meal rather than the traditional continental breakfast. In addition to cereal, fruit, and breads, he offers an ever-changing menu that may include omelets with baby spinach and feta or fresh blueberry griddlecakes (pancakes flipped on a flat top griddle instead of a pan).
Annapolis feels like a southern town to Dunn. "It doesn't get rolling until 9:30 or 10:00," he observed. For now, it's also the ideal place for a bed and breakfast. Dunn notes that city laws keep the market from getting too saturated. For example, all B&Bs are limited to five guestrooms and no more than two can operate on the same block. And, unlike Baltimore, the space does not exist for large new hotels to spring up. Dunn points out that bed and breakfasts can be a more economical choice when you consider the extras, like free wireless Internet access, bottled water, and snacks that can be pricey at a conventional hotel.
The best part about running a bed and breakfast? "Being at home," Dunn laughs. But he is also somewhat serious. Working the restaurant circuit for the last decade meant being away from home at all different hours. "I spent the first ten years of my son's life in a kitchen," the innkeeper recalled, and now he can spend more time being a dad. While there are fewer kids on the block in the historic district than in their neighborhood in Baltimore, "it's a much more interesting place for my son to grow up."