The Art of Living
By Paula Anne Delve Phillips
Nestled in a suburban enclave, the Clubine residence is anything but ordinary. Cool, comfortable and tastefully landscaped, it is filled with adventuresome art hung on colorfully painted walls—a fine testament to the artist in residence.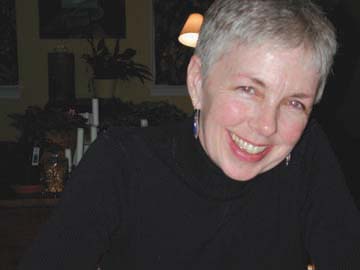 Pat Clubine has painted the dining room lime green and the kitchen tomato red. The splashes of color are inviting and stimulating at the same time. The living room is more restful, with a Nomad tapestry and rug capturing one's attention.
Two huge oil paintings on hollow door panels rest in the dining area. Although they look as though they've always been there, they were only recently taken from Clubine's solo art exhibit which was held at 49 West Coffeehouse, Winebar and Gallery in July.
Upstairs in the master bedroom, an intriguing oil painted decades ago features blue figures against a red background. Across the hall, the studio has plenty of light and space and holds some fascinating creations such as individually crafted, multi-media "artist books" made from paint, fabric, beads, linoleum blocks and buttons. Next door an equally colorful and somewhat mysterious room is dedicated to Doug Clubine's practice of Shiatsu.
This is a family that fosters and nurtures the development of creative intelligence. Pat Clubine, her husband Doug and their two grown children are multi-faceted people contributing to their communities in a variety of ways. Pat is a teacher and artist. Her husband is a Marine and Shiatsu practitioner, who somehow finds time to teach Akido at the US Naval Academy.
Daughter Hillary Teague, 25, is recently married. She's an admissions counselor at Kalamazoo College and also plays music. Son Nathaniel is 22 and works for Whole Foods in Evanston, Ill. Nate plays guitar and composes music that is every bit as eclectic as his mother's art work. He completed training as a sound engineer and plans to set up his own studio. How did these "thousand flowers" bloom?
The Clubines have been married for 31 years. "We were really young," says Pat. "I was actually 19. Back then, it wasn't uncommon. We were both in school at Grant Valley State University outside of Grand Rapids, Mich." They did not graduate from that institution, but took something even more valuable away from their experience—a lifelong love and friendship.
Two years after they married, Doug entered the Marine Corps. Their first duty station was in San Diego, followed by others: Virginia, Oklahoma, North Carolina. They were twice in California and twice in Maryland .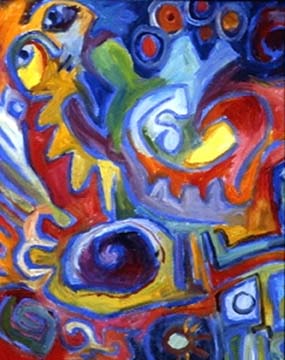 "I always wanted to have the big house with the big attic that nobody moved out of," says Pat. Although she couldn't keep the family in one place physically, she could give them lasting values and the tools to function in changing environments. "I think academics are important, but I think after school they need time in their lives to have some freedom to investigate the world around them and the things they are interested in."
Pat Clubine had plenty of opportunities to explore as a child growing up in Michigan. She was born in Ann Arbor and spent much of her childhood in the farm community of Saline. "My parents were creative people," she remembers, "and allowed us to be creative." She has an older sister and two older brothers.
"After school," says Clubine, "they didn't plan lots of things for us to do." Although she asked for, and was given, piano lessons, she found lots of things to do on her own. In winter, she built snow forts; in summer, there were woods and fields to trample. "I think that was the best thing in my childhood," she says, "that ability to just go explore."
Her parents supplied the children with plenty of materials to play with inside the house as well. "There were always supplies of pencils, crayons, paint, papers, scissors—all kinds of art supplies. My dad was a machinist and brought home all kinds of things from work. My mom was a seamstress and would bring home fabric."
Artistically gifted, Pat's older sister Charlene taught her many of the things she learned to do in school. Both girls became artists. Pat Clubine holds a 1996 Bachelor's Degree in Art from University of Maryland University College. As the wife of a Marine and busy mother, she earned her credits as best she could, as she continued to explore her own artistic nature.
In Annapolis, she has exhibited in a solo show at Garden Architect in 2004 and the solo show mentioned earlier at 49 West this past July. Her work was included in the 2005 Mitchell Gallery Juried Show and many other group showings.
Sister Charlene Jacobsen still lives in Saline, Michigan with her artist husband. They've created the Saline Mills Studios on an historic mill property, and Clubine will participate in one of the annual art shows there next summer.
For the past eight years Pat has also been an art teacher at St. Anne's, an independent, co-educational Episcopal school serving students from pre-school age through the eighth grade. At St. Anne's, Pat likes to find the happy medium between freedom and structure in the art classes she teaches to second through eight grade students. She enjoys giving open-ended projects.
"I do this doll project," she says. " In indigenous cultures, dolls may be made with clay, fabric, wood and so on. For my project, I have them start with a fabric body and they make a clay head and I say, 'see what you can do with it.'" The decision-making gives students ownership of the project. They experience the materials and the process and perhaps gain insight and understanding that might not come from words alone.


Back