AAMC Auxiliary
When patients and their family members enter Anne Arundel Medical Center, the size of the buildings can often be intimidating—but only for a few seconds. Within seconds, they are greeted with a warm smile by a hospital Auxiliary member, or volunteer, who helps patients find their way. If need be, these volunteers will even walk the patients there themselves.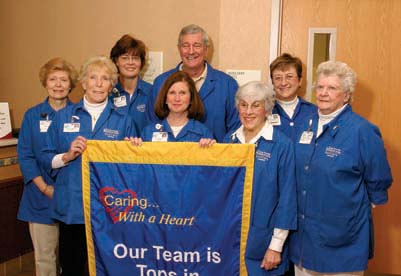 Auxiliary members, detectable by the royal blue coats and polo shirts they wear, can be found all over the hospital, accompanying patients through their visits, helping family members find their loved ones, bringing patients the daily newspaper, assisting medical staff, and generally making patients and their family members feel a little better during what are often difficult times.
"People are choosing to come to AAMC from an ever-growing area and our volunteers reflect this," said Judy Hall, President of the AAMC Auxiliary. "We are committed to maintaining the status of AAMC's Top 100 Hospital designation."
The Auxiliary was established in 1944 as a volunteer group to serve the hospital. Since then, its members have served as an integral part of AAMC's mission to provide the community with high-quality health care that is patient friendly.
The Auxiliary has more than 550 volunteers of all ages. One volunteer, who assisted the AAMC Foundation in raising money for hospital, celebrated her 100th birthday with her fellow Auxiliary members last year.
There are many different ways to volunteer in the hospital, depending on a person's skills and what he or she would like to do. Once volunteers go through an informational session, orientation and training, they are assigned to a certain area. These areas include the following:
• Clinical Floor Services and Joint Replacement program, assisting professional staff with various duties such as filling ice pitchers, delivering meal trays, taking patients for X-rays, and assisting with clerical and non-nursing activities.
• Emergency Department, assisting the professional staff by moving stretchers, transporting patients to testing areas and to their rooms, assisting nursing staff with stretcher patients and obtaining supplies as requested.
• Outpatient Services, assisting professional staff and patients in the Recovery Rooms, Oncology Department and Outpatient Therapy.
• Rehabilitation Services, answering phones, performing clerical tasks, running errands, and working closely with the physical therapist. There is limited direct patient contact but volunteers must be comfortable working around patients and interacting with them.
• Clothes Box, assisting with pricing and sales of the Auxiliary's consignment shop which offers gently-used clothing for men, women and children as well as household items.
• Gift Shop, operating the store, which sells a wide variety of gifts, baby items, sundries, candy, magazines, plants and flowers.
• Surgical Center Service, assisting with patient discharge, patient transport to medical testing, and assisting staff in one of two recovery rooms.
• Women's and Children's Services, visiting with and running errands for new mothers, taking pictures of new babies as well as assisting the Medical Staff on the women's surgical floor.
• Reception Desk, Greeter Service and Patient Visitation, serving as the hospital's first contact with patients and visitors. Volunteers answer the phones, assist patients and families with registration and locating areas, provide directions and visit patients.
• Short Stay Service and Surgical Waiting Room Service, assisting family and friends of patients who are having same-day surgery. They also pass along messages from doctors, compile patient charts, relay communication concerns of the family to nurses, maintain a log of where family members can be reached, and direct family to patient rooms after surgery.
• Flower and Library Services, delivering mail, flowers and fruit baskets to patients' room and maintaining a library cart stocked with newspapers and magazines that are taken around to patients daily.
• Sewing and Knitting Program, making small stuffed bears for children in the Emergency Department, turbans for oncology patients, lap robes for patients, and mittens and caps for newborns.
In 2004, Auxiliary members donated near 100,000 hours in volunteer time. In addition, they also made a pledge of $1.5 million to the AAMC Foundation's campaign for the DeCesaris Cancer Institute. They will raise the money through sales from the Gift Shop, the Clothes Box consignment shop, special sales and other fundraising efforts.
For more information about the AAMC Auxiliary, please call 443-481-5050.