Sturbridge Home
By Margot Mohsberg
It's hard to imagine now, but in the late 1950s Parole Shopping Center was so new and exciting it drew residents and visitors from all over Anne Arundel County and beyond. Times changed, however, and over the past 12 years it has been Parole that has had the tumbleweeds blowing across its parking lot.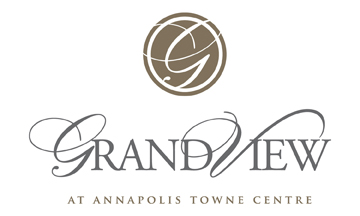 Parole will soon offer area residents a new place to live, shop, work and play. And this time, the $400 million project now called the Annapolis Towne Centre at Parole will be much more than ever imagined. Much, much more.

Annapolis Towne Centre will be a mixed-use project and will include residential, retail, office space and a full-service hotel. A large component of the project will be a 140-condominium building called Grandview to be built by Sturbridge Homes, an award-winning homebuilder headquartered in Gambrills. The 12-story structure will be located above two stories of retail space and situated on the Centre's main boulevard.

Michael DeStefano, president of Sturbridge Homes, says he is excited to be part of such a high-profile project.

"Annapolis Towne Centre will be one of the region's most visible developments and we intend to make Grandview a first-class condominium residence from top to bottom," Michael says.

"Our residents will enjoy having restaurants, entertainment and shopping just steps away from their front door."

Construction on Grandview will begin early 2006. The architectural design of the building will include a dramatic dome, all brick and masonry facades, and expansive windows which will allow residents to see as far as the Chesapeake Bay and surrounding rivers. Pre-construction pricing of the condominiums will begin just over $500,000. The size of the condominiums will range from 1,320 square feet to 3,400 square feet with features including balconies, formal dining rooms, gourmet kitchens and spa-like master bathrooms - all with high quality interior finishes. Preliminary concept plans provide for a range of amenities including a rooftop swimming pool and sun deck, fitness center, media room and plenty of covered parking.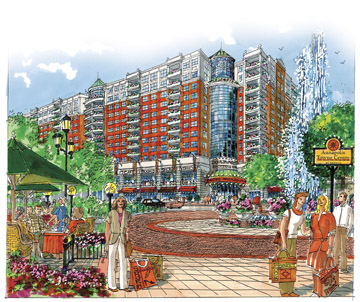 Brian Gibbons, president and CEO of Greenberg Commercial, the developer of Annapolis Towne Center, says his company has first-hand knowledge of the award-winning craftsmanship of Sturbridge Homes. "GrandView is going to take luxury living to new heights."

"We have worked locally with Sturbridge Homes on the Village at Waugh Chapel and have seen first hand their commitment to quality and high standards for construction," he says.

These high standards have won Sturbridge Homes numerous industry awards including "Builder of the Year" in 2003 by the Home Builders Association of Maryland. In 2002, it received "Project of the Year" by the same organization for the Village at Waugh Chapel, a community in Anne Arundel County for residents 55 years and older. Having been in the business more than 30 years, Sturbridge Homes is building or has built nine other communities across the southern part of the state and Eastern Shore.

Sturbridge Homes is confident there will be a high demand for GrandView's upscale condominiums, considering they will be built in an area where the economy is very strong, the unemployment rate is very low and the average household income is $82,000. The company predicts the value of the properties to grow along with the county's population, which is expected to increase at a rate of 6.5 percent over the next five years. "As a local company, we're proud to be part of creating Annapolis Towne Centre, which is going to be such a visible and vital community asset," says Michael DeStefano.