Maryland Renaissance Festival:
Let Merriment Abound
By M.A. Cashman


"Pause for a moment to listen to a 1600s musician, watch a demonstration of glass blowing, quench your thirst with a mug of ale and whet your appetite with a gigantic turkey leg, pick up the latest gossip from the fishmonger, thrill to the combat joust and browse through the wares at one of the many fine craft booths. There's too much to do in a single day."

The first large-scale Renaissance Festival opened in California more than thirty years ago. Today there may be as many as thirty-five such festivals around the country, each modeled after the original, but independently owned. One of the early festivals was built in Minnesota, on the land of one of the new towns popular in the 70s, It was in Chaska, just west of Minneapolis, the hometown of Jules Smith, Sr., and his family. He was attracted by the idea of such a festival, and a meeting with Jim Rouse in Irvine, California paved the way for Smith, Sr. to start the Maryland Renaissance Festival in 1977 in Symphony Woods, part of Rouse's new town of Columbia. Smith Sr's arrangement with The Rouse Company, a fine landlord that provided utilities and charged no rent, lasted for eight years.


In 1981, the festival moved to a family farm in Crownsville, where on a 25-acre wooded site with 85 acres of free parking, they created a 16th century English village and named it Revel Grove. The festival is in its 29th year with Jules Smith, Sr. President, residing in Minnesota, and his four sons as on-site managers. Vice-President Jules Smith, Jr. heads the staff that includes Jaki Shives, Assistant Manager in charge of employees, Carolyn Spedden, Artistic Director, Justin Smith, Food & Beverage Manager, Marc Smith, Operations Manager, and Adam Smith, Site Manager. Cindy Andersen is the full-time costumer on staff responsible for costuming the 200 professional townspeople and about 15% of the visitors who dress up.

Smith, Jr. is proud of the fact that, "Kids rule at the Maryland Renaissance Festival. We get parents looking for their kids, but not many kids are looking for their parents. In this difficult time period, we can offer more security than the mall in Washington." While the festival runs for nine weekends, 12-hour days every day, the management and staff work year round. "It's a fair amount of work," according to Smith, but after 30 years, he still loves what he does. "You should do what you enjoy, what you have a passion for," he comments, adding, "It's worth it to see families after a day at the festival. The kid comes out in a Robin Hood hat and wooden sword; Mom and Dad have their arms around each other. "Shives is in charge when Smith, Jr. is off-site. As administrator in charge of ordering and hiring, Shives is a self-described "jack of all trades." Each year she hires 300 youngsters between the ages of 14 and 18 to handle soda, tickets, trash, parking, and check passes. She enjoys seeing most come back each year until they are 18 and off to college.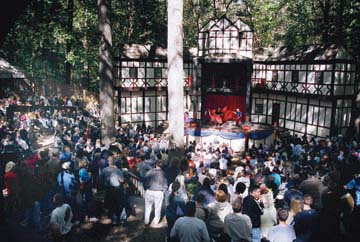 Spedden writes and directs many of the plays on festival stages, and the story line from English history. This year's festival dramatizes Henry VIII and Queen Jane Seymour visiting Revel Grove for the annual Harvest Celebration, as villagers await the news of a future prince and heir to the throne. Spedden holds auditions and casts the 200 or so performing artists - actors, dancers, singers, musicians, jugglers, magicians, all who provide entertainment, either on stage or strolling through the village as historic personages. Some are part of the king's court during the opening ceremony each day. After his official welcome at 9:45 outside the gates of the village, the King and Queen lead a procession of courtiers followed by visitors through the gates as the festival begins. Throughout the day, The Royal Court remains at the festival, happily exchanging pleasantries with visitors and presiding over several of the jousts.

The festival village offers many choices to visitors: 100 craft booths, 18 specialty booths, and 48 food and beverage booths, including five pubs, eight major stages, a joust field and lots of games. There is a fire-eater, jugglers, magicians, and comely wenches. There are free pony rides, a children's activity area, a maze, and an archery range. According to Smith, Jr., "It takes 1,800 people to run the fair; last year there were 300,000 visitors. The way the festival is laid out, the customer-vendor ratio is high."

The festival is laid out for meandering. In the village of Revel Grove, there are craft booths along nine paths with appropriately English names, such as Queen's Path, White Stag Grove, Valley Meade, and Stub Toe Lane. Each offers a variety to visitors who can have their fortunes told, get a massage, dress in the garb of the festival, purchase clothing, jewelry, pottery and other crafts, books and artwork typical of the Renaissance, and observe how glassblowers ply their craft.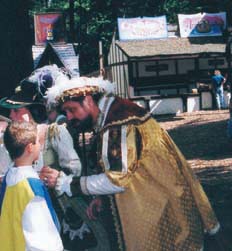 Meandering down Meadow Lane, visitors meet Larry Wood with his leather masks; along Valley Meade there are the hand-made journals by Hope Shakyar, National Geographic photographer whose work reflects her travels around the world, and David Eisner's House of Musical Traditions, with instruments from all over the world. Along the Queen's Path, there is Allen Ye Printmaker with his "fine forged prints", and nearby the Flying Rainbow Bubblewands of Shana and Leah Odom. Down the King's Field Path is Cimmerian Treasures, the chain mail art of Kate Cox; down Tiltyard Path the Wheat Weaving of Cora Hendershot, and down White Stag Grove, Page After Page features Janet McCabe's Books of the Renaissance. Along Kenwood Lane are Wise Studios with the fantasy figures of Patrick Wise, and Perchance to Dream, the art of quilter Patti Chung, long-term exhibitor at the festival. This is the 25th year for Chung, who was with the festival in Columbia. Unlike most vendors who are from out of state, Chung is from Dundalk, Maryland. She describes her handmade fantasy quilts as, "Made of cotton, with designs of castles, Stonehenge, wizards, and dragons. Each is cut free-hand; no two are alike, and they come in all sizes, from King to baby quilts."

Visitors meandering down Stub Toe Lane can find refreshment in a massage and buy oils from Jeanné Berger at Her Majesty's Healers. There are also the marquetry of woodworker Patrick Parker in Arcane Art of Marquety, the Stoneware of potter Terrence F. Tessum, and the Stoneworks jewelry of Annapolis artisans Kate Hansen and Nancy Torney. Longtime friends and neighbors from Cape St. John, this is their 21st festival year. After dressing up with their daughters for festivals in Columbia, Hansen and Torney took a booth when the festival came to Crownsville. Torney describes how their original gemstone focus has expanded to include crystals and glass beads, how they continue to "make jewelry from fine parts, hand-knotted and guaranteed, and how they carryboth classic pieces and those that reflect fashion trends." Observing what celebrities wear and what jewelry designers use to show off their clothing keeps them current with fashion trends. "This year, " according to Torney, "The essential fashion accessory is the necklace of chunky or faceted gemstones." She sums it up by commenting, "You can never have too much jewelry."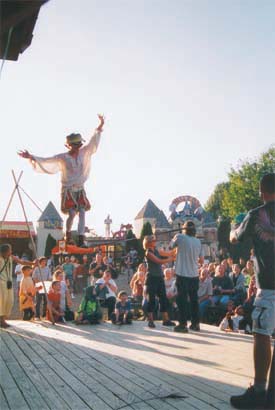 For sustenance throughout the day, visitors may choose from a variety of food available all along the lanes - meander down Valley Meade for crab cake sandwiches, White Stag for Meat Pies, Meadow Lane for Corned Beef, and May Dale's Way for Steak on a Stick. There are many ways to quench the thirst, from Root Beer to real brew, and a variety of sweet treats, including ice cream.

Festival stages offer an enormous schedule of entertainment. On The Royal Stage, Johnny Fox, Swordswallower Extraordinaire, thrills festival audiences as he has for 25 years; visitors can see Foster Holdcomb and his Art of Fire on the Jury Rig Stage; and at the Globe Theatre there is Shakespeare's Skum, parodies of the Bard's work by Carolyn Spedden, who also wrote The Lost Princess, a family theatre production complete with a beautiful princess and a comic fairy Godmother on the Gatehouse Stage. The Pyrates Royale at the Globe Theatre, Men in Tights at the Market Stage, The Renaissance Man at the Lyric Stage, and Robin Hood and St. George & the Dragon at the Fortune Stage are other choices. The Joust Field is the setting for the Human Chess Game when the evil Sheriff Reginald Sharp is challenged by Seymour J. Seymour, a country cousin of the Queen. Also, there are shows at the Living History Pavilion in the Guildyard.

Renaissance fascination with processions and ceremonies is reflected in several staged events, including two knighting ceremonies a day, when all goodly children (age three and older) can be knighted by King Henry or Queen Jane. Our fascination with the history of the period is reflected in Mike Field's The Story of Mary, daughter of Henry and his first wife, Katherine of Aragon, and the Globe Theatre production of Shakespeare's Macbeth, directed by Timothy Shaw and Brittney Sweeney, in honor of the 1000th anniversary of the historic Macbeth. For a change of pace, Gatehouse Stage features an uproarious production of David Garrick's The Lying Valet directed by Glenn Evans and Joy Evans. Again this year, the festival hosts a variety of special events: August 27-28: Children's Weekend (all under the age of 11 free); September 4-5: Singles Weekend when Singles meet and mingle at the White Hart Tavern; September 6 (Monday): Seniors Day (all 62 and over admitted free); September 18-19: Scottish Celebration; September 25-26: Pirate Invasion (daily pirate costume contest); October 2-3: Oktoberfest with German music and dancing; October 9-10: Romance Weekend when couples renew their vows at a ceremony in the chapel; October 16-17: Shakespeare Weekend with Marathon readings of the sonnets; and October 23-24: Jousting Tournament when knights compete to become the best in the kingdom.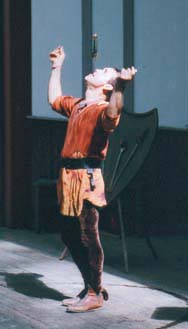 Weddings are held at the festival from September 7 through October 20. For a fee, costumes, music, and an ordained minister are made available. No extra flowers or decorations, however, may be brought into the festival. Interested parties are asked to call the management office to check on chapel availability. Additional caveats for visitors are: "No pets, no weapons, " and, "Parents seeking counsel on age-appropriate shows for their wee lads and lasses should visit our Customer Service Pavilion near the front gate for show descriptions and ratings."

The Festival is an invitation into the spirit of the Renaissance, the transition from the Medieval to the Modern World that revived art and literature exemplified in Shakespeare's plays at the Globe Theatre. Visitors are free to speak with the Royal Court, with Princess Arianna and her Fairy Godmother Bertie, and with villagers. Visitors are also invited to wear the garb of the day - tights, robes, capes, gowns, and other appropriate costume pieces - as they meander through the village of Revel Grove as if they live there. Those clad thusly may become fluent in Olde English, the language of "Your Majesty, faire, My Lady, prithee, privy, olde and shoppe." Indeed, those who merge with the sights and sounds and smells of Renaissance England may find those in modern dress to be woefully out of fashion.

The festival is located on Crownsville Rd. just west of Annapolis Mall between MD Routes 178 and 450. Smith, Jr. sums it up when he says, "It is a perfect family outing; come early for a full day of fun," Truly, it is more than you can do in a single day.