Mr. Ram's Head
By Joseph Patrick Bulko
Bill Muehlhauser's Rams Head empire stretches across the state of Maryland all the way to the Atlantic coast of Delaware. With locations for his highly successful nightclub juggernaut in Annapolis, Crownsville, Savage, Baltimore, and Rehoboth Beach, and a regional brewery in Dover, the Rams Head Tavern & Fordham Brewing Company employs over 300 people and caters to many satisfied customers.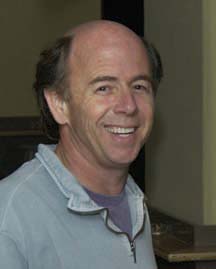 "Every year, we always look for a project for the next year," said Bill, who credits the ongoing Rams Head expansion to a progressive forward-looking approach. "This year we kinda got thrown a curve ball. We've got the Roadhouse/Rudy's and Baltimore locations all at one time. We didn't have it planned like that, but that's the way the cards fell." His company is looking at sites in DC, Richmond, Kansas City, and Florida for future expansion.

"I've always been in my own businesses since college," said the entrepreneur describing some of his projects. "Most of them were automotive related. Because of liking engines, I bought an airport. I got into flying airplanes. I got into racing cars because I like engines. One of my next businesses will be owning a race team rather than working for a race team. So, a lot of the things I do revolve around motors."

Bill said that he went to college to be a policeman, but an internship at the Allentown, Pennsylvania police department changed his mind. "I found that I really didn't like police work, and wanted to work for myself," he explained. "So, I broke out and opened my first auto mechanic shop." This was a natural choice because he had worked as a mechanic from the age of 15 through the end of school. "My wife (Paula) pumped the gas and I fixed the cars," he said. "It started out on a very very small scale."

"When I've worked for other people, I've always still had my own business or two or three. I've always had three businesses, three jobs at a time," said the irrepressible workaholic. "I had a full-time job here selling buses. I owned the Rams Head Tavern down below. Then I'd run back to Pennsylvania to work my airport on weekends."

The airport was just like Lee Airport in Edgewater, he noted. Although people use planes for business, there's not a lot of traffic during the week at small general aviation airports. Recreational pilots generally use the airport on nights and weekends. Bill's airport made money "teaching people how to fly, renting airplanes, towing gliders. We were a big glider airport," he said. "We were the East coast's largest glider port for years. We had hundreds and hundreds of takeoffs and landings a day on weekends. I flew airplanes from eight o'clock in the morning until dark."

"When I came to Maryland, again I was working for other people, and I decided I had to get out on my own. I always had a passion for bars and I liked to drink. My wife was selling real estate and she found this little pub," the original 30-seat basement pub, which opened in 1989. "It was affordable. It was the only thing we could afford. It was small. We bought it and went from there. We had to start very small and just build it."

"We don't have a formula (for success)," said Bill about his accomplishments in an industry with a rather high attrition rate where 8 out of 10 typically go broke by the second year. "We just have a passion. We just love what we do."

One tasty result of that passion is The Fordham Brewing Company, which produces lager, stout, copperhead ale, and others. "We hired the best brewers we could find, and we bought the best equipment," explained Bill on the genesis of the brewery. "You let people do what they know how to do, and you keep your nose out of it. (The beer) has to be quality and it has to be consistent. No, I don't know how to brew beer at all. I don't know the first thing about it, quite honestly. All I know is that when we pull that tap handle, we have a good beer."

A decision must be made whether to keep the company small. Rams Head is controlled by Bill, his son Kyle who owns the Crownsville and Savage locations, and Erin Brunst, plus "a lot of good managers who have been there for years - or do we go to that next level where we bring in developer-type money," he mused while considering the possibilities. "We've got some really good invitations to take it far. We'd really kick it in the butt, and maybe try to do more than one project per year."

Recently, Bill worked as a mechanic on various NHRA Pro Stock drag racing teams for five seasons. His ultimate dream would be to own such a team. "NHRA drag racing is a very exciting circuit, much more exciting than NASCAR," he enthused. Bill traveled the circuit from California to the East Coast and then back west, every other weekend from February to November, until three years ago when he decided to stop. "I'm strictly a hired mechanic," he said about his participation. "I show up at the races just like the other guys, and sleep in Motel 6's. I like working seven days a week. Some people play golf, but I'd rather sweat and turn wrenches."

"That's the decision I have to make," Bill concluded. "Do I stop where we are now and go after my dream career, or do we continue to grow Rams Head a little bit longer? I developed a company so that they can continue to grow it while I go race."
Rams Head info: www.ramsheadtavern.com or 410-268-4545
Back