Great Harvest Bread Co.
By Paula Anne Delve Phillips
There is nothing better on a cool, clear morning than stopping by Harvest Bread Company in West Annapolis to grab a hot cup of coffee and a warm slice of freshly baked bread. The only difficulty is in choosing which kind.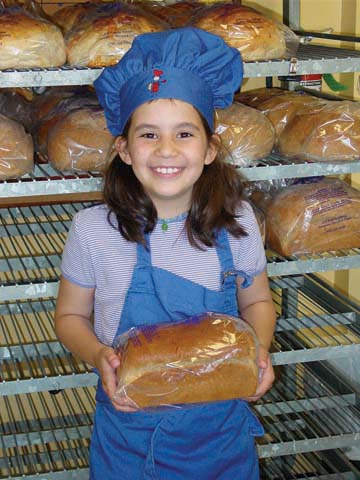 Not to worry. The folks behind the counter are not going to rush you. Go right ahead. Sample the Golden Flax Seed Bread. Need a little spice in your life? Try the Jalapeņo Corn Bread (it is to die for!) or the Pepperoni Pizza Bread. Owners Linda and Jim Rodrock know they have you where they want you. Years of experience have taught them that being neighborly and offering a sample of a good product makes for plenty of sales and satisfied customers. You will be back.

The owners founded their operation five years ago at 208 Ridgely Avenue, occupying about 1500 square feet and taking two years to assemble the substantial equipment needed to grind wheat daily, mix the ingredients, knead the flour and let it rise before baking it in ovens that can hold up to 300 loaves at one time.

The Rodrocks and a surprisingly stable crew of employees bake about 6,000 loaves of bread each month and Annapolitans love it. While a growing number of businesses can claim to bake bread daily, few are grinding fresh flour at the height of its nutritional value. Thus, Harvest Bread can attract customers from a larger market area.

Weathering the ups and downs of food fads is a great group of about 22 Great Harvest Bread employees. The small Annapolis business has managed to attract and keep good help. Kathryn Huston has been with the business for more than four years. "Both her daughter and son have worked for us," reports Linda.

Daughters and sons go off to college and come back to work for summer vacation. They keep busy at Great Harvest Bread, where most job functions are shared, save that of the bakers who come in the wee hours of the morning.

On a recent summer day, we spoke to several patrons on the premises. Arnold artist Joyce Kolb came in for a welcome gift for a new neighbor. "I tasted four or five kinds of breads and decided on the Sinful Cinnamon," she said. The taste was still on her palate - a smile still on her face. She also purchased the Nine Grain Bread for herself and her husband. She comes in periodically to check out the menu which changes daily and seasonally.

A young man driving cross country had just ducked off Route 50, drawn to this cozy West Annapolis corner next to the Northwoods restaurant. He picked up a few sweets and a loaf of whole wheat to help fuel his journey. Breathless, an elderly lady rushed in, prompted by a visit with a nearby physician. Her cholesterol was high. She was carefully reading the sodium content of the ingredients list supplied by a very efficient management.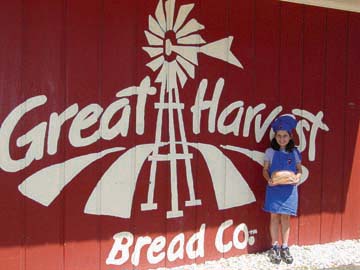 We quickly located the Blueberry Banana, Blueberry Lemon, Challah, Cinnamon Swirl, Low Carb Multi-Grain, Nine Grain, and Pumpkin Spice at or below the 200 milligram per serving sodium level she required. She seemed to have trouble reconciling that good taste and low sodium could be spoken in the same sentence or baked into one loaf of bread. Another patron, a young mother, was enjoying the free samples. She offered a slice of cookie to an antsy toddler. The child shook her head disdainfully at the sweet treat. She preferred a slice of bread and butter and quickly gobbled it up.

Bread is basic to human existence. It's been termed the stuff of life for good reason. Baked this way, it is chock full of B vitamins essential to healthy hair, skin and teeth, to the manufacture of neurotransmitters, affecting mental alertness and mood, and contributing to heart health and strong bones. Whole grains are a satisfying anti-stress remedy.

As complementary medicine guru Dr. Andrew Weil likes to emphasize, there is a big difference between pasty white dough conditioned bread, and the chewy healthy whole grain stuff that you can sink your teeth into. The latter is the stuff the Great Harvest Bread Co. was founded on.

Bread is rich in fiber, protein and complex carbohydrates. As such it's part of the sophisticated "French Diet" that allows for enjoyable, healthy foods in reasonable proportions. In any French class, one of the first phrases learned is, "Je voudrai du pain" or "I'd like some bread." Why, not eating bread is positively un-cosmopolitan! The federal government has become an unlikely ally of the French with the new food pyramid putting complex carbohydrates back in our good graces, where they belong.

Our neighbors at the Great Harvest Bread Co. are actually part of something called a "Freedom Franchise" operation, that includes close to 200 bakeries across the country. Each bakes its own healthy breads from good Montana wheat (other raw ingredients are purchased locally), and each retains a kind of "mom and pop" store uniqueness.

The home office of Great Harvest Bread Co. in Dillon, Montana does not sell the franchise. Rather, potential owners compete to be part of this national coalition. Quality, good equipment, fresh ingredients and good friendly help are important company values. Signs, decor, range and type of inventory are left up to the individual owners.

For the first year of operation, franchise owners stick to the tried and true recipes, building their skills as bakers and store owners. After that, explains local owner Linda Rodrock "they are pretty much on their own," at least as much as they want to be. According to Tom McMakin's book Bread and Butter about Great Harvest Bread Co., marketing ideas and great recipes move across the nation, from store to store, like wildfire.

Regular customers know that the recipes change with the days of the week as well as the seasons, and they can be quite creative. Look for holiday breads such as Kentucky Bourbon Bread at Thanksgiving and Christmas, Irish Soda Bread for St. Patrick's Day and White Chocolate Cherry Bread (which is illegal in several states) for Valentine's Day and Mother's Day.

Americans love to experiment with fruit and veggie flavors in unexpected places. Great Harvest has some pretty tasty concoctions. A fresh loaf of bread can be a centerpiece for a breakfast meal or a tasty addition to dinner. The veggie breads are purportedly an especially popular accompaniment to grilled fish or fowl.

There are plenty of other products to purchase at Great Harvest Bread Co., including fruit and vegetable spreads, jellies and jams and other condiments with lots of fun flavors to try at home or to purchase as gifts along with the holiday breads. Drop in for a free slice of bread, it's a real treat for the tired palate.