Ginger Cove Retirement Community:
A Safe Harbor
By Janice F. Booth
Are you giving some thought to retirement? Instead of home maintenance and catching up on office work on the week-ends, do you want retirement to be a time for doing some of the things you've postponed - travel, golf, tennis, kayaking, woodworking, painting or yoga? Perhaps retirement will be the time to write your memoirs, practice your guitar, join that theater group. "So much to do, so little time" - an adage not only for the young.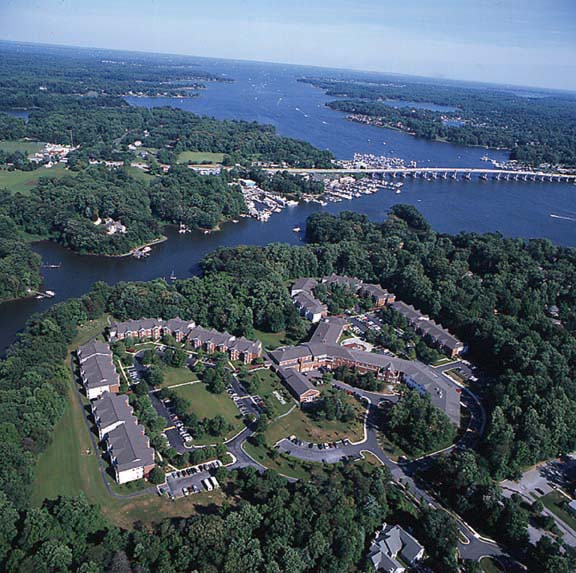 Ginger Cove retirement community offers a lifestyle designed for retirees who want to retain their independence and dignity in a setting that both fosters an active lifestyle and, if the need arises, cares for aging bodies.

Ginger Cove resident Mrs. Fran Childs makes the most of her retirement. When contacted for an interview, she responded, "Goodness, I'm so busy. I've got croquet and bridge. Just let me check my calendar; just a minute.OK, well, I've got some time next Wednesday. Will that do?"

Like many of the residents of Ginger Cove, Childs, at 88, exudes the confidence, energy and curiosity of a younger woman. Her white hair is perfectly coiffed, her stylish slacks and blouse immaculate, her eyes and smile sparkle with humor and enthusiasm. Fran is an avid golfer; she plays bridge and croquet, and travels widely with friends. Widow of Julian "Chilly" Childs, mother of five, grandmother of nine, and great-grandmother to four (with two on the way), Fran feels that Ginger Cove, where she's lived for eight years, provides the ideal home base for her busy lifestyle.

Opened in 1988, Ginger Cove's immaculate and tastefully decorated interior and grounds provide a gracious setting that Fran and other residents are proud to call home. Ginger Cove, named for its 30 acres along Gingerville Creek, is owned and operated by Life Care Services, LLC and run by a devoted staff of 250. The approximately 350 residents live in 243 one- and two-bedroom apartments, 30 assisted-living apartments, and 61 beds in the health center. Full of sunlight, with radiant views of woods and creek, the well-appointed apartments reflect the tastes and styles of their residents.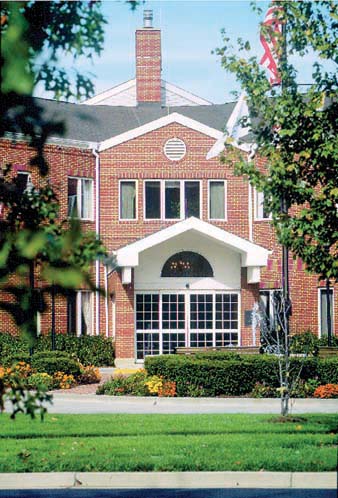 Once you've settled into Ginger Cove, you need never move again. Should the need arise, you can transition into an assisted living apartment, where help is available to dispense medication, monitor one's health, and provide full meal service. If serious illness or infirmity strikes, the health care center's skilled nursing and rehabilitation staff will settle you into the health-care unit for medical care and rehabilitation as long as you require them.

Independence and self-reliance have been hallmarks of Ginger Cove since its inception in 1981. Founder Adelaide Fullinwider recognized a need for residences designed specifically for active, mature (over 60) Annapolitans. Along with her friends Mary Miller, Robert "Skip" Giffen, and Mildred "Happy" Baker, Fullinwider mustered support and resources for Annapolis Life Care, Inc., which would become, seven years later, Ginger Cove.

From its inception, this not-for-profit, life-care community has relied on local energy and experience. Residents and community leaders serve on the Board of Directors as well as on more than 20 committees and clubs - all working to address the needs and concerns of the community. Residents can, if they choose, participate in the business of running Ginger Cove by nominating resident members of the Board, participating in the budgeting process, planning activities and initiating events, advising the staff on food services.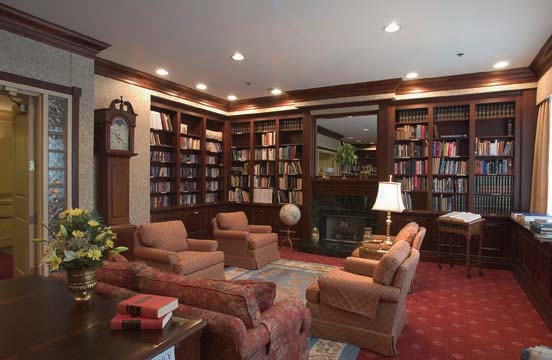 Director of Marketing, Betty Ann Bunnemeyer, has been involved with Ginger Cove for 20 years. Her pride in the community resonates. "We never forget the founding values of Ginger Cove: lifestyle, companionship, independence, dignity, and security. Most important, our residents are in control. We [the staff] honor Ginger Cove's mission and vision." Betty Ann points out a tasteful sign displayed on the door of the beauty parlor; it lists those five principles of the community. "We want to remind ourselves and the residents of what we value here." As we continue down a corridor, she greets residents by name and inquires after this one's daughter and that one's health. Dignity and humor are apparent in day-to-day relationships here. In fact, the residents' bi-annual survey consistently identifies the most valued aspect of living at Ginger Cove as people - specifically, the camaraderie and social activities.

Now let's have a look around; Fran's sprightly figure leads the way. Since the road to one's heart often begins with one's tummy, we'll start our tour with the dining facilities at Ginger Cove. Should one choose, and most do, you may take your main meal of the day (luncheon or dinner) in the elegant main dining room -small tables for four and six, are set with heavy flatware, china and linen. The gourmet menu in its leather envelope awaits your attention, as does the wait staff in crisp uniforms. No need to worry if your dietary requirements are restrictive; the dietician and chef include choices for every diet on the day's menu. A taste for fresh salmon or prime rib? No problem. Prefer a Caesar salad and sandwich? Fresh fruit? They're on the menu, too.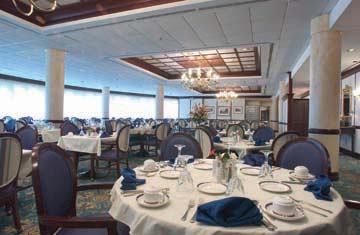 Fran points out that ladies and gentlemen often gather in the cocktail lounge before dinner to chat and plan outings. (The ratio of men to women is exceptionally high at Ginger Cove. Romance is a delightful possibility.) Garnett "Junie" Clark, jaunty in blue blazer and khakis, waits for a friend near the dining room. A resident for 12 years, he doesn't hesitate when asked about life at Ginger Cove. "It's been great fun!"

In addition to fine dining, residents have a plethora of amenities at their disposal: Fran shows off the indoor pool, sauna, whirlpool, art studio, woodworking shop, library, beauty parlor, exercise gym, computers and printers, a tournament-quality croquet field, shuttle vans, individual gardens, and a boat dock with facilities for small watercraft. As we wander along the path near the creek, we meet Charles Burbage. Sitting on his patio, he recalls his experiences as a WWII Navy pilot aboard a sinking carrier in Pearl Harbor. The sun is warm, and before long, nurse's aide Barbara Wallace appears at the patio door. With courtesy and genuine concern, she hands Burbage a tall glass of ice water. "Are you doing OK out here? It's awfully warm." Barbara lingers a few minutes to chat and assess Charles' well-being while we continue our tour.


After a walk to the dock or a game of croquet, one might stop for refreshment at the coffee shop or pick-up some treats at the mini-mart near the lobby. Banking to do? There's a Ginger Cove branch office. And, after all this activity, why not get your blood pressure checked at the health clinic? In fact, should your doctor require them, arrangements can be made for your blood tests to be done at the health clinic, sparing you the need for going out to a lab.

As the song from Cabaret says, "No need for sitting alone in your room." Tall and slim, resident Ellen Troutman would agree. She volunteers as coordinator for excursions. There are sign-up sheets for this summer's activities: Damn Yankees at the Bowie Players, a Chesapeake Bay cruise, several USNA band concerts, a baseball game, and day trips to the Spy Museum and the Kennedy Center to see Hairspray. All one need do is sign-up; Ellen will do the rest.

Don't like crowds? Check out something like woodworking. In the fully appointed wood shop, Fran introduces me to Ken Duckett and Dick Taylor. Sliding off their goggles and facemasks, they modestly show us their projects. Ken just completed a dollhouse for one of his great-granddaughters and is busy now on a bookcase for a daughter. "I can't keep up with the orders from my girls. They always have something they need me to build." Ken's beautifully crafted bookcase graces the Ginger Cove library, and he reminds us to take a look when we're there.


As we enter the library, a tiny lady with sparkling eyes sits reading, her walker perched at her side. Fran Carp is in charge of the Ginger Cove Annual Lecture Series and has organized 11 lectures for the 2005 season. She's reading up on Iraq today, so she'll be better able to introduce the upcoming speaker. Carp points out that Ginger Cove residents have lived interesting, even exotic lives. She has no problem finding knowledgeable speakers for the series. For example, she has scheduled a lecture by a noted seismologist; his parents live in the apartment just down the hall from her.

If you'd rather hear a show tune than a lecture, not a problem, points out my guide. The residents' chorus puts on a musical twice a year. Last May's Oklahoma had to offer two performances to accommodate everyone who wanted to attend - and these performances were in Ginger Cove's Friendship Hall, which seats 230 people!

Our tour concludes where it began, in the sun-filled lobby. Fran has a date for golf. A group is gathering at the shuttle van for a shopping excursion at the Mall. Life rushes on. and we must too.

True to its name, life at Ginger Cove is stimulating, healthful, sweet and piquant. The community offers mature residents a safe cove or harbor where one can anchor one's life.