APM: Annapolis Precious Metals
By M.A. Cashman, PhD
A stand-alone shop that offers what no other can in this area: Annapolis Precious Metal, a retail and wholesale manufacturer of parts for other jewelers and custom-made pieces for clients, with the space, the equipment, and the expertise to take an idea for a new piece or repair of an old piece of jewelry from design to finished product. According to owner Greg Reeves, "Most jewelers specialize. Stone cutters usually do not set the stone. Here we can do it all." A silver engraver by trade, Greg heads a team of jewelry designers and artisans in studio and retail space on Defense Highway past Home Depot, before the medical building and across the road from the "Hockney in the Hole" Revolutionary War marker.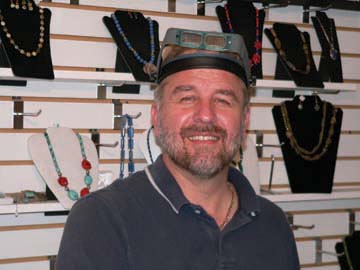 Born in Washington State, as a youngster, Greg and his family moved to the DC area where his Dad took a position with the Department of Agriculture Extension Service. Always mechanically inclined, and while attending Largo High School and working part-time for Jaguar, Greg became interested in working with metal. After graduation, he apprenticed in Reno, Nevada at Silver State Silver Co., where he learned to engrave florals, scrolls and do lettering on sterling silver belt buckles. After 1,000 hours as an apprentice, he was expert enough to be paid for his work. It took another four years of hand engraving, about 8,000 hours, before he became a master hand engraver making 2-dimensional figures appear to be 3-dimensional. He became a silversmith and goldsmith as well.

In the meantime, Greg's older brother Mark was in Albuquerque, New Mexico manufacturing leather and making tack for the Quarterhorse trade. It was a natural for the brothers to work together, first creating silver concho-inlaid saddles and bridles indigenous to the South West, and then horse jewelry for the English riding circuit. For customers who rode, Greg crafted miniature tack into jewelry -- snaffle bit bracelets and other designs incorporating bridles, saddles, and spurs. Back in Maryland in 1978, they opened their own shop, Mark's Saddlery at Staples' Corner, where they produced silver-decorated saddles, halters, bridles, Western-style belts and buckles, and name plates. They opened another shop they called Rock and Horse. When the brothers came to Annapolis, they continued to work together and sell their wares at horse shows. Then Mark went out of the leather business, and Greg decided to open his own shop. At first he sold his own sterling silver items, then expanded to feature jewelry of precious and semi-precious stones crafted by other artisans.

Annapolis Precious Metal opened in 1993 exclusively for wholesale customers. In 1999 the space was remodeled for the retail trade. APM today is a team of artisans who design and fabricate jewelry and metal pieces for various wholesale clientele, including other jewelers, collectors, and exhibitors who do shows all over the country: horse shows, dog shows, and shows of metal artifacts such as swords. They also showcase original jewelry designs and do repairs for the retail trade. Some of Greg's work is the engraving of trophies and awards for the U.S. Naval Academy and Several yacht clubs.

APM has the equipment for the fabrication and repair of jewelry, including a 50-ton press, die-striking, mold and casting capability and all the hand work -- fabricating and buffing. Greg's team of designers and artisans includes Annapolis-born and raised Judson Martin, a master goldsmith who also works in platinum; Shelley Walck, a professional gemologist who cuts stones, heads up the casting department, does appraisals, and who hails from Pennsylvania; California-born Dina Weavers, who takes customer orders, designs beaded necklaces and bracelets and re-strings beads; local designer Lois Schwartz who is a silversmith, goldsmith, and wax carver; and Vera Williams, a goldsmith and designer who is from Norway. Each has a following of customers with an ongoing interest in their work.

Greg and his team serve customers with their own ideas for a piece of jewelry, "There is a lot of brainstorming on customer ideas. We ask ourselves, 'How is this gonna work?' I like that kind of challenge."

When asked what happens if a customer describes an idea, but is not happy with the finished product, Greg replies, "It's a challenge every day to satisfy the customer's idea rather than the taste of the artisan. Frequently the customer has seen something that can't be found it in a shop, and brings the idea to us. It's really all about listening to the customer and getting feedback on every aspect of the design as it goes through the drawing stages. That's the challenge. And we work until we find a way to bring the customer's idea to life."

Outgoing and customer-oriented, Greg enjoys "doing things that make people happy, feel good." For Shelley, it is the freedom of the work: "It's a creative process and that's what I like about it. Take a chunk of rock and turn it into a gemstone; take a piece of metal or wax and turn it into jewelry; watching the piece grow from nothing into something is really creative."

Customers who come with a purpose and browsers interested in what the shop may have to offer will find themselves amid a variety of displays of jewelry -- gold, silver, and gemstone jewelry including diamond, ruby, amethyst and turquoise rings, bracelets and necklaces. These may inspire an idea for a custom-made piece of jewelry. Customers who submit original designs or bring treasured pieces for repair will find a friendly and professional approach to the jeweler's art. That's why the majority of APM retail customers have been there before.
Greg and the team at APM may be reached by phone at 410-266-9559 or e-mail at apmjewelry@att.net
Back