WNAV:
Your Hometown Station
By Joseph Patrick Bulko
WNAV is a community radio station," said Bill Lusby, station program director. "When you're local, you can react fast and take action."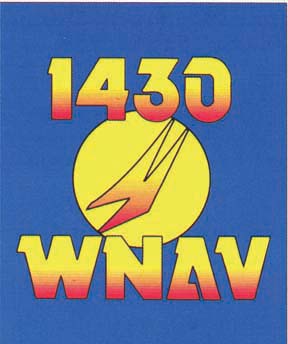 "There's nothing that races your blood" more than being involved in a breaking news story, which must be assembled in time for the next news spot, usually only minutes away," added news director Rhonda Wardlaw. "You're listening, you're typing, you're watching the clock, and 30 seconds later, you hit air. There's something incredibly magical about that. You're part of the moment."

Nothing beats hometown radio station WNAV when it comes to delivering pertinent local news, traffic, and weather. Rising early for the daily commute, the savvy individual tunes to 1430AM to find out if there are any blockages to the major arteries out of Annapolis. If there's an accident at Forest Drive and Hilltop Lane, WNAV will be all over it, advising drivers to avoid that spot.

"Often times, traffic is news," continued Wardlaw. "'What roads are closed?' is the first question we ask local officials. We're on the air with it - live. Later, we'll wrap it up as a news story."

"We want to provide a service that super-serves the local community," said station general manager Steve Hopp, summing up the goal of providing value to the 500,000 people within reach of the station's signal. He calls this area "beltway to beltway coverage," referring to neighboring cities Baltimore and Washington, DC.

Owned by Pat Sajak since 1997, WNAV's 5000-watt transmitter sends the station's signal to both sides of the Chesapeake Bay, including parts of Kent, Queen Anne's, and Talbot Counties; Anne Arundel County; parts of Prince George's County (Bowie, Upper Marlboro) and the northern tip of Calvert County (North Beach, Chesapeake Beach); and the southern part of Baltimore and Baltimore County.

Mr. Sajak was interested in buying WNAV "because the station fit his philosophy," continued Hopp. "He's a great guy. He has ties to radio in his history. Most of his investments are in the entertainment area. He's a sports fanatic."

"WNAV through a number of different ownerships - maybe four over the past 30 years - has been able to maintain what it does," said Hopp, who has been with the station for more than 30 years. "For the most part, we have always carried a lot of sports. We always do a lot of local news, public affairs - that's what this station is."

"Public affairs programming is a big deal to us," he continued. "It's part of what we do. Every radio station is supposed to ascertain what the problems and needs of the community are, and then answer those problems and needs with programming. This is really important to us."

Wardlaw, a meteorologist with an extensive background in TV news and weather, hosts several shows during the week fulfilling that commitment. These include "Talk with the Mayor," a Monday afternoon chat with the mayor on city issues and "1430 Connection," a one-hour public affairs and community-oriented program covering education, economics and crime. "That's where we try to answer the problems and needs of the community," said Hopp. "Capital Caucus" airs during the legislative session and features discussions with members of the general assembly, the Governor and other key players in state politics.

"What happens in the federal government affects our local community," explained Wardlaw. "From the federal to the state to the county to the city, we're on a one-on-one basis with a number of the congressmen, senators on Capitol Hill. When it comes to what's happening here, we don't just stop here. Our tentacles are everywhere to make sure that information gets back here."

"WNAV is a station that people call," she continued. "Many times, newsmakers will call us before I call them on the story, and - BAM - I get it on tape. We have developed such an amazing rapport with the legislature, city and county officials, police and fire."

WNAV delivers local news first - before the local papers and local TV news - often delivering it as it is happening. The station will break into regular programming, as needed, to keep the public informed.

During the legislative session, county senators and delegates call Wardlaw with updates on pending legislation. They will even step out of committee meetings briefly to talk to the station in time for the next local news segment.

"People always return our calls because they know we're going to get the information out," she said. "They know that we're fair. They know we're unbiased. They know we're going to get the story out. They know that if WNAV has called, WNAV is going to get it on the air."

Weekdays at noon, the station airs "The Radio Factor with Bill O'Reilly," a nationally syndicated program. "We were looking for an opportunity to draw new people to WNAV," explained Hopp on the decision to add the controversial Fox News personality to the station's line-up. "The idea was to offer some programming that people would tune to who may not be WNAV listeners. Obviously, O'Reilly has a huge following."

"Sports is one of our chosen niches," he said. Primarily a feature of evening programming, the station offers Orioles baseball, Navy football, basketball and lacrosse, Washington Wizards basketball, Capitals ice hockey and Redskins football, and some high school sporting events.

The station's musical offerings tend to be a mix of soft adult contemporary, but surprises are always lurking. Weekends bring a change of pace to the station when more specialty programs air. "The Time Machine," a rock-n-roll oldies show hosted by Charlie Stinchcomb is a Saturday afternoon fixture. The Baltimore Sun's Pat O'Malley hosts a local sports show Saturday morning, and Sundays tend to feature religious programming.

All day long, WNAV runs CBS News at the top of the hour, followed by local news, with Chesapeake Bay weather 20-minutes after the hour and the 5-day forecast 20-minutes before the hour. Local news is featured every half hour during morning and afternoon drive times.

Lusby arrives each day, early in pre-dawn darkness, to prepare for his morning show, which airs from 6:00 a.m. to 10:00 a.m.. A professional drummer for most of his adult life, he joined the radio team in 1997. He has deep roots in the area and has found a home at WNAV. "I'm really content here," he said. "I've grown up here. I've lived here most of my entire life. My family is from Anne Arundel County since the 1600s."

Feedback from listeners indicates that the station is succeeding in its mission to serve the community. "Most people who call say they enjoy what we do," he said. "We try to engage the listener locally, rather than on a national level."