Between the Covers at Back Creek Books
By Connie Harold
Like many people, I always loved books," said Rock Toews, owner of Back Creek Books, a dealer in fine used and antiquarian books. "That grew into naturally having my own inventory of books."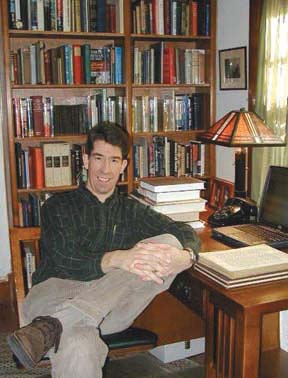 "People get books for different reasons, as collectibles, for reference." Back Creek Books specializes in naval and nautical related books as well as military and naval history, books on Maryland, Annapolis, Baltimore, Washington, the Chesapeake Bay and Abraham Lincoln. "I'm always interested in getting the kinds of books I specialize in."

And as is true of so many small businesses, the Internet has made it possible for Back Creek Books to exist without needing a store to display its wares. The website offers a choice of easily accessible on-line catalogues, and a series of articles Toews has written on book related topics. You can learn about the sometimes rarified world of book collecting, from how to judge the value of a book to dust jackets, rare books, first editions and first printings, and the ins and outs of out-of-print books.

"With collectibles, you're looking for something that sets the book apart; signed by the author, a dust jacket." Some of Toews' inventory is on sale at the Historical Annapolis Museum Shop at the City Dock. Customers can also check out the website at www.backcreekbooks.com to see a partial list of the books he currently has available. "If someone is looking for something and didn't see it there, it would be worth it to give me a call to see if I might have it."

According to Toews, the Internet has made it much easier for anyone to establish themselves as a bookseller. "A lot of people are just flinging books out there and don't know how to describe the condition of the book." At the top of the description in value are new, fine (no flaws), very good (no bumps to the edges), good (small tears, chipped) books. Books listed in fair condition have major flaws such as a map or missing or a torn illustration. At the bottom are copies rated as poor and last are reading copies which have very little value. To get an idea of the value of a book you may have found in grandma's attic, Toews says it's best to look online first. His suggestions for on-line book searches include the ABA Books website and tomfolio.com, a booksellers' co-op with over one hundred members.

"Most people don't want to take the time to look at the stuff individually themselves. They get caught up in situations where a relative has passed away and the house has to be cleaned out quickly." In those situations, he suggests calling a book dealer first and getting an appraisal of the collection. "I have a few people who do estate sales and they'll call me first."

"A first edition is better than a later edition. It's more personalized and gives you a greater emotional connection to a favorite author. Collectors always want the book closest to the author's hand." Back Creek Books lists on its website books he is looking to acquire. Toews also does book searches, particularly for hard-to-find books with special value to collectors. He points out that the Internet has also made it much easier to discover uncommon books. "It reveals how truly uncommon they are."

"Some of the best collections that have turned out to be the most valuable monetarily have been assembled by someone's personal interest. Because obviously, aside from the things that are collectable because they are popular, if they're chosen because of a personal interest, they hold their value and increase in value."

"I pulled this little book from a group on the way to the dumpster," he said holding up a small Episcopal prayer book. "It's an incredibly special little book. This belonged to General Matt Ridgeway, commanding officer of the 82nd Airborne in World War II. He was instrumental in turning the tide in Korea and getting us out of there." Inside the front cover, written in pencil, is a prayer that Ridgeway composed in 1942. "He carried a prayer book in his pocket and two hand grenades taped to his jacket and that's how he traveled in a combat zone."

Toews grew up in California in Orange Cove, 35 miles east of Fresno. Later he lived around Napa Valley, Los Angeles and Hollywood. He has lived in Annapolis since 1990 except for one year when he was a cook and back packer for a mule packer in Idaho. He studied accounting in college. He is married to a certified public accountant whom he met when they both worked at a local accounting firm. They have a son and a daughter. In the mid '90s he managed the Barnes and Noble bookstore at the Annapolis Harbour Center and discovered that people were always looking for hard-to-find books. "That grew into naturally having my own inventory of books."

"I just happen to like books," said Toews. "There's what's in them and how that book may have affected the person who owned it. It may have changed the way they thought about something. It may have taught them something in a more meaningful, more personal way than some object they may have owned," he pauses, "like a cufflink."