Leather Goods with Attitude:
Hobo International
By Martie Callaghan
Talk about your humble beginnings. Toni Ray worked in the retail business for 30 years and was part owner of Georgetown Leather in Washington, DC in the early '90s. When her contract ran out and her partnership split, she was left. holding the bag. "Times were tough, particularly in retail," she recalls, "and I couldn't find another job." With funding solely from an IRA account and an office consisting of two dining room tables, Toni used literally all she had to open her own business.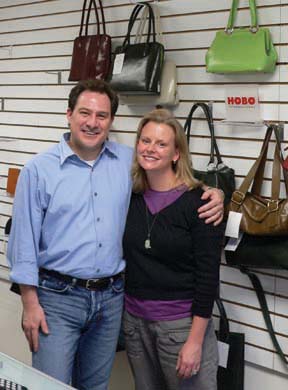 Her first shipment of hand-stained bags arrived from South America, still wet and stuck together. It was a major disappointment, but Toni was undaunted. "I knew a lot about leather and was able to rescue the bags," she says. "Every friend I had came over to help. We had 5,000 bags all over the yard with bricks in them to get them unstuck!"

Toni's daughter Karen Ray and now son-in-law David Brewer became her indispensable business partners and began traveling with her to trade shows. "We were so broke that we all three slept crossways in one bed!" she says.

In 1993, Toni opened Main Street Leather in Annapolis, which she ran for three years before opening Hobo International. "[The name] Hobo International was a joke," Toni says. "We had a logo of a guy going down a track... and this was a hobo that you would like to run away with!"

Toni will tell you that the secret of her success is found in the people around her. "I had the privilege to hire some of my old friends who had worked for me in DC," she says. "It's a wonderful collection of people." Head designer Martha Radford worked with Toni for 14 years before Hobo International. "Her talent has had a significant impact on our growth over the past nine years that she has been with Hobo International," Toni says.

Hobo International bags are intended to be functional as well as fashionable. "I like to describe them with three words," says Toni, "confident, edgy and real. I picked those out because the women who carry these bags don't need a fancy label. They are confident in their own sense of taste and value." Because Hobo International bags are designed by women and for women, the practical features are the hallmarks of their design. Bags have real pockets to accommodate two sets of glasses, a cell phone, a pen at all times and keys. "All of those features are hidden inside the fashion part," Toni says, "and that is a really good combination."

There are four distinct product lines within Hobo International: Fashion, Travel (Hobo Por Tour), Ladies' Business Executive and Personal Small Leather Goods. "We have been able to give wallets and small leather goods fashion," says Toni, "and that has been big news, because ladies' wallets have been pretty boring for a long time." Color defines the current trend and it has spread from high fashion lines down to business organizers. "In our fashion line, our metallics have been incredible," Toni adds. "We're also doing a lot of vintage designs."

Travel has come back since 9/11 and continues to be an emerging category. Products in the travel line are made of micro-durafiber that is as strong as cordura nylon but about one-fourth the weight. "We realize the challenges women face," Toni says, "and we offer solutions to their every-day needs - real designs with an edgy attitude."

Toni credits her years in the retail business for her understanding of what sells. "A lot of designers forget the end consumer," she says. "We don't design to our own ego. We have a real vision of what women are looking for and what their needs are. It is all about the end consumer.that works for us."

Hobo International bags are sold in Nordstrom's and Bloomingdale's department stores and in upscale specialty stores, such as Fred Segal, Terence Conran, the W Hotels, and locally at Astrid, Chesapeake Trading Company, Comfort One and South Moon Under. Customers range from women who wear clogs and comfort shoes to women who wear the spikiest of heels. The small leather goods can be found in the finest shops in most resort towns. "That part of the business is growing dramatically," says Toni. Hobo bags also appear at the most exclusive trade shows, including the Fashion Coterie in New York and the Accessorie Circuit.

Annapolis has been Toni's place of business for 15 years and her residence for 20 years. Its proximity to major cities has facilitated her frequent travel to New York and around the world. "The view out of my bedroom window of the Chesapeake Bay at sunrise is as beautiful as any view in the world," she says. "There is no place any prettier."

Toni's view is no longer obstructed by walls of bags. Last year, she moved her office and her inventory out of the house and into new space that includes a 10,000-square foot warehouse. She continues to laud the commitment of her daughter and son-in-law and the other loyal people who stayed with her and helped her grow through the challenging times. Would she encourage other women to start their own businesses? Actually, her goal for retirement is to be directly involved in helping them. "Starting a business is really a great thing to do, but you need to do your homework," she says. "Be up on the area and the competition in your field. Make sure you have good financing. Have a niche of your own with a very special product or idea. something unique and in demand. You need to be the first or the best. When I started out in the late '60's and early '70's, it was still a chauvinistic world and tough being a woman in business. It's a lot easier now."

Easier, indeed. following in the footprints of entrepreneurs like Toni Ray!