The ABCs of Biscotti
By Carolyn Lee
Heather East Papadopoulos knows a thing or two about biscotti. It's true that she hand cuts and shapes each one of the crunchy Italian biscuits she bakes by the thousands. But it's more likely her deep interest in food and food history, culture and cuisine, that makes the richest contribution to the biscotti she loves to bake and we love to eat.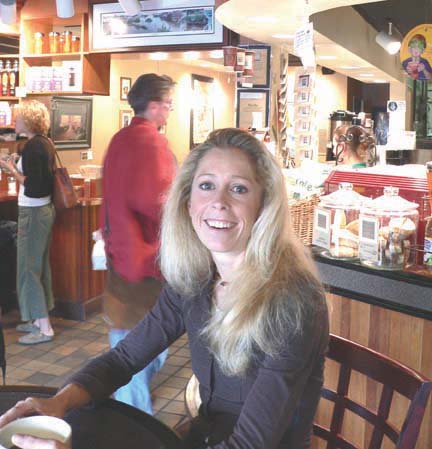 Owner of the Annapolis Biscotti Company, Papadopoulos says she always dreamed of having her own business where she could do all the decision-making. Now she produces the traditional twice-baked cookies in small batches, supplying many local businesses and cafes with a fresh, flavorful bounty of biscotti. But, remember this: each time we dunk (or not) the biscuits in our morning coffee, tea or hot chocolate, we benefit from the breadth of her culinary arts experience and education.

Her professional experience ranges from research analyst and independent restaurant consultant to assistant director of culinary programs. But it is perhaps Papadopoulos' masters level education in gastronomy that most directly contributes to our palates' pleasure. A Boston University student in the late ''90s, Papadopoulos wrote her thesis on Boston's North End Italian Americans. While conducting the oral history component of her work, Papadopoulos met a woman named Maria, owner of Maria's Pastry Shop. "She was from a farm in Italy and employed her entire family. I was interested in her story-how she became a successful entrepreneur coming from Italy with nothing but the clothes on her back," says Papadopoulos.

Papadopoulos ended up working in Maria's bakery. "I learned about all the different pastries she made and their symbolism. Then I found an old cookbook and took apart every kind of food they used, every ingredient, and compared it to what I could find today."

According to Papadopoulos, "there's a certain [kind of] personality that's interested in being an entrepreneur. I saw some similarities with Maria and me. For Maria, it was a labor of love-she really loved what she produced. She was a perfectionist. So am I."

Armed with an undergraduate degree in economics, Papadopoulos ensured her own successful entrepreneurship by adding a business education to her culinary arts experience.

When she describes her business, however, it is the regional dimension of the Annapolis Biscotti Company that Papadopoulos most frequently stresses. "I didn't want to go the nautical route ," she says. "I wanted to be in keeping with the product I was offering. With Annapolis in the name, there was regional appeal."

But Papadopoulos had no interest in baking the "Americanized" version of biscotti. She intended to re-create the rustic, artisan style of the traditional biscuit, using all natural ingredients. To the traditional recipe, she added an upscale gourmet twist, yielding flavorful biscotti loaded with choice ingredients such as fresh toasted nuts, premium dried fruits, pure flavorings and spices, and Guittard chocolate chips.

With the help of one assistant, Papadopoulos bakes the biscotti in small batches (1000 in a 3-hour period) at Miss Nancy's Fancy Bakery, a commercial kitchen in the warehouse district of Annapolis, where she leases kitchen space.

Papadopoulos recalls an earlier time of her life at the Art Institute of Houston's School of Culinary Arts. "It was literally like boot camp, but I decided to tough it out and ended up being number one in the class." Then came the internship where she worked early morning hours in a bakery, often without a break until the afternoon. "Very labor intensive!"

Now, using large equipment like Hobart mixers, she scales the ingredients, mixes the batter, scales the dough and rolls it into logs. The logs are placed on a sheet pan prepared with parchment paper and then painted with egg wash. After the first bake-off, the logs are sliced on a diagonal and returned to the oven for a second baking. Says Papadopoulos, "Most people don't know how biscotti is made. I think if someone walked into the bakery they'd be intrigued [by the process] and the wonderful aromas."

The richness of the aroma is deceiving, however. Remember, these biscotti are made the traditional way, which means that by using ingredients with no preservatives, artificial flavors or coloring, and no butter, oil or shortening, they are low in fat and wholesome-and, because they're twice-baked, they have a long shelf life.

Papadopoulos' interest in producing a wholesome and creative product is not inconsistent with her lifestyle choices. At 37, she is an avid runner, ("training for a triathalon, ultimately the Cape Henlopen"), a biker and kayaker. She has traveled extensively in Europe with her husband Dean, where she brings her culinary curiosity, but admits that Mediterranean food is her favorite.

She is also an active mother of 4-year-old Nicholas who attends Pre-K4 at The Key School. "He loves the outdoors, like his mom," says Papadopoulos. "And he loves to bake with me, although I don't think he totally understands the concept. The cinnamon chip is his favorite biscotti." She explains that "what's great about having this business is that I'm flexible. On a beautiful day, I can take Nicholas to Quiet Waters Park and go to the beach. It's important to me to be involved in his extra-curricular activities."

Papadopoulos seems to address all the aspects of her life with the intent of excellence. With the help of her sister, a graphic designer in Old Town Alexandria, she chose a handsome logo and packaging designed with the natural, earthy tones that represent her product. In the stores, the biscotti is artfully displayed in clear cellophane gift packages tied with natural raffia.

Consumers can find biscotti in flavors of traditional almond, cranberry orange walnut, lemon poppy seed, apricot pistachio, mocha espresso, and double chocolate almond. "And then I do seasonal flavors: maple walnut, gingersnap, pumpkin pecan-and I'm always trying to create new ones: lemon blueberry and raspberry hazelnut." Says Papadopoulos, "Variety is the spice of life. Offering seasonal flavors keeps people interested."

In addition to the local coffee shops and cafes, the products of the Annapolis Biscotti Company are offered at: Annapolis and Anne Arundel County Visitor's Center, Aromi d'Italia (Annapolis and Bethesda), City Dock Cafe and Whole Foods Market and distributed to corporate and restaurant accounts and specialty and gourmet food stores.

For more information about Annapolis Biscotti Company, Inc., visit www.annapolisbiscotti.com or call 410-216-9876.