Now We're Cookin' With Gas
By Megan H. Smith
The Fourth of July is here again, and that means I'll probably be eating something cooked on a grill. When I was a little girl, growing up in the South, there were three kinds of grills. First, there was the round Weber grill - usually red - that Dad presided over in his "Kiss The Cook" apron on the back patio. It involved bags of charcoal briquettes and lighter fluid, and a lot of words that we weren't supposed to hear as he tried to get the coals lit without also removing his own eyebrows. (Of course, there were plenty of chances for depilation-by-fire later as we lit our own fireworks.) Once the cursing stopped, we would be treated to hot dogs or hamburgers, sometimes steak or chicken, that had a lovely crunchy coating of burnt flesh and ash, with a moist interior that may or may not have been hot enough to eat without fear of food poisoning.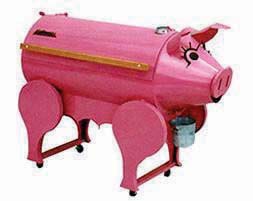 Then there was the little hibachi grill that always came along on camping trips and Girl Scout hikes. Though today, hibachis come in durable cast iron models, with adjustable racks, ours were cast aluminum and always seemed to have rusted into oblivion during the winter, necessitating a new one every camping season. There were always more of us waiting for food than a hibachi could accommodate, which meant Dad, or our Scout leader, had to spend hours tending and turning the burgers while we had mustard and ketchup fights in the woods. These grills also used cans of Sterno for fuel, which works great for warming cheese for a fondue, but doesn't really pack a punch if you like your burgers well-done. It's a miracle that Troop 364 wasn't felled by an outbreak of E.Coli, but that's probably because we had filled up on chips and unmelted s'mores fixin's, and quietly hid our burger meat under the leaves for the raccoons.

And, of course, there was the real deal - the big smoker barbeque grill, made from two halves of a metal barrel, sitting behind a small shack with a handmade sign that said something like "Little Bud's BBQ and Catfish. Puppies and Slaw - 25˘. Real Good Food." The more rickety looking the shack, the better the barbeque. The older the cook, the better the barbeque. Barbeque in my part of the South was "pulled pig" served on a soft bun or a slice of white bread with a hot and sweet sauce, made with tomato, molasses and hot pepper which you added yourself. The pork was slow-cooked in that big smoker, sometimes for hours and hours, until it was so tender it fell off the bone when you gave it a harsh look. I never knew where people got those barrels, or what had been in them before they were converted into grills, but ever since those days, I just don't trust any barbeque that hasn't been made behind a shack by an ancient cook named Bud. (For the uninitiated, it is important to learn the distinction between "grilling" and "barbequing" Grilling cooks your meat quickly over a hot flame, while barbequing is slow with low heat.)

Grilling today has changed a lot. You can still get something approaching the old round Weber, but even it has models that have been tricked out with ignition systems and weather-protected charcoal storage bins. It seems as one peruses the aisles of Home Depot and other grilling-supply stores, that charcoal is a bit, well, passé. Even with an "ignition system" to lessen the stress, there's still a lot of clean-up and care involved with those little nuggets, and today's griller wants more convenience. In fact, it appears today's griller just wants MORE.

Modern grills are enormous pieces of outdoor furniture that surely must be installed by crane. A quick peek in Home Depot reveals that Weber makes a model, the Summit Built-In Gold, which retails for a mere $1899. It has a 902 square inch total cooking area, 57,600 BTU-per-hour input and 6 stainless steel burners with infinite control valves (Oh how I've longed for a device that has "infinite control"!). A rear-mounted infrared rotisserie burner! Cabinets! Shelves! Counter space! This thing is bigger than my entire kitchen, and I could probably grill up a couple steaks, roast a chicken, bake a pie and warm up my toddler's mac and cheese all at the same time without having to curse once. It should be noted that, if you decide to order this model from the website for a friend, it cannot be gift boxed.

Sixty-three percent of the grills you find today are powered by propane, according to the Hearth, Patio and Barbeque Association. Propane has increased in popularity for grilling over the years, because it burns cleanly and does not spill like lighter fluid or gasoline. Some grills, such as the built-in models, can also be run on natural gas. There are also outdoor grills which run on electricity, but these are less popular and a little harder to find.

So, what's a displaced Southerner to do if she wants that tender pulled pork right from her own backyard? Though there are now many versions of the barrel smoker available for retail sale, for my money, it doesn't get any better than the Traeger L'il Pig.

For only $14.95 you can have the most stylish smoker grill on the block. Pink is the hot color this season, and with this grill you can make a fashion statement with your footwear and your outdoor cooking equipment. (For those who prefer beef barbeque, there is also a Longhorn Steer model.)

However you choose to char your meat, I can guarantee you there is a model out there at every price and every size imaginable. As for me, I've suddenly got a nostalgic hankering for potato chips and graham crackers and the unforgettable aroma of Sterno-infused ground beef. You just can't reproduce those kinds of memories on a grill with "infinite control valves." Grilling Facts

. July 4th is the most popular holiday for grilling, followed by Memorial Day and Labor Day.

. 76% of grill owners will fire up the grill on July 4th this year.

. 3 out of 4 U.S. households own a barbeque grill.

. 66,200,000 individuals have barbecued in the last year.

. 48% of grill owners own a charcoal grill, 61% LP gas grill, 9% natural gas grill, 7% outdoor electric grill.

. 58% of grills are used year round.

. Americans are expected to consume 150 million hot dogs on the 4th this year.

. The top grilling items are, in order, steak, chicken and burgers.