The Hammond-Harwood House Secret Garden Tour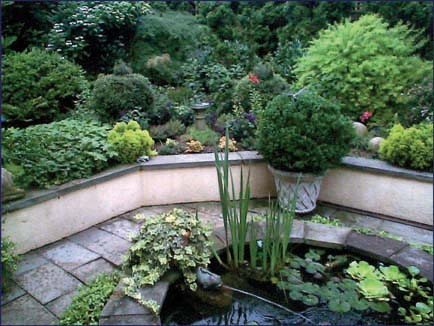 The sixth annual Secret Garden Tour sponsored by the historic Hammond-Harwood House will be held from 1-5 p.m. on Sunday, June 5.

Garden enthusiasts will have the opportunity to visit 14 privately owned gardens tucked away behind the facades of a diverse mixture of period homes located in the exclusive Murray Hill section of historic Annapolis. The tour offers a variety of garden settings with many hidden behind iron fences, brick walls and picketed garden gates. Cobblestone and brick walkways lead into impressive private garden rooms and perennial island beds featuring an interesting mix of fountains, waterfalls, garden art, ornamental statuary and connecting pergola. Two elegant waterfront homes overlook gardens bordering the beautiful Spa Creek.

The tour sites are within easy walking distance from downtown Church Circle to Acton Place, Murray, Southgate, Lafayette, Steele, Cheston and Taney Avenues and Franklin and Thompson Streets.

Advance tickets are $25 and $30 after June 1. You may purchase tickets by mail or in person at the Hammond-Harwood House, 19 Maryland Ave., Annapolis, MD 21401 or call 410-263-4683, Ext. 13. Tickets may also be purchased on the day of the event at 1 Acton Place, one of the 14 tour sites. For more information on the event and convenient parking facilities visit www.hammondharwoodhouse.org.

All proceeds from the tour are designated for the preservation and conservation of the 18th century National Historic Landmark. The museum is known for its outstanding example of Anglo-Palladian architecture and its renowned collection of late 18th and early 19th century decorative arts. Built in 1774 for Matthias Hammond, a legislator and planter, it is one of the oldest historic homes in Annapolis. Matthias Hammond's brother John built Acton Hall, the starting point of the tour, in 1772.

This tour is part of ArtWorks Annapolis 2005.