Alicia and Mellissa Holt:
Friendship Bistro
By Paula Anne Delve Phillips
A short hop south of Edgewater takes one back in time to a restaurant that was once a general store. Vintage photographs near the cash register depict a time when neighboring farmers met there to play cards and catch up on gossip. This restored property on West Friendship Road is on the National Historic Landmark Register, sporting a trendy new name - The Friendship Bistro.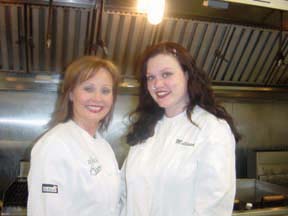 New owners Alicia and Mellissa Holt are old fashioned about using fresh, wholesome ingredients, but innovative with their recipes. They share a passion for food that is artfully and tastefully prepared.

Their impressive list of suppliers includes Fells Point Meat which sells to high end restaurants. Di Pasquales in Little Italy supplies breads, cheeses and sausage for Calzone. They use Annapolis Produce, get their excellent coffee from a Philadelphia roaster and their espresso from Di Pasquales.

The menu is seasonal. The lighter faire for spring and summer includes plenty of fish, vegetables and fruits such as berries and peaches in season. Grandmother Holt is very proud of what Alicia and step-daughter Mellissa have accomplished. "They're real workers," she says.

Mellissa complements her partner's cooking. "Alicia's marinara sauce is incredible," she says. Their Italian specials are always popular with patrons. They ran a Cuban platter for two nights, wondering how local folks would take to it and sold out quickly. People were adventuresome and got excited about trying new dishes.

Tim Tillett from nearby North Beach is a frequent customer since The Friendship Bistro opened. "I used to come here for breakfast when it was Rusty's" he says. Tillett appreciates the changes. "The food is good. Health wise, it's much better. You get more of a home-cooked meal."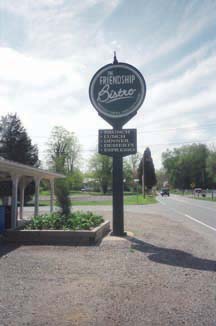 He likes that the new owners make periodic menu changes to express their creative drive. "It's usually always packed on Saturdays and Sundays,' notes Tillett. One Saturday he brought his parents there as they traveled from St. Mary's to the Eastern Shore. "They liked it," he says. "You get plenty of food for your money."

His favorites? "They have great salads. If you like garlic, you'll like the white pizza. And their deserts are wonderful. I haven't had a bad one yet. Their bread pudding is very, very good." The lemon cheesecake with lemon curd topping is his favorite. It's not surprising that he had so much to say about the sweet stuff.

"People are shocked that we make our own desserts," says Alicia. "I have a strawberry Tiramisu that I'm really excited about." She also makes her own lady fingers. Mellissa makes a blueberry cobbler with ginger biscuit. They always have pie and a type of crème brulée. The flavor changes every week.

Sharing a great desert menu was the original inspiration for the Bistro. Several years ago, the owners were eating in one of their favorite restaurants in Washington, DC. Their desserts were a disappointing end to a good meal. "At the time Mellissa was living in San Francisco and talking about coming back home, " recalls Alicia. "We talked about opening a business."

"We were going to open an ice cream parlor and do ice cream and deserts, " she continues. "A friend of ours used to come down here when the previous owners had it and let us know [when it was available]. We came down here and looked at it and our dreams got bigger. We saw the potential this place had and kind of went with it."

Before launching the Friendship Bistro, Alicia Holt was a Davidsonville homemaker who loved to cook. She attended culinary arts classes at Anne Arundel Community College. Mellissa formerly owned a bar in San Francisco and has worked in many aspects of the restaurant business since she was fifteen. She's now in her 30s.

"We actually opened in October, 2004," said Alicia. That was less than six months after they first laid eyes on the site. Before they opened, they had a business plan, menu, a mission statement and a vision for how they wanted to fit into the old established community. Says Mellissa, "This is a very tight community. We wanted people to welcome us and be excited about what we were going to do here."

The partners were not daunted by the amount of physical work in creating the Friendship Bistro out of Rusty's, which it had been for eight years. The Holt's renovation was mainly to surfaces, signs, exterior and trim. They removed wall paper, painted, put in a new ceiling and new lights and spruced up bathrooms.

Says Alicia, "The neat thing about having this small place and having it be your own is you can be as creative as you want. We can really get our creative juices going." Their mix of tradition and innovation has yielded many return customers and regulars. This will be their first summer welcoming tourists.

The music selection at the Friendship Bistro helps create the cozy ambiance. It features soothing jazz standards - not what you hear on the so-called "jazzy" stations, but real, authentic sounds of Frank Sinatra, Ella Fitzgerald, Benny Goodman and Glen Miller peppered with the likes of Ray Charles, Patsy Cline, Linda Ronstadt and an occasional salsa band.

The owners serve their music the way they serve their food: authentic and flavorful.

One feels relaxed just listening to it. "That's the way we want it to be - relaxing," says Mellissa. In the kitchen, it's a somewhat different scene. Besides the owners, there are about six other employees including Marcus Marshall, who is becoming an assistant Chef. It gets quite busy.

The restaurant is packed on weekend mornings. The dinner crowd will soon swell. The license for liquor and wine has recently been secured and that will make this charming restaurant competitive with other businesses in nearby Edgewater and North Beach.

Even without that, they have plenty to offer, including a rural location, pleasantly removed from urban bustle and tension. The menu is definitely worth a short drive south from Annapolis or Edgewater (only 20 minutes) or north from North Beach.

This is a perfect destination or stopover for a Sunday drive. Don't let the casual dining atmosphere fool you. Alicia and Mellissa Holt are passionate about creating great flavor and dedicated to good taste.

A menu is available for download at www.thefriendshipbistro.com.