Crackin' Crabs on Mill Creek
By Patricia Barry
Cantler's Riverside Inn
458 Forest Beach Rd.
Annapolis, Maryland
410-757-1311

Moderate Prices
Appetizers, soups & sandwiches: $3.79 to $12.99
Steamed blue crabs: seasonal
Bucket of steamed shrimp: $9.29 to $17.99
Bucket of steamed soft-shell clams: seasonal
Platters: $7.50 to $23.99
Hours: Sun. to Thurs.: 11 a.m. to 11 p.m.
Fri. and Sat. 11 a.m. to midnight
Full bar, but "proudly serving beer in cans."

"When we see the middies come out, we know the local crabs are coming in," says Bruce Whelan, a manager at Jimmy Cantler's Riverside Inn on Mill Creek, just off Whitehall Bay on the northeast rim of Annapolis. Cantler's serves succulent steamed hard shell crabs -- small, medium, extra large and super jumbos. When local waters cannot supply crabs, crustaceans are shipped in for year-round eating. "This local season that begins in June is expected to be an excellent year for the Bay blue crab," notes Whelan.


Long revered as a colorful crab house, this waterside eatery that celebrated its 30th year in 2004 has taken on some new shades. It would be unfair to say shades of sophistication, since its owner has fiercely clung to the consistency of a butcher paper-on-the-table, crab-pickin' haven. Nonetheless, aside from the steamed blue crabs, centerpiece of the great warm weather ritual of crackin', pickin' and eatin' crabs, one can now find incredible edibles among the appetizers and specials on the menu. That, mind you, is a printed menu, not only the selections on a chalkboard. There was a time when all menu choices graced the simple and comforting walls of the crab house and its outside porch.

Among the daily appetizer specials is the new "passion pineapple salad" that my companion and I selected. The hollowed-out pineapple presentation was impressive looking, bearing grilled shrimp, steamed scallops, mussels and crab meat napped in a warm lime and cilantro sauce. A side accompaniment is strip-cut wontons, gently fried and dappled with sweet pepper - a new and exciting taste. We also chose the tempura asparagus with chipotle sauce and learned that each tempura dish is cooked to order, ensuring a clean and crisp crust.

More selected specials included fresh Hawaiian swordfish shichimi style, coated with executive chef Joseph Anderson's own shichimi torgorashi powder. Our other selection was raw tuna salad, nicely pink and sliced into shapely rounds with a cream wasabi sauce. Both were outstanding. Having visited Cantler's for three decades, we were amazed to discover so much variety on the menu. These options not only complement crabs, but also offer alternatives for other meals in all seasons. And, be sure to ask about the Combos; they are a great deal.

The steamed local clams were super fresh and plump. The lump crab cake was better than ever, large, round and generous, definitely top tier in consistency and taste.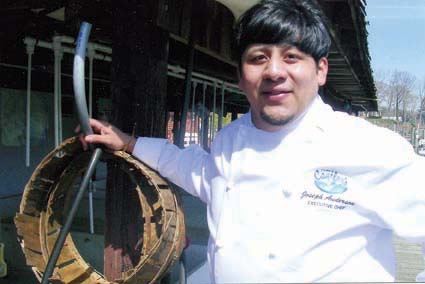 The executive chef brings creative and innovative seafood choices to the current menu, influences from his experience and travels. He trained at HCAT, Academie de Cuisine in Bethesda, with stints at Classic Catering in Baltimore and Disney World in Florida. In the fall of 2004, Anderson presented a Chesapeake Bay shore dinner on the television program Good Morning America.

When you enter Cantler's, with its low ceiling and dim light, it's a relief from the bright sunlight. Its clean fresh atmosphere reflects the meticulous degree of cleaning that goes on every night and morning. Only as the day progresses does the tantalizing essence of crabs, fish and spices begin to take over.

Beneath the building on the waterside bulkhead is a roofed area fascinating to everyone, especially children. Two rows of sloughing bins are constantly circulating creek water, patiently waiting for the crabs to molt, that is, to slough off their external skeleton or shell and go on to their next growth stage. When still soft, these have to be the freshest soft crabs around.

In addition to the molting process, diners are welcome to view the sea life in another bin for eels, sand crabs and turtles. Also of interest are the modest museum cases nearby featuring the booty found in Bay waters by waterman Billy Crook. He has come across a hearty collection of antique clay pipes, tableware, bottles, false teeth and multiple other memorabilia from the murky deep.

The Cantler watermen are now in their fifth generation on the west side of Mill Creek. Owner Jimmy Cantler, one of 18 children in his generation, was raised on this land and plied the waters of the Chesapeake Bay. Local watermen daily supply the freshest crabs, oysters, clams, shrimp and varieties of fish. Cantler thought it would be a good idea to open a crab house. As the watermen say, "That is just about the smart of it."

Directions: Cantler's Riverside Inn is not a place you'd stumble across. To come by water, pick up red flashing channel marker NW of Whitehall mid Bay marker 2 to enter Mill Creek. Proceed up Mill Creek two thirds of a nautical mile to Cantler's docks on the west side of the creek. Free dockage is available. Fuel is also available.

From Annapolis, cross the Academy Bridge, turn right at Route 648 and proceed to the 4-way stop. Turn right onto St. Margaret's Road. Bear right onto Brown's Woods Road to right onto Forest Beach Road and follow to end.