Pets are Her Passion
By Martie Callaghan
Michelle Ullrich-Kownacki, devoted owner of two Jack Russell terriers, makes a rather uncommon claim regarding her career path. It seems that she was influenced more by her four-legged companions than by anyone, well, uh, human... to make the move from corporate marketing to retail. "I'm always looking for something different for my pets," she explains, "a different toy or a gourmet biscuit that has ingredients I would not be afraid to eat. Looking around for my own pets led me to think how great it would be to live and work in this wonderful town and be able to offer unique products to other pet lovers."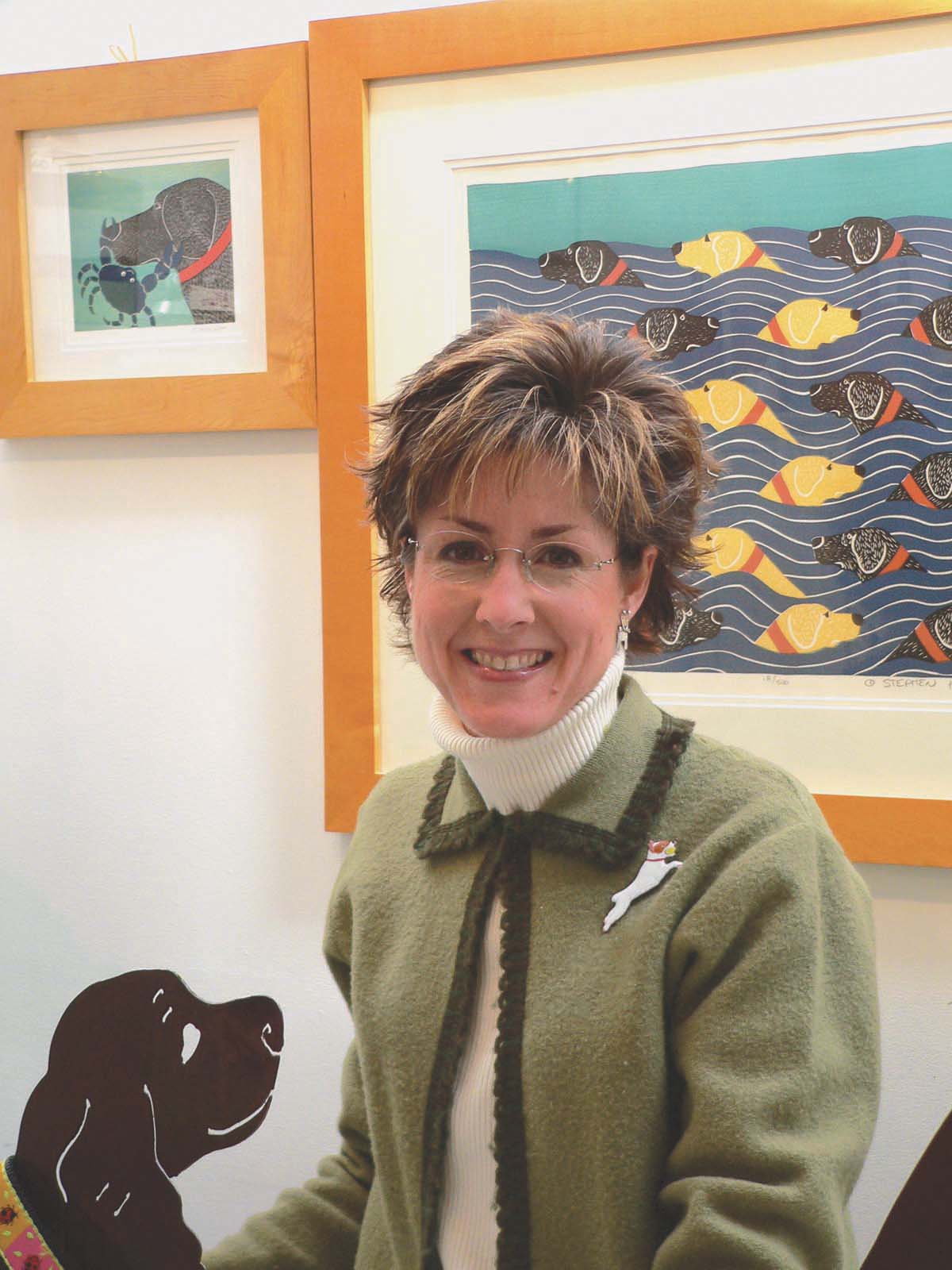 That was five and a half years ago. With the continuing support of her husband and her mother, Michelle was able to realize her dream. Paws Pet Boutique originally opened on Maryland Avenue, a neighborhood where the stores and businesses are pretty much owner-operated. "I was very lucky to begin there," Michelle says. "It's a warm environment where everybody works together and we continue to help each other out. I don't know if all towns have that."

Last year, Paws moved to its current location, 64 State Circle, next to Harry Brown's restaurant.

Paws Pet Boutique offers cat and dog related gifts for people and pets, including jewelry, toys, hand-painted bowls and leash racks. From "designer dog" to breed-specific items, there is something for everyone, in all price ranges. Michelle works with many artists, some of them local, to create one-of-a-kind and personalized items. The best selling category is dog collars. "We have a tremendous selection of sizes and colors," Michelle says. "People enjoy switching them out. Like a man's tie, it's reflective of the personality of the pet or the personality of the owner. It's kind of fun!"

Paws does a lot of special ordering and will also gift wrap and ship. "We go out of our way to be sure our customers get what they want," says Michelle. "If you care about your customers, they will care that your business survives. We are very fortunate to have tremendous customer support."

Of course, pets are welcome. Michelle notes that several "regulars" visit once or twice every day to say "hello." "They know they'll get a warm greeting and a free treat," says Michelle. "Our hope is to accomplish a town square setting where both dogs and people meet and greet each other and feel like they are part of the community. We know the people and the dogs that come in and we have met some wonderful friends."

Other area proprietors share Michelle's dog-friendly philosophy by keeping fresh water out front for pets that accompany their owners on strolls through town. Many of them buy biscuits from Paws Pet Boutique to keep on hand for their canine visitors. "It makes it a special town," she says. "When you're walking with your pet, it's easy to strike up a conversation with another pet owner. Before long, you're walking and talking as though you've known each other for a long time."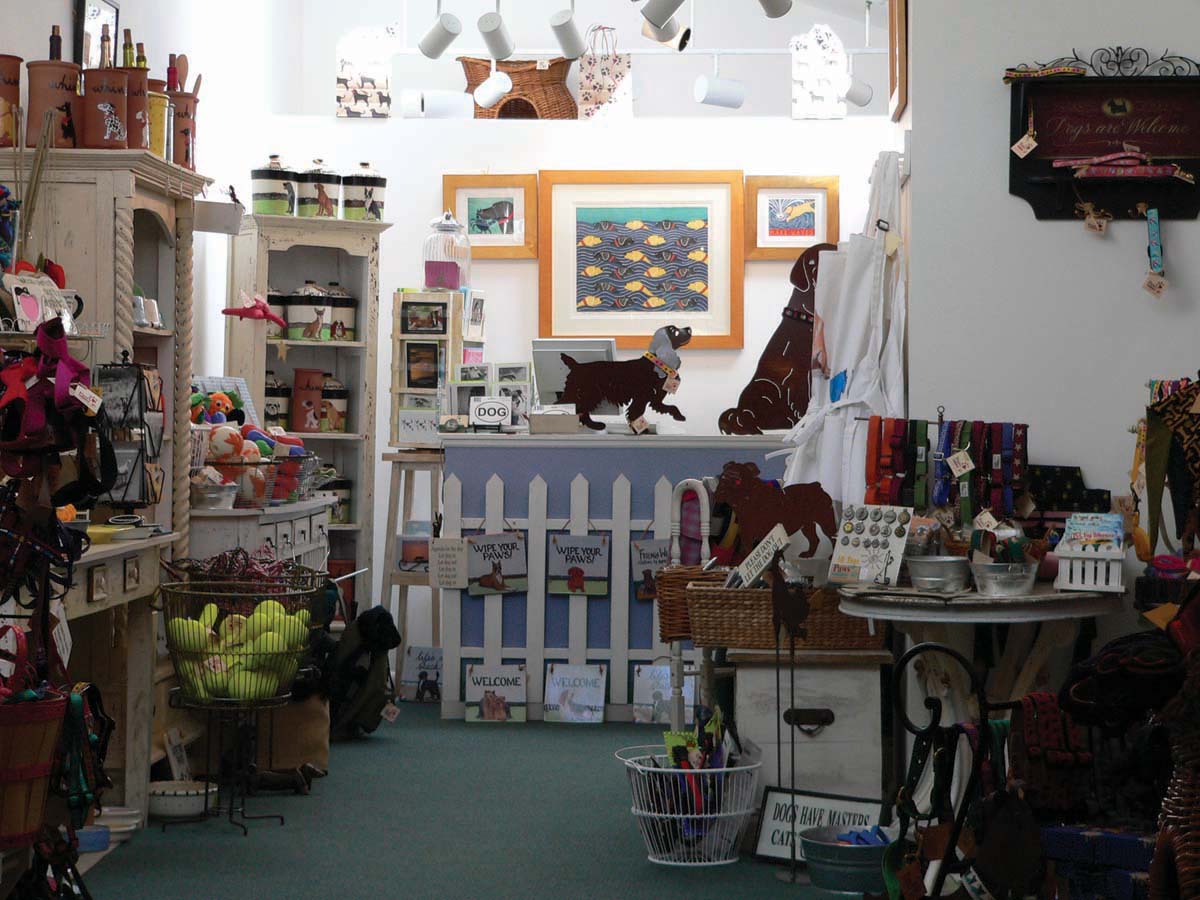 Michelle's passion for pets doesn't end at the boutique. Her goal is to improve the lives of people and pets through her business but also by supporting a variety of pet-friendly causes. One accomplishment of which she is extremely proud is the establishment of Anne Arundel County's first dog park at Quiet Waters Park. Michelle worked to get signatures on petitions, prepare proposals and raise money for the park and worked closely with county officials, once they came onboard.

Michelle also supports nonprofit organizations in the area, such as the SPCA, Cats R Us, Partnership for Animal Welfare and Golden Retriever Rescue Education and Training (GRREAT), by raising money through raffles and auctions and holding events at the store. "It's a great way to create awareness that there are some phenomenal organizations out there that give pets a chance," she says.

Running a retail business has required a much larger commitment of time and energy than Michelle had originally anticipated, "...but it's given back more than I expected," she says. "It's important to be passionate about what you do because you will spend a great amount of time doing it. I feel like some people look their whole lives to find their passion and I am so fortunate to have found mine. I truly love what I do and I think it shows."

The next step for Paws Pet Boutique is to offer their unique products online. "Again, it goes back to ultimately wanting to improve the lives of as many pets or people as possible through the store, the products and the causes," says Michelle. "[However,] I don't want to do it until we are ready to back it up 300%. I want to be fully prepared to offer the same quality as in the store. We are unique in that we work with many artists to get special and one-of-a-kind pieces. We want to be able to back those items with great service and knowledge."

Michelle points out that, while many Annapolitans enjoy kayaking or sailing in their leisure time, many others enjoy spending time with their pets. "I was thinking about that when I was looking into developing the dog park," she explains. "This is a hobby for many people. We should offer them a playing field. The park offers that; our store offers that.... Pets really do add a lot to our lives - giving love, forgiving and inspiring us - and I enjoy sharing that."