Dr Nancy Rivera-King:
Dr. Nancy's Housecalls
By Carolyn Lee
Half way out the door you remember to grab a book-last year, you read every magazine in the waiting room. You're rushing to your annual physical and arrive right on schedule for the appointment. An hour later you're still reading. As if on cue, the person sitting next to you comments that you're likely to wait at least six times as long as the time you spend visiting with your doctor-not a healthy ratio.


Most doctors would agree with you, of course. They're just as frustrated by the long waits and short visits as you are. Says Dr. Nancy Rivera-King, a family practitioner, "Insurance companies are paying less for patient visits, so the push has been towards seeing more patients a day."

Disheartened with the demands on her profession she recalls, "My employers said I spent too much time with my patients. But I like to take thorough histories and do problem-focused physicals."

"When a patient sees an office-based physician," says Rivera-King, "he or she is paying for the services of the receptionist, the nurse, the doctor, the supplies, the rent and the utilities. This is why the doctor must see several patients per hour."

After 14 years in office settings, Rivera-King grew tired of the limits placed on her desire to deliver medical care with a more personal touch. She began to research the costs of starting a private practice and, during the process, read an article about a female internist in Florida who visits her patients by car or bicycle to provide home delivery of medical services. "I thought, 'This is low overhead.' Then it was a matter of convincing my husband, because [practicing medicine in this way] is not traditional in this area."

Together they tested the waters by talking to friends and colleagues. What they heard in response was encouraging, and many recognized the benefits of such a business plan. Still skeptical, husband Chris King, who acts as his wife's business partner, said, "Who would come to you?" Instinctively, Rivera-King, who is fluent in Spanish, replied, "the Latin community, many of whom are uninsured and self-pay."

Armed with a belief in her mission and a strong desire to spend more time with her patients, Dr. Rivera-King went into business for herself and saw her first home visit patient in August, 2004.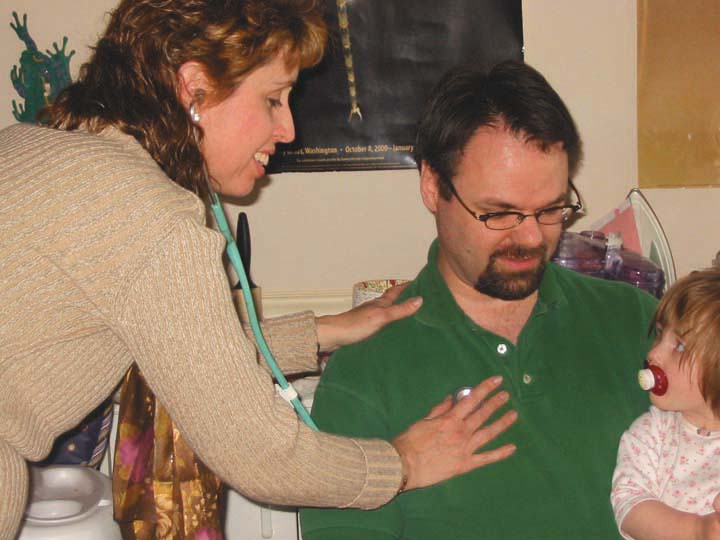 She explains that, "Many in the Latin community, as well as the indigent population, will go to the local outreach clinic. If the clinic is booked way ahead and the patient needs more immediate care, they are given choices." Now, she says, "I'm one of the choices."

Being mobile makes it easier, since the services are restricted to the doctor, and overhead is limited to items such as supplies, advertisement expenses and car travel-and, says the doctor, "I can spend more time with the patient," which is exactly what she set out to do.

Word of mouth has also been an effective resource for establishing a patient following. "At first there were just three patients a month," says Rivera-King, "then three patients a week. Now I have two to four patients a day, and I'm getting busier."

Appointments are made in two-hour slots, with at least 30 minutes of doctor contact care in the patient's home or place of work.

The advantage to home visits is having the opportunity to observe the patient's environment, "[which] lets me know what restrictions they live with or what equipment they might need," says Rivera-King. Though not always the case, the doctor is frequently able to meet family members or others involved in the patient's care and, she says, "we become a team."

Dr. Rivera-King primarily services Anne Arundel County. For healthy individuals who already have doctors, she says, "I'm an extension or alternative when their doctor can't see them immediately, instead of going to the emergency room." She adds, "Most doctors' offices allow for same day appointments or within 24 hours. But when their slots get full, they're full. Most people, after we meet, are comfortable with me as a physician and feel that I'm competent enough to service them."

Because her office is mobile, the patient deals with the doctor and not an office staff person. "I am the secretary, the office manager, the nurse-all those people bundled up into one." Rivera-King carries two PDAs with her at all times. The software programs in most frequent use include the mobile Physician's Desk Reference (PDR) and Epocrates (similar software with additional drug-to-drug reactions and more). A pocket PC holds her electronic medical records (EMR) where she downloads patient information.

Recently, Rivera-King has provided patients with the ability to self-schedule on her website. Using the latest technology to assist her, she is able to handle all the administrative demands of her new business but admits that, "sometime in the future, I may need an assistant."

Dr. Rivera-King lives with her husband and their four children in Severna Park . The home office, located at 101 Tarks Lane, is available by appointment for more technically difficult exams, minor surgical procedures or for patients who prefer an office setting.

A graduate of Virginia Commonwealth University in Richmond, Dr. Rivera-King received her medical degree from Meharry Medical College in Nashville, Tennessee. She trained at Ghent Family Practice Residency Program and Norfolk General Hospital in Virginia. She is licensed to practice medicine in the state of Maryland and has been practicing in office settings in Anne Arundel and Prince George's Counties for the past 14 years. As a family practitioner, she examines everyone from babies to senior citizens.

Dr. Rivera-King can be reached for appointments by cell phone at 410-353-9323, email at ndrking@yahoo.com, and at www.drnancyshousecalls.com