Placing Value on the Past:
Personal Property Consultants
By Cindy Edwards
When she was seven years old, Mary Ellen Heibel experienced her first successful treasure hunt. "I was playing in our walk-in attic and came across a trunk filled with really old dresses." And so she did what any curious young girl would do in the same situation-she played dress up. "As it turned out, they were not just any old dresses, they were Civil War dresses that had been passed down through my family along with Civil War letters and more garments from the 1920's." Those Civil War dresses are now on exhibit at the Frederick Douglas House and as for Mary Ellen Heibel-she and her son Jim are antique experts.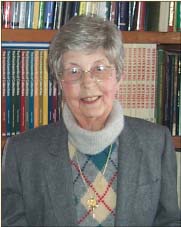 As the owners of Personal Property Consultants, Inc. here in Annapolis, the Heibels are Appraisers of Antiques and Residential Contents. Mary Ellen established PPC in 1982 after a long career as an antique collector and Navy wife. "My husband was a Navy dentist and our first tour of duty was Boston where there was an antique store on every corner-I was in heaven. Then we spent four years in Spain and while we were there, I became acquainted with French, German, Spanish and English antiques." In Europe, her life experience of collecting antiques expanded to match her passion for old treasures and the stories they tell.

But the education required for appraising is much more encompassing than passion and participation. Mary Ellen took extensive classes and became certified with the International Society of Appraisers (ISA) as well as the American Society of Appraisers (ASA). "I hold certifications in four categories," Mary Ellen explains. "They are in the areas of Antique Furniture, Residential Content [quite an expansive category] Antique and Decorative Arts-and I'm one of only two people certified by them [ISA and ASA] to appraise silver."

As for Jim, his mother's enthusiasm for antiques was contagious and he chose to pursue an education in Appraisal Studies at George Washington University. "There is so much to know and such strict guidelines on how appraisals must be executed so I became certified and both of us continue to take classes and stay informed," says Jim. "We're also required to become re-certified every five years." PPC's in-home office is equipped with an extensive library of reference books and piles of research material.

When asked about the process of appraising and the demand to be attentive to detail, Jim responds, "It's much like being a detective. We ask ourselves, 'is it real or is it a fake-and if it's real, where's the evidence and what's the value'?" "Evidence" involves measurements, color, construction, markings and an abundance of other particulars. "It's funny because sometimes we're all dressed up for the job and we end up crawling on the floors underneath things because most of the time-it's what you don't see that tells more than what shows on the outside." Important tools for the on-site portion of the appraisal include, but are not limited to, a flashlight, magnifying glass, jeweler's magnifying headpiece, digital camera, measuring tape pen, notebook and a comprehensive knowledge of history.

Back-story is another important element of the appraisal. "We listen intently to people when they talk," explains Jim. "Oftentimes their stories help us to identify important information about the items-but sometimes we have to filter the family tale from fact since stories sometimes change as they're passed down through generations. We're very careful and thorough because we owe it to the client to be precise. If they can tell us who they think the piece belonged to and give us names and a history, then that's a good start for us, but if they bought it from an antique store or an auction, then it's a bit more abstract."

But onsite gathering of information is just the beginning of the appraisal process. Afterwards, they head back to the office and bury themselves in research books, data base services, previous appraisals and other networks in order to determine the current value of the items. "It's not at all like it seems on those television antique road shows," Jim laughs. "What many people don't realize is that the appraiser has researched those items extensively before the camera starts filming."

And market values are constantly changing. "The antique market is much like the stock market-it's cyclical," explains Mary Ellen. "For example, the price of silver is down right now, so a current appraisal may be much less than a previous or future one on the same item." And just what does that mean to anyone with silver antiques? "Hold on to them!" says the expert.

Ethics is a concept that reverberates throughout the PPC philosophy. "Our clients pay us, but we do not advocate for the client, "says Jim. "In other words, we have to quote the value that our expertise and tools substantiate-not what the client feels the item is worth and sometimes that's a difficult situation. But the best service we can render is one that provides them with a value they can prove." It is important to note that honorable appraisers such as the Heibels charge by the hour, since a fee based on percentage would be a conflict of interest.

Mary Ellen is mindful to maintain the confidentiality of their clients when she recalls some of her favorite treasures encountered during 22 years of appraising-Queen Anne chairs, Hester Bateman silver, scrimshaw whales' teeth and whirligigs. Her passion is palpable and one cannot help but feel certain that she is truly living the dream she imagined all those years ago as she gazed upon a young girl's reflection cloaked in Civil War dress. To contact Mary Ellen or Jim at Personal Property Consultants, Inc., call 410-267-7708.